Malwarebytes Browser Guard v2.2.23
Malwarebytes Browser Guard v2.2.23 Filters out annoying ads and scams while blocking trackers that spy on you. Browser extension that beats the scammers Malwarebytes Browser Guard crushes unwanted and unsafe content, giving you a safer and faster browsing experience. Not only that, it is the world's first browser extension that can identify and stop tech support scams. We take on the bad guys so you don't have to. Browse up to 4x faster Speeds up how fast web pages display by blocking third-party ads and other unwanted content, saving your sanity and bandwidth. Puts the hurt on tech support scammers Identifies and stops browser lockers, browser hijackers, and other scare tactics tech support scammers use to con you out of money. Crushes clickbait ads Removes annoying clickbait ads that often point to content of questionable value. Protects your privacy Blocks third-party ad trackers that follow you around the Internet and target you with the same ads over and over again. Stops malware in your browser Blocks web pages that contain malware, stops in-browser cryptojackers (unwanted cryptocurrency miners), and gives other malicious content the boot. This download is for the Firefox extension. If you need the Chrome extension, download here. Click here to visit the author's website.

1,798
Apr 16, 2021
Malwarebytes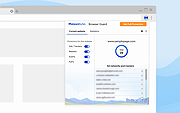 RSS Guard v3.9.0
RSS Guard v3.9.0 RSS Guard is simple (yet powerful) feed reader. It is able to fetch the most known feed formats, including RSS/RDF and ATOM. RSS Guard is developed on top of the Qt library. Supports Windows Vista and higher. RSS Guard is written in C++. It is pretty fast even with tons of messages loaded. The core features are: support for online feed synchronization via plugins, Tiny Tiny RSS (from RSS Guard 3.0.0), ownCloud News (from RSS Guard 3.1.0), Inoreader (from RSS Guard 3.5.0), Gmail with e-mail sending (incoming). multiplatformity, support for all feed formats, simple internal Chromium-based web viewer (or alternative version with simpler and more lightweight internal viewer), simplicity, import/export of feeds to/from OPML 2.0, downloader with own tab and support for up to 6 parallel downloads, message filter with regular expressions, very fast parallelized feed updates, feed metadata fetching including icons, no crazy dependencies, ability to cleanup internal message database with various options, ability to tweak columns in displayed list of messages, enhanced feed auto-updating with separate time intervals, multiple data backend support, SQLite (in-memory DBs too), MySQL. ability to specify target database by its name (MySQL backend), "portable" mode support with clever auto-detection, feed categorization, drap-n-drop for ...

1,811
Mar 02, 2021
Martin Rotter