Always scroll to the bottom of the page to download files on OlderGeeks.com.
We don't believe in fake/misleading download buttons and tricks.

TSR Watermark Image 3.4.2.8
TSR Watermark Image software, is a free program for personal use that can add digital watermarks to all your images, photos and pictures with the transparency you decide. The program can also resize the images before the digital watermark is added.

When creating the watermark, you can use either text or another picture as the source of the watermark. If you want to add the watermark to the background, you can set the logo or the text to be more or less transparent, and define the transparency color on the image or select the first pixel in the upper left corner as transparency color.

You can even use this program instead of photoshop to watermark your images, this is a quicker and more easy way of getting a watermark on all your images. Also use the watermarked image in Word, Excel or images used in pdf files can be made with this watermarking software.

The version available for download is the full version, no missing features, no nag screen, no popup and no commercials!.

The software is free for personal use, if you are using it for business use, please make a purchase after testing the software for $29.00.

Features:

Multilanguage support, English, German, Italian, Japanese, Hungarian, Czech, Romanian, Spanish, French, Dutch, Portuguese (Brazilian & Portugal), Chinese (Simplified & Traditional), Indonesian, Russian and Danish is supported.
Add text watermark that is either normal, embossed, chiseled or watermarked with a border.
Automatically rotate the watermarked picture based on the orientation EXIF tag - this is written to the image by many modern cameras.
Add the text used to watermark the image to the EXIF information in the resulting file.
Keep or drop EXIF information in jpeg files (Camera model/lense model/etc. etc.)
Output the watermarked photo to JPEG, TIFF, PNG, BMP, GIF file format.
Specify the quality of the watermarking output when saving as jpeg images
Angle the text you use for your photo watermarking
Insert background watermark in digital images, pictures, photos
Resize images while watermarking the image/photo
Watermark your photos using either another image, photo or picture
Watermark your photos using your own text in the color and style you want to.
Maintain directory structure in destination directory or combine all batch watermarked images into one directory
Skip or overwrite existing watermarked images/photos in destination directory
Command line option to automatically load a profile and batch watermark all photos.
Automatically check for new version of the TSR Watermark Image Software

Changelog:
Version 3.4.2.8 - 28 Feb 2015

Improved the automatic border selection for the upcoming simple mode so it do not interfere with the advanced mode
Improved the "Save as input filename" option, now watermarked tiff images are saved with the same extension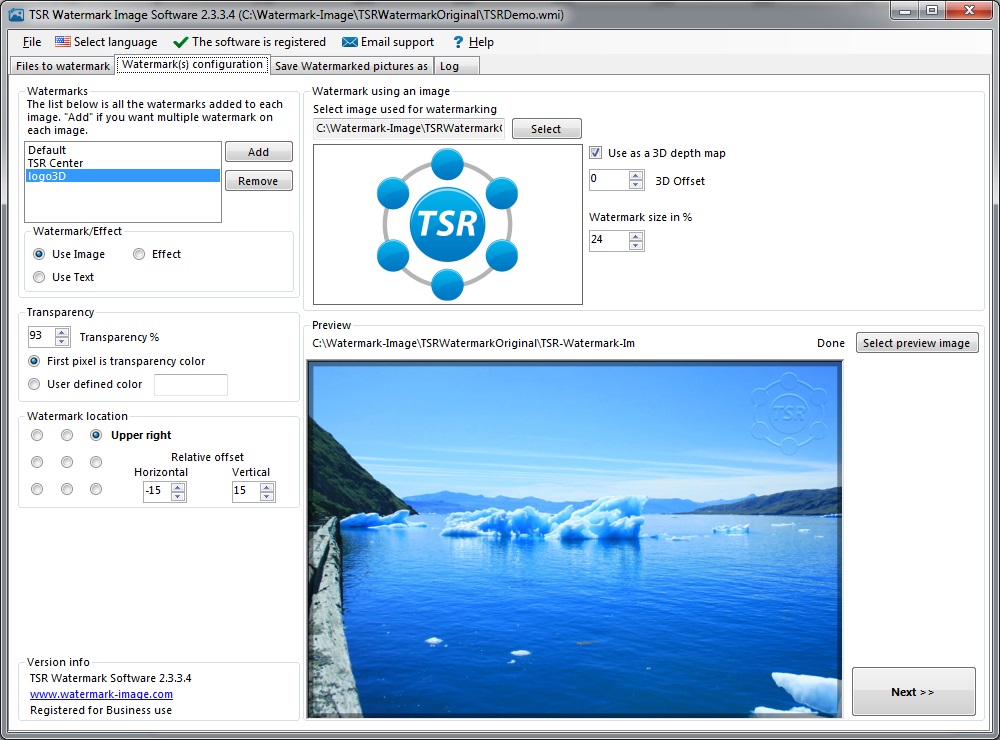 Continue below to download this file.