Always scroll to the bottom of the page to download files on OlderGeeks.com.
We don't believe in fake/misleading download buttons and tricks.

NewFileTime v3.63 64bit

NewFileTime is a small portable but effective tool that provides you easy access to correct or manipulate any of the timestamps for any file and folder on your Windows system.

Several files and/or folders can be modified at the same time. You can add files simply via Drag and Drop or by import from a folder. In any case, it opens in different ways to bring you quickly to the job at hand. You can make files proportionally younger or older, or you can set a specific date/time.

With this utility everyone can have the ability to make quick corrections to the creation, last access and modification dates/times of the files or folders on their PC. NewFileTime does not have to be installed and can be executed easily from the desktop. Portable use is also possible.

Features

► Very Small
► Summer time and winter time stamp corrections
► Optional translation feature
► Multiple files support
► Change timestamp plus drag and drop
► Portable
► Multilingual



A simple usage example of NewFileTime

Start the program. The first time that you use it the program it will present you with a license screen. The program is free and the license info is only displayed the first time (per PC).

Once the program is open drag a file onto the NewFileTime window.
If you want the dates/times to be anything other than the current date and time one way that you can accomplish this is to click on the "#" drop-down. Two further sub-menus appear: time and date. Those can be used in combination to specify the new date/time in one hour increments from your current date/time. That method will yield a maximum change of about one week.

At any point you can revert to the current date/time by clicking on "#" and then "Current."

You may also enter the exact date/time that you want. You may select or deselect any of the three timestamps (modified, created, accessed) via tick boxes to the right of the attribute.

Once you have the dates/times specified correctly simply click on the "Set-Time" button in the middle-left portion of the screen.

Files and folders are cleared from the program by pressing the "reset" button. After that you may drag other files/etc. into the program window.

To set the dates/times of entire directories or directory trees click on the "Import" button and set the attributes there in the way that is appropriate to your needs. Those attributes are:
Include Subfolder
Add Files
Add Folders

With this you can specify if files, folders or both will have their dates/times modified. This also specifies if just files and/or folders in the indicated directory are to be modified or if those items in the entire directory tree will be modified.

Once those attributes are set click the "Import" button and select "Import" from the drop-down. This initiates the selection of the directory or directory tree to be modified.

Once everything is as you wish it to be click the "Set-Time" button in the middle-left portion of the screen.

When using the import function check the results afterwards to make sure you've gotten what you wanted.

These are just simple examples. Play around with NewFileTime and you will quickly understand how to use it and also discover more sophisticated ways to use it.

New in version 3.63 // 15 July 2019
• Small adjustments for Windows 10 and test for October 2019 Update / Build
• Improvements and Updating of the language in the NewFileTime.


Operating systems: Windows 10, Windows 10 Pro, Windows 10 Enterprise, Windows 10 Home, Windows 8.1, Windows 8.1 Enterprise, Windows 8.1 Pro, Windows 8, Windows 8 Enterprise, Windows 8 Pro, Windows 7, Windows 7 Enterprise, Windows 7 Home Basic, Windows 7 Home Premium, Windows 7 Professional, Windows 7 Starter, Windows 7 Ultimate, Windows Vista Enterprise 64-bit edition, Windows Vista Ultimate 64-bit edition, Windows Vista Business, Windows Vista Business 64-bit edition, Windows Vista Enterprise, Windows Vista Ultimate, Windows XP Home and Pro, X64 and x32 all Windows, Windows Server 2000-2008,Windows Server 2012,Windows Server 2016. The user interface can be set for either English or German.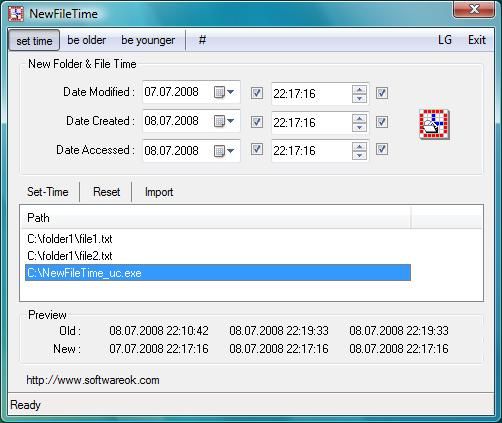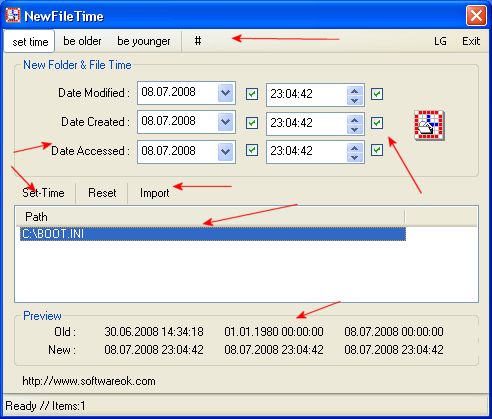 Click here to visit the author's website.
Continue below to download this file.