Always scroll to the bottom of the page for the main download link.
We don't believe in fake/misleading download buttons and tricks. The link is always in the same place.
---

Cataclysm: Dark Days Ahead v0.D-8766 for Linux

Cataclysm: Dark Days Ahead is an open source apocalyptic survival roguelike with the ability to craft items, scavenge, forage, fight, and build both homes and vehicles. Originally created by Zachary "Whales" Jenkins, Cataclysm built up a decent following before the project was abandoned. The community never gave up on the game - a small group of dedicated modders, hackers, and contributors kept hacking a way at the code, even knowing it was never going to be mainlined, working instead on a myriad of mods played by the few players still lingering around slowly emptying forums.

Eventually, they were contacted by a web developer with some space to spare, who was saddened by how a game with such great potential was dwindling, and saw an opportunity to truly breathe life back into the game. Darkling Wolf and Kevin Granade seized on the idea of spinning off a full-fledged branch project, as if they'd been waiting for the moment. The subtitle Dark Days Ahead was added to the end of the original name, a website was thrown together, and the word was sent out that, like the undead abominations that lurk it's street, Cataclysm was back on its feet and hungry for flesh blood.

Since then, the team of active developers has grown. A number of developers have joined the project, and, with the aid of Let's Players like jefmajor, the fanbase has increased steadily, well past it's previous highs, and things are only looking up from here. There are some great new features in the pipeline, and the game is getting better every day. Hopefully, someday soon, Cataclysm: Dark Days Ahead will be as well known the giants of the genre, like Dungeon Crawl, ADOM and Unreal World. But we can't get there alone, so if you want to contribute, there's no time to start like now.

Danny

The Danny release is characterized by MORE. More UI polish, more features, more content, more long-asked-for changes. Itís the longest-lived and largest in every way release weíve ever done, and we hope to never do it again. Future releases are planned for roughly 6-month intervals. This release is made up of 37,604 commits authored by over 700 contributors, and it roughly doubled the number of everything in the game, items, monsters, map buildings, you name it, we doubled it.

Itís honestly way too huge to summarize in any meaningful way, but here are the absolute biggest changes, and youíll just have to dig into the changelog or the game itself for more detail.

Many quality of life enhancements such as auto-pulp, autopickup, batch actions, interacting with adjacent items and improved long-action handling.
Pixel minimap for tiles mode.
Guns accept magazines when appropriate.
Player stamina stat that is burned by running and other physical exertion.
Player faction base that allows incremental growth and autonomous work by NPCs.
The player remembers terrain and furniture they have seen.
Carrying racks for small vehicles.
Vehicle system (speed, fuel consumption, terrain effects) overhaul.
Overhauled nutrition, food spoilage and food state changes (freezing).
Overhauled bomb fragment handling.
NPC dialogue support, group commands, tactical instructions and backstories.
Dynamic Lighting.
Roughly DOUBLED the amount of in-game content.
Unheard-of levels of bugfixing.

Full translations for Chinese, German, Japanese, Polish and Russian.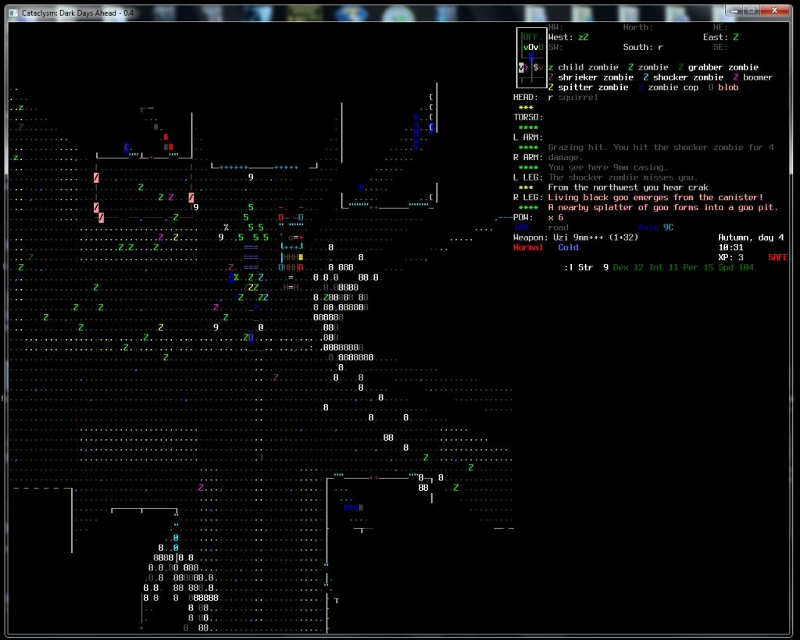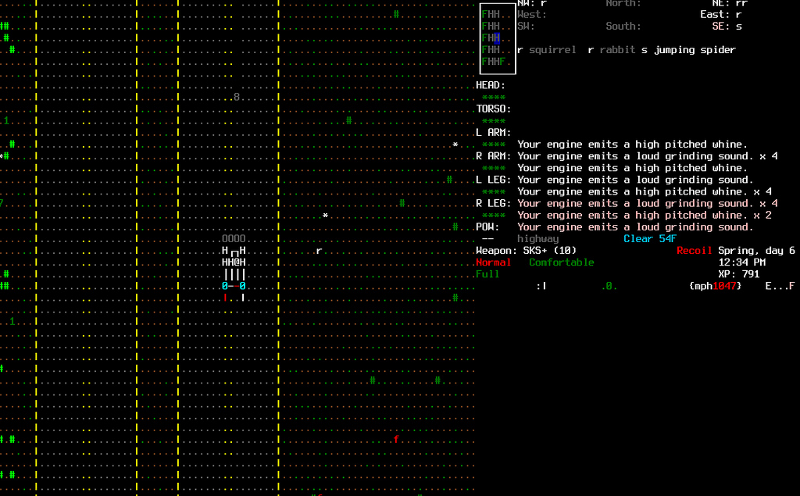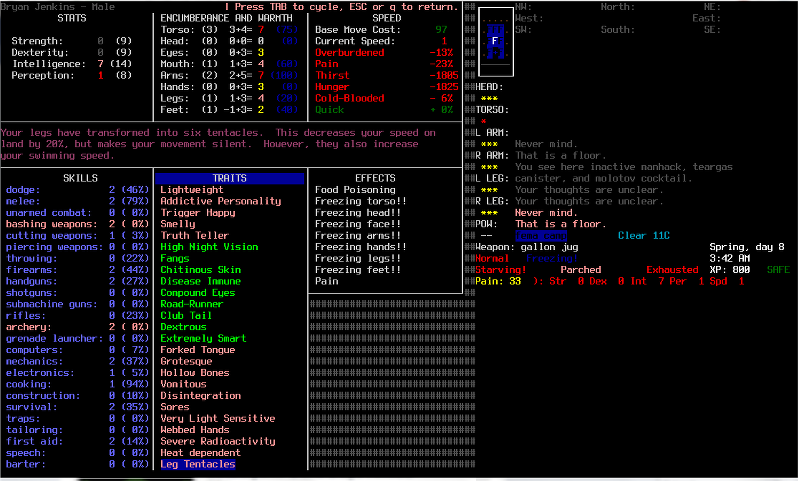 Click here to visit the author's website.
Continue below for the main download link.