Always scroll to the bottom of the page for the main download link.
We don't believe in fake/misleading download buttons and tricks. The link is always in the same place.
---

ThisIsMyFile v4.14

A small and effective program for unlocking and/or deleting locked or protected files.


Problem: "Xxxx.xxx Can not delete the file: The file is used by another person or program."
OR: The action can't be completed because the file is open in XXXXXX.exe 1.42 Close the file and try again.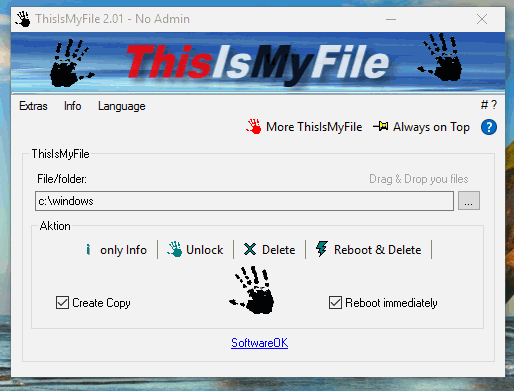 Installation is not required, simply place the ThisIsMyFile on the desktop and drop files on the ThisIsMyFile program icon.

Features:
• Create a copy of locked File and delete
• Unlock only
• Reboot and Delete
• Reboot and Delete without request
• Process killer
• More ThisIsMyFile
• Select files
• Program Parameters
• Multi-language

Create a copy
If you want to copy the file before deleting it.

Only info
Shows who program that taken the file.

Unlock only
Only unlock the file, not delete it.

Reboot and Delete
For very stubborn files or folders, activate this option.
The system will be shut down and the file and folders will be deleted at system startup.

Reboot and Delete without request
There is no query, whether the file or folder is locked. It just gets deleted.

Process killer
Can be found under "More ThisIsMyFile". This can be used to terminate or kill specific processes.

More ThisIsMyFile
Here you can see more details about the locked files.
The process killer can be used here, Selects the process or program and terminate it.

Info
1. Automatically starts when deleting or unlocking folders.
2. Use this when it comes to the deleting or unlocking loaded modules (DLLs).

Select files
Simply drag and drop the locked file to ThisIsMyFile and perform the desired action.

Program Parameters
For example: ThisIsMyFile.exe c:\file1.txt c:\file2.txt "c:\file with spaces.txt"
For the files with blank spaces in their names, always use quotation marks around name ("").

Supported Operating Systems:
Windows 11, Windows 10, Windows 10 Pro, Windows 10 Enterprise, Windows 10 Home, Windows 8.1, Windows 8.1 Enterprise and Pro, Windows 8, Windows 8 Enterprise and Pro, Windows 7, Windows 7 Enterprise, Windows 7 Home Basic, Windows 7 Home Premium + Professional, Windows 7 Starter + Ultimate, , X64, x86 and x32 all Windows, MS Windows Server 2019, 2016,2012.

Changes:
v4.14 // 22 May 2023
• Small tests and adjustments for the new MS Windows 11 update
• Updated language files in files and folders unlock APP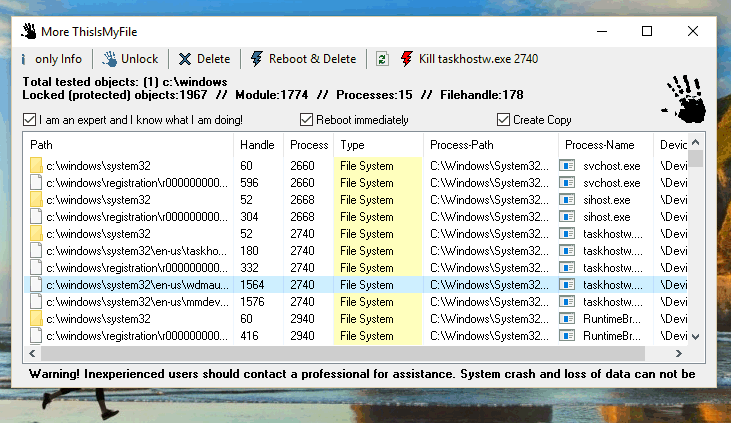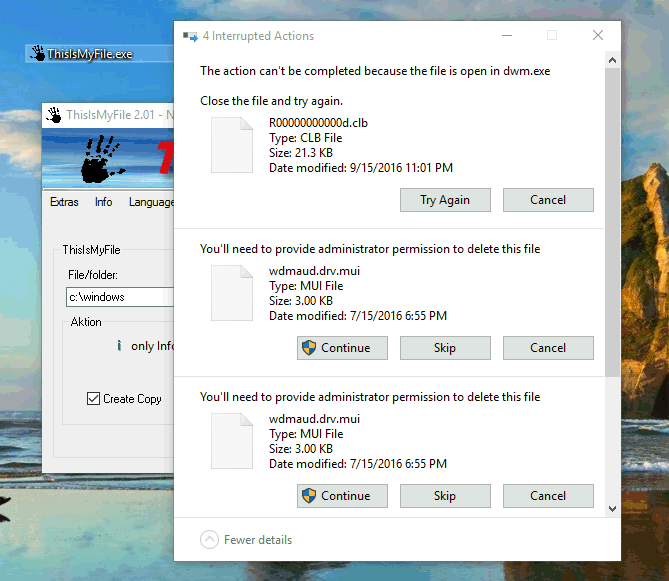 This download is for the 64bit version. If you need the 32bit version, download here.


Click here to visit the author's website.
Continue below to download this file.