Always scroll to the bottom of the page for the download link.
We don't believe in fake/misleading download buttons and tricks. The link is always in the same place.
---

ACleaner v4.5

ACleaner is a safe and easy-to-use privacy protection tool, that allows you to erase common Internet and computing tracks, including browser cache, cookies, visited websites, typed URLs, recent documents, index.dat files and more. You can also easily erase the tracks of up to 100 popular applications. It also includes an option to overwrite deleted data multiple times, so it cannot be easily recovered. The cookie cleaning feature allows you to specify which cookies to keep, so that you don't erase your important login cookies. You also can schedule automatic erasing for any time you like and use boss key to hide all browser windows in one quick keystroke!

In addition, the program comes with a registry scanner to optimize your system registry by finding and removing errors and invalid entries. After fixing the invalid entries, your system will be more stable and run faster. For maximum safety, ACleaner will make a backup of the repaired entries. You will be able to restore any changes made using the software by choosing Restore registry backup.

Why do you need ACleaner?

• Your Internet activities can be traced through cache, cookies, and history.
• Windows and third party software stores information that could compromise your privacy.
• The Windows Registry is a crucial part of your PC's operation system. Problems with the Windows Registry are a common cause of Windows crashes and error messages.

Key Features:

Remove the tracks of your activities completely

1.Windows Item
Remove Windows recent documents history
Remove Start Menu -- Run/Find history
Remove the files in Window recycle bin
Remove Windows temporary files directory
Remove clipboard
Remove memory dumps
Remove chkdsk file fragments
Remove Windows log files
Remove menu order cache
Remove open/save dialog history
Remove tray notifications cache
Remove user assist history
Remove Media Player/Real Player history
Remove Paint history
Remove Microsoft Office


Remove Instant Messengers, Support MSN Messenger, Yahoo! Messenger, ICQ, AOL Instant Messenger, Skype
Remove Outlook Express.

2.Browser Items (Internet Explorer/Mozilla Firefox/Opera/Chrome)
Remove cache files (Temporary Internet Files)
Remove Internet cookies
Remove visited URL history
Remove recently typed URLs
Remove IE index.dat files
Remove last download location
Remove AutoComplete history
Remove preferences.

3.Plugin support
With the support for plug-ins, ACleaner can easily erase the tracks of the popular applications. Removing these stored activities will further help protect your privacy. We currently offer more than 100 plug-ins which supports the most popular programs such as ACDSee, Acrobat, KaZaA Media Desktop, Morpheus, Winzip, WinRAR, PowerDVD, and much more.

4.Custom Items
Custom Items allow you to add, and edit the Custom Item, with which you can erase file(s), folder or registry entry(s) that you want to erase.

Smart Cookie Saver
Cookies Manager enables you to decide which cookies to keep and which to erase. This is useful as some of these files keep information that helps you browse more easily sites that you often use and trust.

Registry Cleaner
ACleaner uses a highly intelligent engine to scan your entire Windows registry for invalid or obsolete information and provide a list of the errors found. After fixing the invalid entries, your system will be more stable and run faster. Scan options include: ActiveX, File Extensions, Shared DLLs, Fonts, Help files, Application paths, invalid shortcuts, run sections, sound and app events, uninstall section, missing file and folder, Windows services, Start menu, etc.

Restore Registry Repair
ACleaner will make a backup of the repaired registry entries. You will be able to restore any registry changes made using registry cleaner by choosing Restore registry backup. If you use Windows XP or Vista, you can click the 'Options' and check 'Create a system restore point before repair' to get more safety.

Schedule Mode
You can start a clean on windows startup/shutdown, or browser's shutdown, and even a specified interval based on your choose.

Secure Delete
ACleaner can completely overwrite files with random characters up to 10 times. So they cannot be easily recovered.

Test Mode
You can see how many files and registry entries will be removed before they are really erased.

Boss key
Immediately hide all web browser windows with the press of a Key when someone you don't want to see your files walks in.

View History
You can find out what activities have done on your PC when left.

Speed up your computer
By cleaning your temp files, cached files, free up your hard drive space and repairing your registry entries, ACleaner can speed up your surfing experience and computer speed.

Platform: Windows 9x/Me/NT/2000/XP/2003/Vista/7/8/10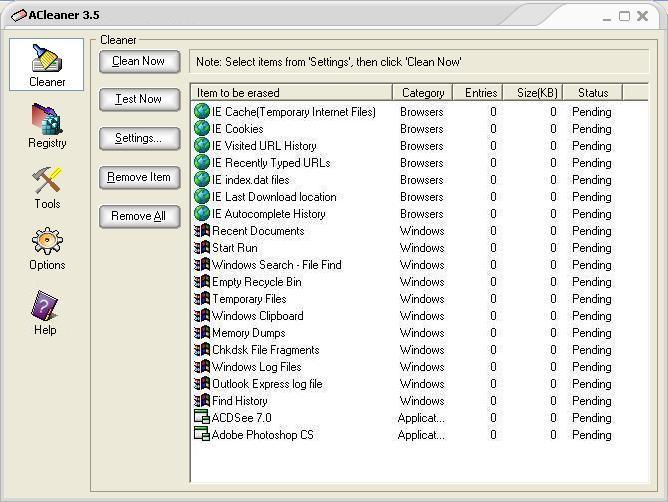 Continue below to download this file.