AutoHideDesktopIcons v5.61
AutoHideDesktopIcons v5.61 Automatically hide your desktop icons via an adjustable timer. Features: ◆ Adjustable timer for Desktop Icons ◆ Optional Auto Hide and Show the Task Bar ◆ Customize when to show the desktop icons ◆ Very small freeware program ◆ Very low CPU usage ◆ Optional translation function ◆ Freeware ◆ Portable ◆ Multilingual Supported Operating Systems: Windows 11, Windows 10, Windows 10 Pro, Windows 10 Enterprise, Windows 10 Home, Windows 8.1, Windows 8.1 Enterprise and Pro, Windows 8, Windows 8 Enterprise and Pro, Windows 7, Windows 7 Enterprise, Windows 7 Home Basic, Windows 7 Home Premium + Professional, Windows 7 Starter + Ultimate, , X64, x86 and x32 all Windows, MS Windows Server 2019, 2016,2012. Changes: v5.61 // 28 June 2022 Update of the language files and general improvements in the Auto-Hide-Desktop-Icons Tool for Windows Small fixes and retests for Windows 11 next Update / Build Click here to visit the author's website.

1,070
Jun 28, 2022
Nenad Hrg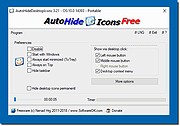 SideSlide v5.78
SideSlide v5.78 An advanced, portable, unobtrusive, dockable, skinnable, instantly accessible, highly configurable Desktop Extension on Steroids! SideSlide keeps your desktop clutter-free and organizes your PC life in a unique and personalized way. With dynamic containers, a full featured keyboard launcher and various innovative features, SideSlide lets you get instant access to everything you have and much more. SideSlide is the program launcher you never knew you needed, with the ability to contain and organize a bewildering amount of information. This program respects your system and keeps all of its configuration files in a single folder. SideSlide is completely free. It doesn't contain adware/spyware or bundled with any 3rd party software. Dock and hide SideSlide to any screen edge. Browse through your favorite RSS news feeds, keep shortcuts to files, folders and URLs you frequently visit and execute various commands quicker than ever. Add multiple notes and picture slideshows, schedule reminders, save web snippets and more. Customize the workspace to emphasize the things you use the most and make more information accessible without occupying precious screen space. By using containers you can shrink and fold to organize your projects, downloading ready-made containers from an online library, linking containers to actual folders on disk, detaching containers from the workspace to claim additional space, various ways of launching multiple shortcuts at the same time, shortcut tags, zooming in and out of shortcuts, news feed reader, advanced keyboard navigation and launcher, different skins, picture containers, quick expression calculator and colored notes; SideSlide is designed to make a great deal of content instantly accessible and neatly organized. Main Features: Instantly accessible and adjustable workspace that stays out of your way until you need it. Add multiple shortcuts, commands, URLs, RSS news feeds, pictures, reminders and notes. Resizable, detachable, foldable and shrinkable containers extend ...

4,635
Sep 19, 2023
Northglide