ChromisPOS v0.95.3 build 1902-01
ChromisPOS v0.95.3 build 1902-01 Chromis is a feature rich Point of Sale software. Which will run a variety of hardware, the only requirement is that it must be capable of running Java 1.8 Installing Chromis is simple and fast, using its own custom installer available for a number of operating systems. It supports multi terminal mode, and works with a number of Open Source database solutions. It is supplied with ability to use a Derby embedded db as standard, but if you wish to use a multi terminal then a product like MySQL is used. Chromis pos has a small team of people who are always willing to assist with any issues. This download is for the 64bit version. Download the 32bit version here. Features Windows XP, Vista, 7, 8 & 10 Extensive hardware support Java 1.8 supported Multi sales modes Screen resolutions from 800 x 600 User customizable Sales screen, Ticket and Receipt layouts Builtin scripting language Support for Derby, MySql & PostgreSQL supported Barcode reader Support Kitchen Display monitor, supprt multiple stations Builtin customer database User security CSV product import Builtin reporting and reports Support for Price\weight encoded barcodes conforms to GS1 standards Supports USB printer, so you no longer need to rely on serial ports Ability to migrate to multiuser db after testing with builtin db 14th February v 0.95.3 build 1902-01 Added days for removedlines data Added function for ticketline size, this is point size of the rows in the sales panel Added new column in taxes, taxcategories & taxcustcategories tables ready for future ...

4,847
Jan 22, 2020
John Lewis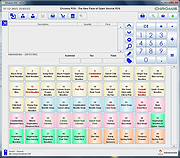 Floreant POS v1.4
Floreant POS v1.4 A free, open source and enterprise-grade restaurant point of sale software for Windows. Enterprise Grade Point of Sale application for QSR, Casual Dine-In, Fine Dine-In, Cafe and Retail. Established in 2008 Floreant POS has powered 30,000 restaurants in 25 countries around the world. It can run on single or multiple terminals and manage new order, visualize tables, manage kitchen and produce advanced reports. HOW FLOREANT PROJECT STARTED Floreant started its journey in 2008 when Dennys Restaurant in Oneonta, NY hired our team for upgrading their database. In 2009 source code was released in the public domain. In 2010 the software included Java POS support and shift-wise pricing, partial payment, and kitchen printer. Right after that release(v1.02) it received huge appreciation. To handle the increasing number of downloads we have to host binaries in download.com, ZDNet and sf.net. Floreant POS is has been customized and adopted in famous chain stores including Louisiana Famous Fried Chicken, Parkway Pizza, Mini Delights, Monalisa Paraguay, Cinco E S.A.S and so on. Features Dine In - Table Management, Guest, Seat*, Split Check, Tips Take out - Fast navigation, Food item Inventory, 86 Home delivery - Customer lookup, Driver assign Bar - open Tab, Pre-auth, tips Retail - Barcode scanner, Digital Scale Pizza Designer - Topping, Slice, Speciality, Visual layout Kitchen Management - Printer routing, Kitchen Display Cash terminals - Magnetic card, Partial payment and multiple Automatically calculate Discounts by percent and fixed amounts, Discounts and Coupon Multiple price of item by Modifier, Forced-modifier, Combo, Shift and Order type Manager facilities: Credit card tips, Drawer Pull, Drawer bleed, Void, Split & reports ...

850
Jun 30, 2022
OROCUBE LLC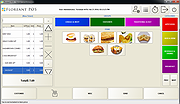 Open Source Point of Sale v3.3.8
Open Source Point of Sale v3.3.8 A free, open source, web based point of sale application written in PHP using CodeIgniter framework. It uses MySQL as the data back end and has a Bootstrap 3 based user interface. The main features are: *Stock management (Items and Kits with extensible list of Attributes) *VAT, GST, customer and multi tiers taxation *Sale register with transactions logging *Quotation and invoicing *Expenses logging *Cashup *Receipt and invoice printing and/or emailing *Barcode generation and printing *Suppliers and Customers database *Multiuser with permission control *Reporting on sales, orders, expenses, inventory status *Receivings *Giftcard *Rewards *Restaurant tables *Messaging (SMS) *Multilanguage *Selectable Boostrap (Bootswatch) based UI theme *Mailchimp integration *reCAPTCHA to protect login page from brute force attacks *GDPR ready The software is written in PHP language, it uses MySQL (or MariaDB) as data storage back-end and has a simple but intuitive user interface. The latest 3.x version is a complete overhaul of the original software. It is now based on Bootstrap 3 using Bootswatch themes, and uses CodeIgniter version 3 as framework. It also has improved functionality and security. Try the online demo. A demo version of the latest master version can be found on the developer's Demo Server. LOGIN using username: admin password: pointofsale Server Requirements PHP version 7.2 to 7.4 are supported, PHP version 5.6 and 8.0 are NOT supported. Please note that PHP needs to have php-gd, php-bcmath, ...

1,390
Aug 23, 2022
opensourcepos