MiTeC Task Manager DeLuxe v3.9.0
MiTeC Task Manager DeLuxe v3.9.0 Provides real-time observing of running processes, installed services and drivers, available network adapters, network connections by process, network traffic, disk and I/O utilization, active terminal sessions, autostart entries, cpu usage, frequency and other advanced stats, memory map and utilization, system information Task Manager DeLuxe (TMX) is based on MiTeC System Information Component Suite and offers powerfull features available in standard Windows Task Manager in lightweight portable package with many more enhancements. It needs no installation and leaves no tracks in system so it can be easily used as portable application everywhere. There is powerful process monitor with graphs and detailed process information. You can watch multiple processes simultaneously. Also there is Window explorer enumerating all windows of given process with their properties. Session viewer contains automatic session journal which logs every session login, logout, lock and status change. It is useful especially on terminal servers to watch how users connect and disconnect to their desktops. Desktop Explorer tool provides on-the-fly windows scanning under the cursor. It evaluates window properties and hierarchy. System Information tool detects installed hardware and reports it in simple format. Target platforms Windows XP Windows 2003 Windows Vista Windows 7 Windows Server 2008 Windows 8 Windows 8.1 Windows Server 2012 Windows Server 2012 R2 Windows 10 Windows 11 Windows Server 2016 Windows Server 2019 Free to use for private, educational and non-commercial purposes. 3.9.0 24.8.2021 + Added new AMD and Intel processor detection + Added Windows display version (ReleaseID becomes obsolete) + Windows 11 compatibility * Audio adapter detection fixed + Added GPU Memory Frequency, Power Usage, Temperature and Fan RPM Click here to visit the author's website.

3,229
Aug 25, 2021
MiTeC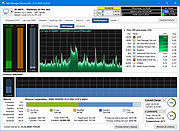 RSS Guard v3.9.0
RSS Guard v3.9.0 RSS Guard is simple (yet powerful) feed reader. It is able to fetch the most known feed formats, including RSS/RDF and ATOM. RSS Guard is developed on top of the Qt library. Supports Windows Vista and higher. RSS Guard is written in C++. It is pretty fast even with tons of messages loaded. The core features are: support for online feed synchronization via plugins, Tiny Tiny RSS (from RSS Guard 3.0.0), ownCloud News (from RSS Guard 3.1.0), Inoreader (from RSS Guard 3.5.0), Gmail with e-mail sending (incoming). multiplatformity, support for all feed formats, simple internal Chromium-based web viewer (or alternative version with simpler and more lightweight internal viewer), simplicity, import/export of feeds to/from OPML 2.0, downloader with own tab and support for up to 6 parallel downloads, message filter with regular expressions, very fast parallelized feed updates, feed metadata fetching including icons, no crazy dependencies, ability to cleanup internal message database with various options, ability to tweak columns in displayed list of messages, enhanced feed auto-updating with separate time intervals, multiple data backend support, SQLite (in-memory DBs too), MySQL. ability to specify target database by its name (MySQL backend), "portable" mode support with clever auto-detection, feed categorization, drap-n-drop for ...

1,812
Mar 02, 2021
Martin Rotter