Speedy Painter v3.6.3
Speedy Painter v3.6.3 A FREE lightweight OpenGL painting application Speedy Painter is an OpenGL based painting software for Windows. It supports Wacom digitizers to vary size and opacity of brush strokes according to pen pressure. Among its features: reference view that follows canvas movements (Use F3 key to enable it) multiple layers ability to vary stroke size and opacity according to pen pressure (supports Wacom digitizers) export video of the drawing process replay of the drawing process loading/saving drawing process from/into a file canvas flip/rotation image crop perspective grid overlay customizable brush library mirror tool Features of version 3.6.3: Reference view that replicates canvas movements, in order to always focus on the portion of the image we are currently working on. Video export of drawing process into an avi video file: ready to upload it on YouTube, Vimeo or other web video sharing platforms. (**) Multiple layers. Ability to vary stroke size and/or opacity according to pen pressure (supports Wacom digitizers and tablets with Wacom technologies, like ASUS VivoTab note 8 ***) Replay of drawing process. Very rich brush engine (possibility to specify brush texture, color dynamics, scattering, size and angle jitter, and more..). Import/export of the whole drawing process. Loading and saving of most common image formats (jpg, png, tif, tga, dds). Canvas rotation. Canvas horizontal flip. Selection mask. Image crop: watch demo. Perspective grid overlay: watch demo. ...

5,985
Jul 24, 2019
Speedy Painter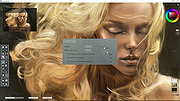 Winamp Backup Tool v3.6.3
Winamp Backup Tool v3.6.3 Tired of losing your library database? Do you need the ability to move your Winamp config from one PC to another? Enjoy the ultimate Backup Tool for Winamp! The tool was written by Christoph Grether. A lot of people posted in the Winamp.com forums, that they have lost their library database, so I had the idea to create a Backup Tool, using NSIS as program language. The main idea was, that NSIS provides a step by step wizard for installers and already has a built-in localization system. So I decided to write the tool in 2010. Since I'm using Winamp for a very long time, I was aware about all dependencies with saved settings for the native components and for 3rd party components. Though, there were a lot of other problems, so I asked Paweł for help. He wrote a lot of backend code and code for the GUI, so that I had enough time to work on the main backup system. As of today, the tool is the best and most safe way to save all Winamp related settings, databases, skins, visualization presets etc. Even if some people still prepare to simply backup their Winamp settings folder, the tool is the better choice. Because the Winamp settings folder only holds settings for the native components (exluding Winamp Pro Registration Data, Skins, Vis Presets and especially 3rd party configuration files). Thanks go to Paweł Porwisz, who helped during the 1.0 period with a lot of code and Darren Owen. Features Allows you to backup/restore all of your Winamp settings, media library database, plugin settings, skins, visualization presets, tray control icon packs, file type icon libraries and even your Winamp Pro reg data! Allows you to create several zip compressed backup archives! Allows ...

4,398
May 15, 2019
Christoph Grether and Paweł Porwisz