Outlook CalDav Synchronizer v3.6.1
Outlook CalDav Synchronizer v3.6.1 Free Outlook Plugin, which synchronizes events, tasks and contacts between Outlook and Google, SOGo, Nextcloud, Horde or any other CalDAV or CardDAV server. Supported Outlook versions are 2019, 2016, 2013, 2010 and 2007. This project was initially developed as a master thesis project at the University of Applied Sciences Technikum Wien, Software Engineering Degree program. Outlook CalDav Synchronizer is Free and Open-Source Software (FOSS), still you can support the project by donating on Sourceforge or directly within the About dialog of our Plugin. Features free and open-source software (FOSS), the only free Outlook CalDav plugin (AGPL license) tested CalDAV servers: SOGo, Google Calendar, Horde Kronolith, NextCloud, OwnCloud, SabreDAV, Synology NAS, GroupOffice, one.com, Yandex, OpenX-change, Posteo, Landmarks, Kolab, Zoho Calendar, GMX, Tine 2.0, Fruux, Mac OS X Server, iCloud, Mail.ru, Radicale, Cozy Cloud, Cyrus Imap 2.5, mailbox.org two-way-sync modern WPF GUI Supporting OAuth2 for Google SSL/TLS support, support for self-signed certificates Manual proxy configuration support for NTLM or basic auth proxies Autodiscovery of calendars and adressbooks via well-known redirects or DNS SRV/TXT lookups configurable sync range sync multiple calendars per profile sync reminders, categories, recurrences with exceptions, importance, transparency sync organizer and attendees and own response status task support CardDAV support to sync contacts (distribution lists planned) Google native Contacts API support with mapping of Google contact groups to Outlook categories. Google Tasklists support (sync via Google Task Api with Outlook task folders) sync contact pictures, categories, notes and x509 certificates manual or time-triggered sync change-triggered sync sync triggered by Outlook Send/Receive Support for WebDAV Collection Sync (RFC 6578) Category Filtering (sync CalDAV calendar to Outlook categories) map CalDAV server colors to Outlook category colors show reports of last sync runs and status configurable system Tray Icon with notifications bulk creation of multiple profiles Use server settings from Outlook IMAP/POP3 account profile Map Windows to standard IANA/Olson timezones Configurable mapping of Outlook custom properties Backport for WinXP and .Net 4.0 available ...

2,094
Oct 24, 2019
Zehetbauer/Nimmervoll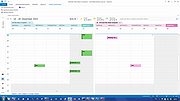 RSS Guard v3.6.1
RSS Guard v3.6.1 RSS Guard is simple (yet powerful) feed reader. It is able to fetch the most known feed formats, including RSS/RDF and ATOM. RSS Guard is developed on top of the Qt library. Supports Windows Vista and higher. RSS Guard is written in C++. It is pretty fast even with tons of messages loaded. The core features are: support for online feed synchronization via plugins, Tiny Tiny RSS (from RSS Guard 3.0.0), ownCloud News (from RSS Guard 3.1.0), Inoreader (from RSS Guard 3.5.0), Gmail with e-mail sending (incoming). multiplatformity, support for all feed formats, simple internal Chromium-based web viewer (or alternative version with simpler and more lightweight internal viewer), simplicity, import/export of feeds to/from OPML 2.0, downloader with own tab and support for up to 6 parallel downloads, message filter with regular expressions, very fast parallelized feed updates, feed metadata fetching including icons, no crazy dependencies, ability to cleanup internal message database with various options, ability to tweak columns in displayed list of messages, enhanced feed auto-updating with separate time intervals, multiple data backend support, SQLite (in-memory DBs too), MySQL. ability to specify target database by its name (MySQL backend), "portable" mode support with clever auto-detection, feed categorization, drap-n-drop for ...

724
May 08, 2020
Martin Rotter