Greenfoot v3.6.1
Greenfoot v3.6.1 Teach and Learn Java Programming Interactive Visual tools coupled with programming, making learning to program easier Real Programming Learn and teach Java, one of the most popular languages in the world Global Discuss, share and interact with user communities, both for learners and teachers Educational software designed to make learning programming easy and fun About Greenfoot: Interactive Visual World Greenfoot teaches object orientation with Java. Create 'actors' which live in 'worlds' to build games, simulations, and other graphical programs. Greenfoot is visual and interactive. Visualisation and interaction tools are built into the environment. The actors are programmed in standard textual Java code, providing a combination of programming experience in a traditional text-based language with visual execution. Simple Programming IDE The interface is a full IDE which includes project management, auto-completion, syntax highlighting, and other tools common to most IDEs. It also allows you to publish your work both on and offline. However the interface is designed to be simple and easy to use; built with beginners in mind. Greenfoot is used by thousands of institutions around the world. It provides easy transition into other environments, such as BlueJ and more professional IDEs. Real Java Code Greenfoot programs are written in standard Java, one of the primary languages in academia and industry. Concepts learned transfer directly to programming in subsequent environments. Greenfoot makes the environment easy enough to use for beginners, and Java makes it powerful enough to write impressive, flexible and sophisticated applications. Teacher Resources Greenroom Exclusive to instructors, the Greenroom is a community place for sharing teaching resources and discussion surrounding teaching with Greenfoot. With hundreds of resources and thousands of teachers, the Greenroom is a treasure trove of teaching ideas. Go to Greenroom Programmer Resources The Gallery Publish your projects online, where your friends and other Greenfoot users can play with them and comment. Online sharing is built directly into the environment. Learn from projects of other users, get ideas, help, ...

1,848
Nov 08, 2020
University of Kent Canterbury, UK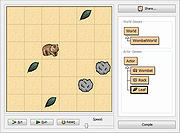 Outlook CalDav Synchronizer v3.6.1
Outlook CalDav Synchronizer v3.6.1 Free Outlook Plugin, which synchronizes events, tasks and contacts between Outlook and Google, SOGo, Nextcloud, Horde or any other CalDAV or CardDAV server. Supported Outlook versions are 2019, 2016, 2013, 2010 and 2007. This project was initially developed as a master thesis project at the University of Applied Sciences Technikum Wien, Software Engineering Degree program. Outlook CalDav Synchronizer is Free and Open-Source Software (FOSS), still you can support the project by donating on Sourceforge or directly within the About dialog of our Plugin. Features free and open-source software (FOSS), the only free Outlook CalDav plugin (AGPL license) tested CalDAV servers: SOGo, Google Calendar, Horde Kronolith, NextCloud, OwnCloud, SabreDAV, Synology NAS, GroupOffice, one.com, Yandex, OpenX-change, Posteo, Landmarks, Kolab, Zoho Calendar, GMX, Tine 2.0, Fruux, Mac OS X Server, iCloud, Mail.ru, Radicale, Cozy Cloud, Cyrus Imap 2.5, mailbox.org two-way-sync modern WPF GUI Supporting OAuth2 for Google SSL/TLS support, support for self-signed certificates Manual proxy configuration support for NTLM or basic auth proxies Autodiscovery of calendars and adressbooks via well-known redirects or DNS SRV/TXT lookups configurable sync range sync multiple calendars per profile sync reminders, categories, recurrences with exceptions, importance, transparency sync organizer and attendees and own response status task support CardDAV support to sync contacts (distribution lists planned) Google native Contacts API support with mapping of Google contact groups to Outlook categories. Google Tasklists support (sync via Google Task Api with Outlook task folders) sync contact pictures, categories, notes and x509 certificates manual or time-triggered sync change-triggered sync sync triggered by Outlook Send/Receive Support for WebDAV Collection Sync (RFC 6578) Category Filtering (sync CalDAV calendar to Outlook categories) map CalDAV server colors to Outlook category colors show reports of last sync runs and status configurable system Tray Icon with notifications bulk creation of multiple profiles Use server settings from Outlook IMAP/POP3 account profile Map Windows to standard IANA/Olson timezones Configurable mapping of Outlook custom properties Backport for WinXP and .Net 4.0 available ...

2,804
Oct 24, 2019
Zehetbauer/Nimmervoll