A Ruler For Windows v3.6.1
A Ruler For Windows v3.6.1 A free on screen pixel ruler / reading guide for Windows. The ruler lets you quickly and easily measure objects on your screen. It's ideal for designing web sites, working with graphics and perfecting the look of your digital products. The reading guide helps you read through text on your screen much like a ruler edge helps you read through lines of text on a printed page. This makes A Ruler for Windows an ideal tool for working with long e-mails, wide spreadsheets and fine print documents on your screen. The program switches between ruler and reading guide modes with the press of a key. By default, both the ruler and reading guide come with four 'skins' to choose from: wood grain, stainless steel, plastic see thru and yellow construction. However, you can create your own skins and share them with your friends! Features With large clear numbering, the ruler is very easy to read. Each ruler / reading guide can be flipped horizontally or vertically, resized to an exact length or resized by dragging it to a desired length. The numbering on the ruler can be reversed and the ruler's length optionally displayed. Ticks can be placed on which ever long edge of the ruler you prefer. You can click on a tick to have a measuring line automatically drawn at an exact location. Automatic midpoint, third and golden ratio lines can optionally be shown. The program also has a feature to launch Microsoft's Magnify tool, allowing you to see a magnified image at the ruler's edges to more easily measure between very fine points. Extra Skins Important With A Ruler for Windows installed on your PC, right-click on any of the skins below, choose to save the link. Run the file you downloaded to add the skin to your collection. Click here ...

739
Mar 31, 2022
Rob Latour


Outlook CalDav Synchronizer v3.6.1
Outlook CalDav Synchronizer v3.6.1 Free Outlook Plugin, which synchronizes events, tasks and contacts between Outlook and Google, SOGo, Nextcloud, Horde or any other CalDAV or CardDAV server. Supported Outlook versions are 2019, 2016, 2013, 2010 and 2007. This project was initially developed as a master thesis project at the University of Applied Sciences Technikum Wien, Software Engineering Degree program. Outlook CalDav Synchronizer is Free and Open-Source Software (FOSS), still you can support the project by donating on Sourceforge or directly within the About dialog of our Plugin. Features free and open-source software (FOSS), the only free Outlook CalDav plugin (AGPL license) tested CalDAV servers: SOGo, Google Calendar, Horde Kronolith, NextCloud, OwnCloud, SabreDAV, Synology NAS, GroupOffice, one.com, Yandex, OpenX-change, Posteo, Landmarks, Kolab, Zoho Calendar, GMX, Tine 2.0, Fruux, Mac OS X Server, iCloud, Mail.ru, Radicale, Cozy Cloud, Cyrus Imap 2.5, mailbox.org two-way-sync modern WPF GUI Supporting OAuth2 for Google SSL/TLS support, support for self-signed certificates Manual proxy configuration support for NTLM or basic auth proxies Autodiscovery of calendars and adressbooks via well-known redirects or DNS SRV/TXT lookups configurable sync range sync multiple calendars per profile sync reminders, categories, recurrences with exceptions, importance, transparency sync organizer and attendees and own response status task support CardDAV support to sync contacts (distribution lists planned) Google native Contacts API support with mapping of Google contact groups to Outlook categories. Google Tasklists support (sync via Google Task Api with Outlook task folders) sync contact pictures, categories, notes and x509 certificates manual or time-triggered sync change-triggered sync sync triggered by Outlook Send/Receive Support for WebDAV Collection Sync (RFC 6578) Category Filtering (sync CalDAV calendar to Outlook categories) map CalDAV server colors to Outlook category colors show reports of last sync runs and status configurable system Tray Icon with notifications bulk creation of multiple profiles Use server settings from Outlook IMAP/POP3 account profile Map Windows to standard IANA/Olson timezones Configurable mapping of Outlook custom properties Backport for WinXP and .Net 4.0 available ...

4,081
Oct 24, 2019
Zehetbauer/Nimmervoll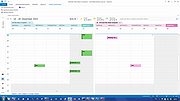 VICE v3.6.1
VICE v3.6.1 Versatile Commodore Emulator VICE is an emulator collection which emulates the C64, the C64-DTV, the C128, the VIC20, practically all PET models, the PLUS4 and the CBM-II (aka C610). Features Debugger This download is for the Windows 64bit version. All other download assets are below: Windows: GTK3VICE-3.6.1-win32.zip SDL2VICE-3.6.1-win64.zip SDL2VICE-3.6.1-win32.zip (The SDL port is meant to be an easily portable version of VICE that is fully usable with just a joystick (with at least 2 buttons) or a keyboard. OS/arch-specific features (such as copy/paste support) may be omitted for portability. Everything is configurable via the UI.) MacOS: vice-x86-64-gtk3-3.6.1.dmg vice-arm64-gtk3-3.6.1.dmg Click here to visit the author's website.

4,432
Oct 24, 2022
VICE Team