MiniTool ShadowMaker Free v3.2
MiniTool ShadowMaker Free v3.2 MiniTool ShadowMaker is an all-in-one data protection and disaster recovery solution for PCs. It can back up your Windows Operating System, selected partitions, and even the whole disk. With a copy of backup, you are able to restore computer once a disaster occurs, like system crash, hard drive failure, and more. MiniTool ShadowMaker also lets you create a bootable media to restore system to a normal state when a computer fails to boot. With MiniTool Media Builder and MiniTool PXE Boot Tool, hard drive maintaining is not a difficult issue. Main Features of MiniTool ShadowMaker System and Disk Backup Schedule and Event Trigger Backup Differential and Incremental Images Bare Metal Recovery and Universal Restore WinPE Bootable media builder and PXE server Password Protection and AES Encryption For Windows 7/8/10 All Editions Highlighted Features Quick System/Disk Backup Quickly back up system and hard disk drives in case an accident happens. Safe System/Disk Restore Safely restore system and hard disk drives to previous state when there is a need. Schedule Setting How often do you want to make a backup? Is that Daily? Weekly? Or Monthly? Backup Scheme Manage hard disk space taken up by full/differential/incremental backup files. WinPE Bootable Media Builder Create a bootable media to help restore operating system to previous state. Disk Clone Clone hard drive for disk backup or for hard drive upgrade. MiniTool ShadowMaker Bootable All-in-one Bootable Backup and Recovery Solution! Embedded in MiniTool ShadowMaker! Fully Protect Windows and Quickly Restore OS when Disaster Happens! What Is MiniTool ShadowMaker Bootable? MiniTool ShadowMaker Bootable Edition is created by Bootable Media Builder which can be found in MiniTool ShadowMaker Tools. With Bootable Media Builder, users can create bootable CD/DVD, bootable USB flash drive, or build an iso image of a bootable disc. MiniTool ShadowMaker Bootable Edition is most frequently used ...

1,559
Oct 29, 2019
MiniTool Solution Ltd.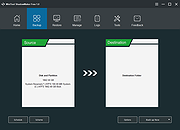 VICE- the Versatile Commodore Emulator v3.2
VICE- the Versatile Commodore Emulator v3.2 VICE is a program that runs on a Unix, MS-DOS, Win32, OS/2, Acorn RISC OS, BeOS, QNX 4.x, QNX 6.x, Amiga, GP2X, Dingoo, Syllable or Mac OS X machine and executes programs intended for the old 8-bit computers. The current version emulates the C64, the C64DTV, the C128, the VIC20, almost all PET models, the PLUS4 and the CBM-II (aka C610). Changes in VICE 3.2 ====================== ** General ---------- - New (experimental) GTK3 native port, this and the SDL(2) port will replace all other ports (which will get removed) in VICE 3.3 and onward. - Handling of the `-keybuf` command now works properly for all emulators and RAM sizes. - Fixed handling of LOAD"$$" with virtual devices. - Fixed @CD, @MD and @RD commands for virtual filesystem devices. - Fixed NEOS Mouse emulation. - Call the new CIA "8521" instead of "6526A" (which is wrong) in the UIs. - Added 4sid support. - Fixed tape wobble. - Erase timing fixes in flash core. - Don't allocate sectors on tracks > 70 in the BAM of 1571 images. - Ethernet emulation: fix register mapping in rr-net mode. - reSID: fixed envelope bugs shown by testprogs/SID/env_test/. - Fixed 6509 CPU port issues. - Added support for TAP virtual network interface. - Fixed drive clock overflow. Drive and host went out of sync on clock overflow (every ~4G cycles), which would break loading or custom drive code in the case loader/stuff is not idle during overflow window. Also drive would execute ~4G cycles out of sync, which made the emulator freeze for a while. ** Monitor ---------- - Fix monitor 'm' command buffer overflow. - Added conditional on values in memory to breakpoint handling. ** SDL changes -------------- - Cosmetic overhaul of the SDL UI. - New drag'n'drop support for the SDL2 port(s). - Fixed monitor display of printables with the 'M' (memdump) command. - Fixed drive status display in ...

1,744
Nov 24, 2018
VICE Team