Safe Exam Browser v2.3 (Windows)
Safe Exam Browser v2.3 (Windows) Safe Exam Browser – SEB for Windows opens a web browser window without navigation elements and locks the computer into a kiosk mode, which prevents from switching to other applications or quitting SEB untimely. SEB enables secure exams on unmanaged computers like students' own laptops as well as in managed environments. Currently SEB integrates with the wide spread learning management systems (LMS) Moodle, ILIAS and OpenOLAT and several commercial and non-commercial exam systems, as for example Inspera Assessment. Generally it can easily be used with most web-based online quiz and e-assessment systems. The manual explains how to configure and use SEB for Windows from the perspective of exam administrators. SEB is a very flexible and modular tool, therefore documentation for examinees on how to use SEB with individual exam setups and the various exam systems it works with should be provided by the institution using SEB or their e-assessment provider. Features SEB disables the options of the Windows Security Screen (invoked by pressing Ctrl+Alt+Del), namely Lock (this Computer), Switch User, Sign out (Log off), Change a password, (Start) Task Manager, Shut down, Restart and Ease of Access. It disables the Windows Task Bar and the Start Menu (button in the lower left corner of the screen), the App/Task/Window Switcher (invoked by Alt-Tab and Windows-Tab), printing. It can also be set whether users can quit SEB and if it is required to enter a quit password to do so. Its possible to configure SEB to quit after the exam is submitted without having to enter a quit password by specifying a quit link and placing this on the summary page displayed by the LMS after submitting the exam. In the browser window there is no right mouse (or Shift-F10) click popup window available. Besides that, the browser is supporting Java ...

113
Sep 26, 2019
ETH Zurich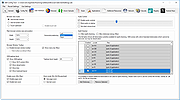 SecureMyBit v2.3
SecureMyBit v2.3 SecureMyBit is a free, portable, and light application , which allows to encrypt any type of file with password (using AES 256 Bit encryption method) and then, decrypt them. SecureMyBit provide, for this purpose, also a secure and strong random password generator, which can generate passwords, as long as you want. Another utility of SecureMyBit is the Secure File Shredder, which can delete a file permanently with an irreversible shredding operation. Our software provides also an utility which can validate the strength of user's passwords; and a System Specs utility, which can tell us all the informations about our computer. SecureMyBit provides also, in addition, a secure virtual keyboard which doesn't produce any keystroke, so this guarantee a protection while entering your password. Finally, you can also get information about your files: hashes, file type, file attributes, etc. and compress your text easily and fast! When you encrypt your file(s) or folder(s) the Smart Monitor will check in real-time if they are modified, renamed or changed/deleted. Key Features Secure File Password Encryption (AES 256 Bit) Secure File Shredder System Specs Password Generator File Info Viewer Text Compressor Smart Monitor Compatibility Windows Vista Windows 7 Windows 8/8.1 Windows 10 Special Requirement: Microsoft .NET Framework 4.5 Languages: English F.A.Q. -Why SecureMyBit is detected by my antivirus/antimalware? We want to specify that this is surely a false positive. SecureMyBit is a clean file. Do I need to install SecureMyBit? No, SecureMyBit is avalaible only in "portable" version, so it doesn't require any installation. -Is SecureMyBit free? Yes, SecureMyBit is absolutely FREE and WITHOUT advertisements! -Does SecureMyBit protect files against ransomware? Well, SecureMyBit provides surely additional protection to the encrypted files, against ransomware, also because the extension of the encrypted files are encoded. This doesn't mean SecureMyBit protects files against all type of ransomware. -Why SecureMyBit gives me an error message when I ...

1,435
May 19, 2019
JM Security