Dust Racing 2D v2.0.5
Dust Racing 2D v2.0.5 Dust Racing (Dustrac) is a tile-based, cross-platform 2D racing game written in Qt (C++) and OpenGL. Dust Racing comes with a Qt-based level editor for easy level creation. A separate engine, MiniCore, is used for physics modeling. Features 1-2 human players againts 11 challenging computer players 3 difficulty settings: Easy, Medium, Hard Split-screen two player game (vertical or horizontal) Game modes: Race, Time Trial, Duel 2D graphics with some 3D objects Smooth game play and physics Multiple race tracks Finishing in TOP-6 will unlock the next race track Star ratings based on the best positions on each race track Easy to create new race tracks with the level editor Engine and collision sounds Pit stops Runs windowed or fullscreen Portable source code using CMake as the build system Will be forever completely free Playing Controls The key configuration and game mode can be changed in the settings menu. ESC or Q exits the race and also the current menu. P pauses the game. Races In the race modes there are always 12 cars. By finishing in TOP-6 a new track will be unlocked. The record times and best positions are stored separately for each lap count. Pit stops Your tires will wear out as the race progresses. This causes more and more sliding. Fortunately there's a pit (the yellow rectangle). By stopping on the pit your tires will be repaired. Custom track files Dust Racing searches for race tracks in ~/DustRacingTracks/ where you can place your own race tracks. Changelog: Version 2.0.5 New features: Show the actual car color in minimap Bug fixes: Fix ...

3,740
Jan 07, 2020
Dust Racing 2D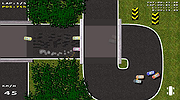 TurboRisk v2.0.5
TurboRisk v2.0.5 With this software you can play the classic "World Domination Risk" game, where you are battling to conquer the world! The main features include: Support for both human or artificial intelligence players, up to ten per game. Customizable rules. Smart and customizable interface that speeds up cards playing, attacks and troops movements. Large selection of AI players, each one with its own "personality". Context sensitive help. Statistics window that shows counters for territories and armies. Optional log window to track the game. Windows 7 and Vista theme support. Large selection of maps. Companion program to create your own custom maps. History of the played games and ranking of the players. "Quick setup" feature to save the entire configuration of the players. Menu option to download news and updates from the TurboRisk homepage. Full featured companion IDE to edit, compile and test your own artificial intelligence players, and a simulation environment to test them. TurboRisk is free TurboRisk is really 100% free: no limitations, no time-outs, no nags, no adware, no banner ads and no spyware. It can be freely used and distributed provided that neither code nor documentation are altered in any way. System Requirements Windows 95/98/NT/2000/XP/Vista/7/8/10, Linux Wine 5 to 30MB of free disk space (depending on type of installation) Screen capable of at least 800x600 recommended TurboRisk doesn't install any DLL or OCX or any other component in your Windows folders. It doesn't use the registry, except to register its Uninstall program. For this reason TurboRisk is highly ...

2,187
Oct 09, 2019
Mario Ferrari