Always scroll to the bottom of the page for the main download link.
We don't believe in fake/misleading download buttons and tricks. The link is always in the same place.
---

TurboRisk v2.0.5

With this software you can play the classic "World Domination Risk" game, where you are battling to conquer the world!

The main features include:

Support for both human or artificial intelligence players, up to ten per game.
Customizable rules.
Smart and customizable interface that speeds up cards playing, attacks and troops movements.
Large selection of AI players, each one with its own "personality".
Context sensitive help.
Statistics window that shows counters for territories and armies.
Optional log window to track the game.
Windows 7 and Vista theme support.
Large selection of maps.
Companion program to create your own custom maps.
History of the played games and ranking of the players.
"Quick setup" feature to save the entire configuration of the players.
Menu option to download news and updates from the TurboRisk homepage.
Full featured companion IDE to edit, compile and test your own artificial intelligence players, and a simulation environment to test them.

TurboRisk is free

TurboRisk is really 100% free: no limitations, no time-outs, no nags, no adware, no banner ads and no spyware. It can be freely used and distributed provided that neither code nor documentation are altered in any way.


System Requirements

Windows 95/98/NT/2000/XP/Vista/7/8/10, Linux Wine
5 to 30MB of free disk space (depending on type of installation)
Screen capable of at least 800x600 recommended

TurboRisk doesn't install any DLL or OCX or any other component in your Windows folders. It doesn't use the registry, except to register its Uninstall program.

For this reason TurboRisk is highly portable, you can move it from one machine to another by simply copying its folder. Similarly, you can run it from any memory device with no need to install it on the target machine.


Credits

Many people gave a contribution to make TurboRisk a better program, and I want to thank them all.

Thanks to Steve Stancliff for his WinRisk program, which I liked and used so much, and which inspired TurboRisk.
A very special thank you to the following people for their invaluable help: Paul R. Brown, Julio Couce, Anthony Covey-Crump, Bobo Frogg, Alexander Gogava, Heitor Mansel, Martin Nehrdich, Eric Platel, Timothy Purkess, Rafal Smotrzyk, Chrystian Wurmser.
Nathan Scarbrough deserves a special mention, because of his enormous contribution to the development and testing of version 2, and for having designed Vexer, the strongest AI player.
Brian Andrews helped me to make TurboRisk open source. Well, actually he did all the job, thanks Brian!
Thanks to RemObjects for their free Pascal Script interpreter.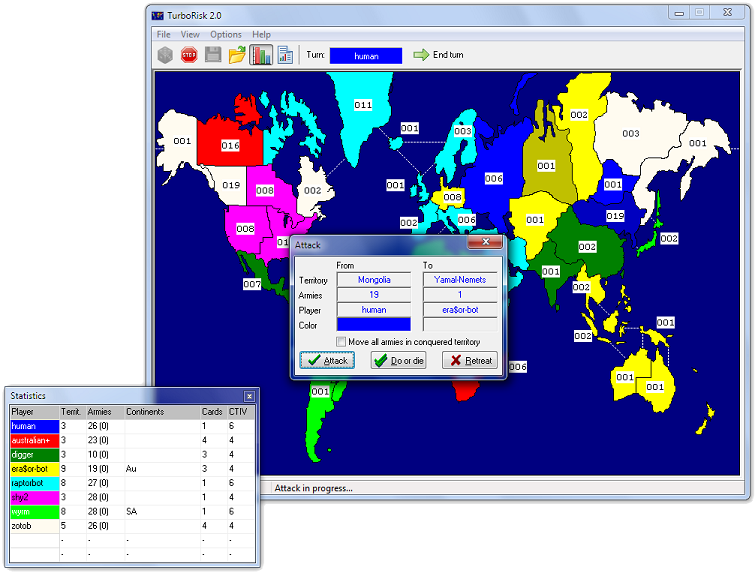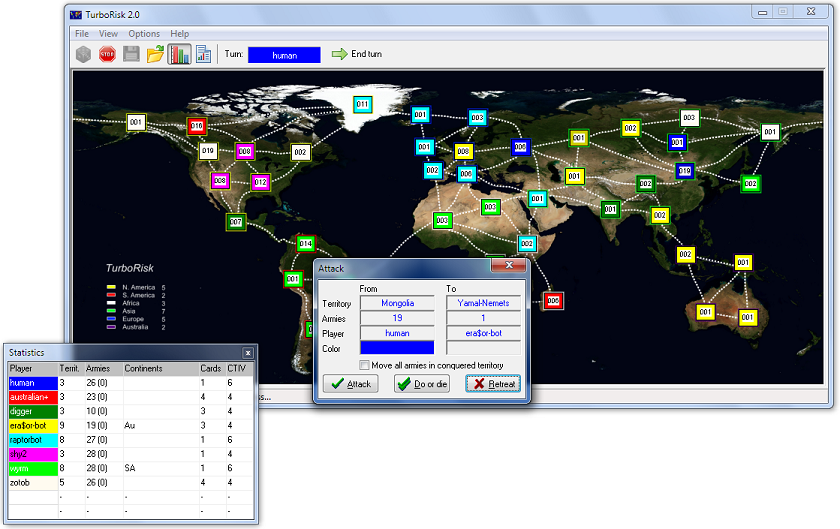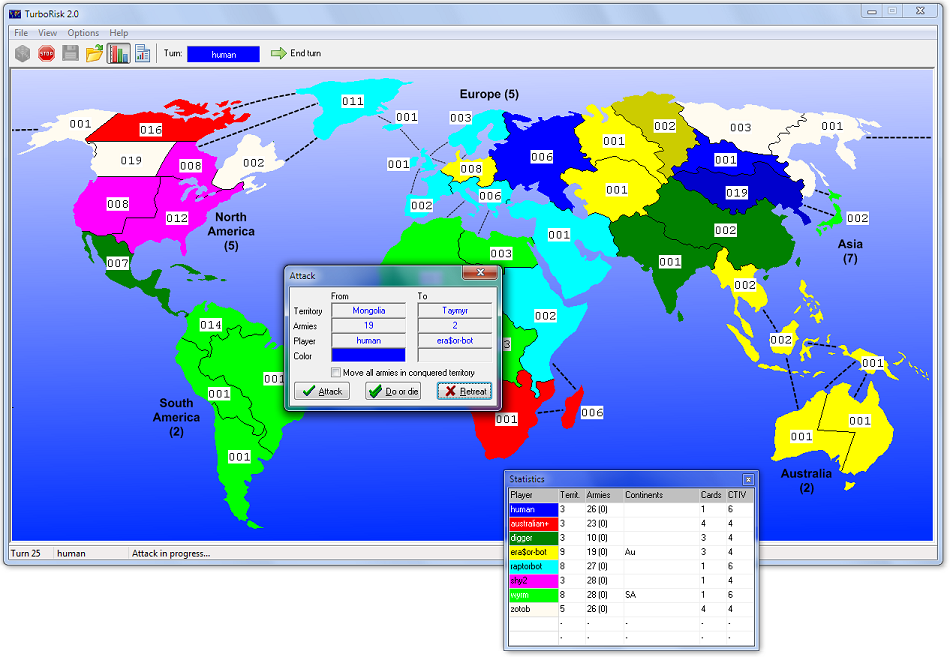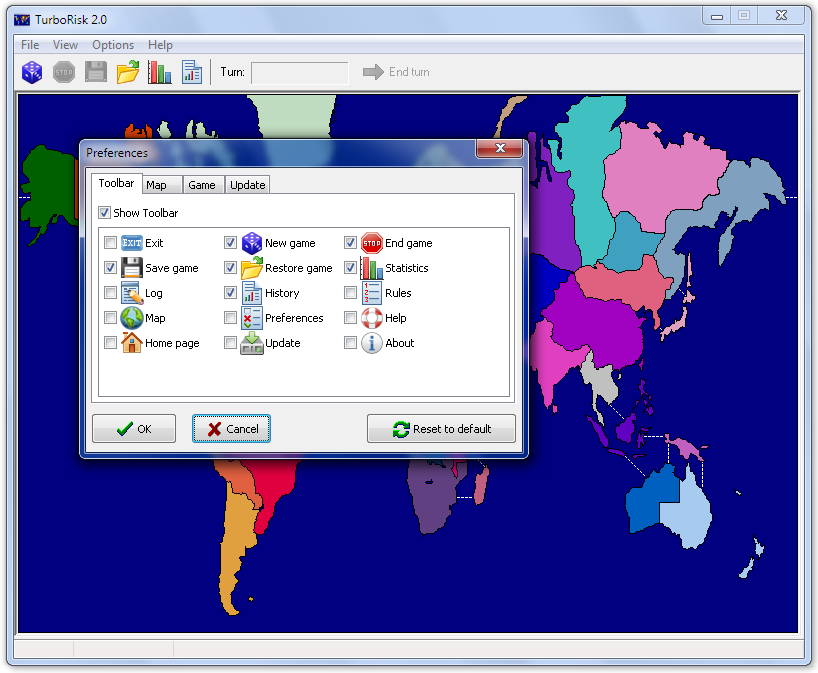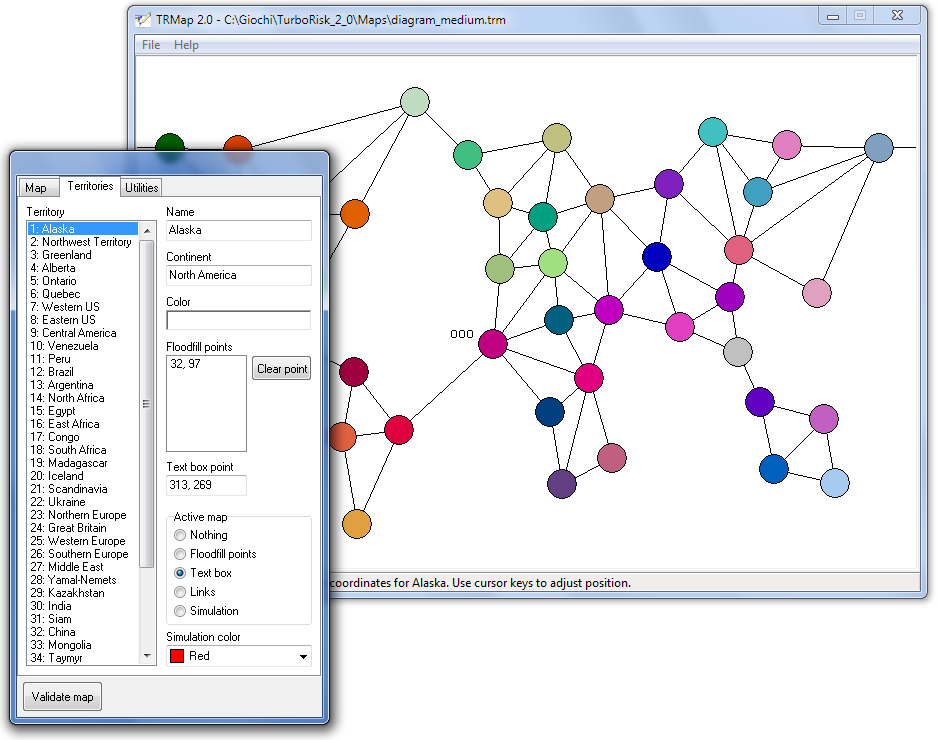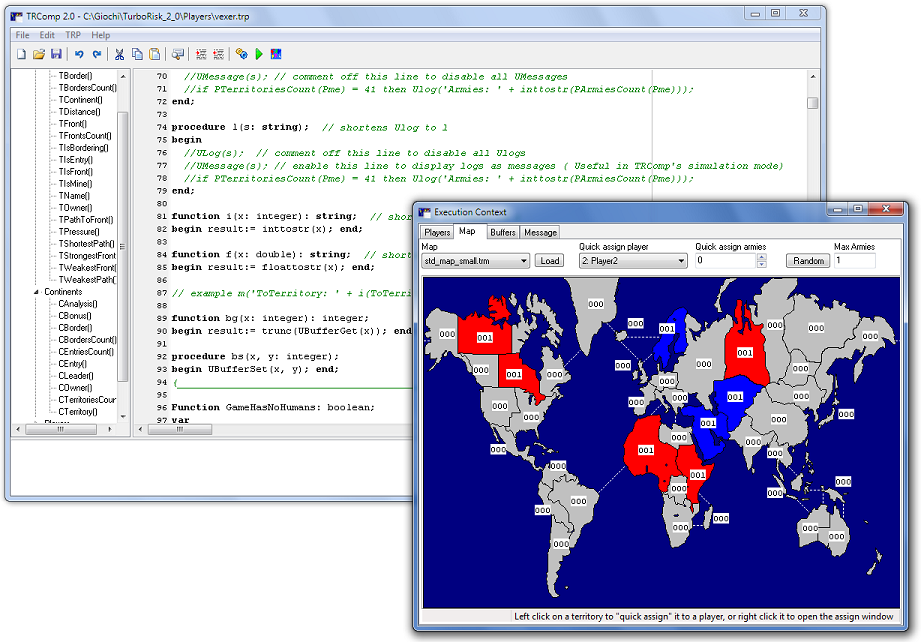 Click here to visit the author's website.
Continue below to download this file.