BrowserAddonsView v1.25
BrowserAddonsView v1.25 BrowserAddonsView is a simple tool that displays the details of all Web browser addons/plugins installed in your system. BrowserAddonsView can scan and detect the addons of most popular Web browsers: Chrome, Firefox, and Internet Explorer. For Chrome and Firefox, BrowserAddonsView detects and scans all Web browser profiles if there are multiple profiles. System Requirements This utility works on any version of Windows, starting from Windows XP and up to Windows 10. Both 32-bit and 64-bit systems are supported. Known Issues When Firefox has more than one profile, the installed plugins will be displayed multiple times (one item for each profile), even if the plugins are linked to the same dll file. This download is for the 64bit version. If you need the 32bit version, download here. Versions History Version 1.25: You can now use any variable inside BrowserAddonsView.cfg as command-line option in order to load the BrowserAddonsView tool with the desired configuration. For example, the following command will load the Web browser addons from the remote computer - 192.168.0.40 : BrowserAddonsView.exe /DataSourceMode 4 /RemoteComputer 192.168.0.40 Start Using BrowserAddonsView BrowserAddonsView doesn't require any installation process or additional DLL files. In order to start using it, simply run the executable file - BrowserAddonsView.exe After running BrowserAddonsView, the main window displays the list of all addons found on your system. You can select one or more addon items, and export the addons list to text/csv/tab-delimited/xml/html file using the 'Save Selected Items' option, or copy the addons list to the clipboard (Ctrl+C) and paste it to Excel or any other spreadsheet application. Viewing the addons list from remote system or external drive BrowserAddonsView also allows you to view the addons list of Firefox and Chrome Web browsers from a remote computer on your network and from external disk plugged ...

4,628
Jan 16, 2021
Nir Sofer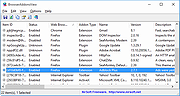 NetworkInterfacesView v1.25
NetworkInterfacesView v1.25 Show info on all network adapters and allows disabling and enabling them. NetworkInterfacesView is a simple tool that displays the list of all network adapters/interfaces installed on your system. It displays network interfaces that are currently active, as well as network interfaces that have been installed previously, and now they are not connected (like USB wireless network adapters). For every network interface found on your system, the following information is displayed (if it's stored in the Registry): Device Name, Connection Name, IP Address, Subnet Mask, Default Gateway, DHCP Server, Status, MAC Address and more... You can select one or more network interface items and then export them to xml/html/csv/tab-delimited file, or copy them into the clipboard and then paste them into Excel or other spreadsheet application. System Requirements This utility works on any version of Windows, starting from Windows 2000 and up to Windows 11. Both 32-bit and 64-bit systems are supported. Changes: Version 1.25: Added 'Disable+Enable Selected Interfaces' option (F8), which allows you to disable and then enable again the selected network interface. Added /DisableEnable command-line option, which allows you to disable and then enable again the network interface from command-line. Added 'Config Registry Key' column, which displays the Registry key that stores the network card configuration like, "Speed & Duplex", "Large Send Offload", "Wake on Magic Packet", "Flow Control", "Green Ethernet", "Transmit Buffers", "Receive Buffers", "TCP Checksum Offload", and so on. Also added 'Open Config In RegEdit' option to open this Registry key in RegEdit. If you modify the values of this configuration Registry key and then use the Disable+Enable option, the network card will start working with the new ...

3,496
Nov 11, 2022
Nir Sofer