Domination (Risk Board Game) v1.2.3
Domination (Risk Board Game) v1.2.3 Domination is a game that is a bit like the well known board game of Risk or RisiKo. It has many game options and includes many maps. Written in java it includes a map editor, a simple map format, multiplayer network play, single player, hotseat, 5 user interfaces and many more features, it works in all OSs that run java 1.4 or higher. Features 100s of maps online play Changes: 1.2.3 PlayerList for Lobby games shows players with correct color Fix for hi-res Linux jdk-11 that sometimes uses display density instead of scale Now works for gtk dark theme Auto-Defend now happens on the server for Lobby Multiplayer Map Editor shows rectangle for country that is used on cards SwingGUI: Options and AI speed setting put into same Options Dialog max players can be changed in game.ini config file, requested by Patreon Steve Sybesma MapEditor: fixed zoom to keep the mouse position on map static SwingGUI: testing tab, show player for online games Click here to visit the author's website.

3,670
Oct 23, 2021
Yura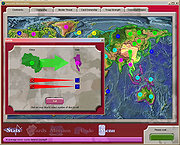 UpDown Meter v1.2.3
UpDown Meter v1.2.3 UpDown Meter graphs network activity for a specific network adapter. It is deliberately designed to consume trace memory and processor time, so it can run as long as the system runs, providing an overview of how the connection is being used. Usage When UpDown Meter is first run we see a prompt to choose a network adapter. To select an adapter, open the settings menu by clicking the button in the lower-right of the toolbox () or choose the settings option from the tray icon menu. Once an adapter has been selected and confirmed by clicking the [OK] or [Apply] buttons, the graph updates to show a scrolling image that updates once per second, as shown below. Each block divided by a dashed vertical line represents a unit of 30 seconds, so this graph is showing the last 61 seconds of network activity. Since the graph appears empty, either there is no activity or our graph is calibrated incorrectly. Once the graph has been calibrated it might look something like the following. The graph scrolls from right to left, so the newest information is displayed on the right. Red indicates downloaded data whilst green represents uploaded data. Yellow represents uploaded or downloaded data, depending on which is lesser at that point in timeóit sounds weird but it's actually quite visually intuitive! Reading from the left, the graph above shows we started downloading data at full speed for about 80 seconds. Then, we stopped downloading and uploaded data at full speed for about 60 seconds (our upload capacity is approximately a quarter of our download capacity). Next, we started downloading at full speed whilst simultaneously continuing our upload for two minutes. During this period, we observe that our connection is unable to reach maximum download speed whilst also uploading at full speed. This is ...

2,961
Feb 09, 2019
ScriptFUSION