MJ Registry Watcher v1.2.8.7
MJ Registry Watcher v1.2.8.7 MJ Registry Watcher is a simple registry, file and directory hooker/poller, that safeguards the most important startup files, registry keys and values, and other more exotic registry locations commonly attacked by trojans. It has very low resource usage, and is set to poll every 30 seconds by default, although you can adjust this to anywhere between 0 and 9999. A configuration file stores all your settings for future use. MJRW not only polls the system, but it also hooks it, so that most changes to keys, files and directories are reported instantaneously. Key deletions are still caught by the polling loop though, since they cannot be hooked. Exactly which keys and files are protected can be completely configured by the user, although the sets I supply with MJRW will cover most standard PCs. There is an additional automatic registry backup system that takes a snapshot of the entire registry about every 28 days and stores it in the directory MJRegBackup. The filename is of the form MJRegBackup_yyyymmdd.reg where yyyy is the year, mm is the month and dd is the day. The last 15 snapshots are kept. They can be restored from a menu option : this can be used in Safe Mode as administrator to rescue a non-booting PC. It should only be used as a last resort : it saved my PC when I accidentally knocked out the video drivers during an over-zealous session in the registry, cleaning out "LogMeIn"! To install it, extract the files with pathnames, and you'll have a self-contained .exe file with a small help text file, the keys and files lists, and a couple of exclusion files in the MJRegWatcher directory. Launch RegWatcher.exe and then, use the Options, Settings, Automatic Startup Options screen to install it either just for the current ...

2,603
Feb 16, 2021
Mark Jacobs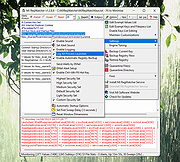 Wireless Network Watcher v2.25
Wireless Network Watcher v2.25 Wireless Network Watcher is a small utility that scans your wireless network and displays the list of all computers and devices that are currently connected to your network. For every computer or device that is connected to your network, the following information is displayed: IP address, MAC address, the company that manufactured the network card, and optionally the computer name. You can also export the connected devices list into html/xml/csv/text file, or copy the list to the clipboard and then paste into Excel or other spreadsheet application. System Requirements And Limitations This utility works on Windows 2000, Windows XP, Windows Server 2003/2008, Windows Vista, Windows 7, Windows 8, and Windows 10. This utility can only scan a wireless network that you're currently connected to. It cannot scan other wireless networks. In rare cases, it's possible that Wireless Network Watcher won't detect the correct wireless network adapter, and then you should go to 'Advanced Options' window (F9), and manually choose the correct network adapter. although this utility is officially designed for wireless networks, you can also use it to scan a small wired network. Versions History Version 2.25 Updated to work properly in high DPI mode. Using Wireless Network Watcher Wireless Network Watcher doesn't require any installation process or additional dll files. In order to start using it, simply extract the executable file (WNetWatcher.exe) from the zip file, and run it. If you want, you can also download WNetWatcher with full install/uninstall support (wnetwatcher_setup.exe), so a shortcut for running WNetWatcher will be automatically added into your start menu. After running WNetWatcher, it automatically locates your wireless adapter, and scans your network. After a few seconds, you should start see the list of computers that are currently connected to your ...

7,141
Mar 08, 2021
Nir Sofer