Clownfish Voice Changer v1.47
Clownfish Voice Changer v1.47 The ultimate system wide voice changer for Windows Clownfish Voice Changer is an application for changing your voice. It's installed on system level so every application that uses microphone or other audio capture device will be affected. In general - your voice will be modified in Steam, Skype, Hangouts, ooVoo, Viber, Ekiga, Jitsi, Ventrilo, TeamSpeak, Mumble, Discord, etc. Voice effects list: Alien Atari Clone Mutation Fast Mutation Slow Mutation Male pitch Silence Female pitch Helium pitch Baby pitch Radio Robot Custom pitch Music player with enhanced audio control and playlist. Various media formats supported. Sound player with build-in sounds and management. Virtual Studio Technology (VST) plugin support. Supported operating system: Windows Vista / 7 / 8 / 8.1 / 10 Installing Clownfish Voice Changer should be an easy task. Just keep pressing Next button. When you start the application Voice Changer logo icon will appear in Windows traybar. When you right click on this icon main control menu will appear. Double-clicking on icon turns on and off the application. When Hear microphone option is checked you will be able to hear your modified voice. From VST Effects menu you can manage and configure your VST plugins. Main Voice Changer Window - here you select active voice effect. When enabled the icon gets colored. If you want to stop all effect press Clear effect button. This window is opened from Set Voice Changer option in main menu. Music Playlist Window - here you can mange and control your background microphone's music. Supported commands - play, stop, pause, resume, next/prev track, volume control. Adding music source from Internet (YouTube, Vimeo, etc.) is possible by installing - required filter. To use Clownfish as voice changer you have to install it on the capture device you want to modify. By default Clownfish is installed on default audio capture device. If you want to install it on other devices you can do this here. ...

348
Jul 11, 2021
Bogdan Sharkov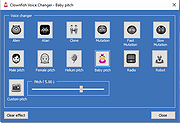 Voice Changer v1.0
Voice Changer v1.0 Portable audio software that allows users to apply various effects to sound files. Users are given an intuitive interface for changing audio files. There are only a few steps required for voice changing. Users can import any audio file to this software, then select the effect, play the generated audio and finally export it as .MP3 or .WAV format. Free audio enhancer Vovsoft Voice Changer is a free audio enhancer tool that lets you add special sound effects to your recordings. There's a simple user interface where you can select the file and make any alterations you wish. It also has the ability to play the tracks and export in various formats. When you've selected the track, you'll see a large selection of effects appear. While the name of the software implies you can only use voice recordings, it's worth noting that any audio files are compatible, even music. Before you can start using Vovsoft Voice Changer, you'll need to select a track you want to enhance or alter. You can opt for a voice recording, or you can use a song. With the recording at hand, you can open the panel for special effects. When you've selected the one you want to use, you can play it back to test how it sounds in case you want to try something else. You don't need to accept the built-in effects in Vovsoft Voice Changer if it doesn't completely meet your needs. When you open up the "Custom" setting, you can play with elements to change the output. If you do it right, you may be able to find a unique sound for your voice or track that no one else has created yet. Finally, you'll need to save your file so you don't lose it. The export options are .WAV and .MP3. ...

147
Oct 05, 2021
Vovsoft