Quick User Manager v1.9.0.0
Quick User Manager v1.9.0.0 A portable tool, featuring all user account management options in a simple, intuitive interface. You are able to change user account settings, such as disabling/enabling the account, clear the lockout state, auto-logon a user, and remove user accounts from the welcome screen. You can also set the picture associated with a user account, set or remove its password, delete and create user accounts. The latest versions of this tool also include Account Profile Fixer, which helps you to repair issues on broken user accounts. The latest version of this application also includes our Account Profile Fixer tool, which allows you to easily repair a corrupted user account. Quick user manager was built with simplicity and ease of use in mind. All the features are shown in the main interface, so you can perform the desired changes with just a few clicks. Changing the location of the account's known folders This feature allows you to change the location of some of some of your personal folders, and also restore their default location. To access this feature, select the account of the currently logeed in user, and then press Move/Restore user personal folders. This will display a dialog box similar to the one in the picture below. You can change the location of the following folders: Desktop, Documents, Downloads, Music, Pictures and Video. The list shows the current and default location of those folders. Before moving or restoring any folder path, youu should set the extra options, in the lower pane: Also move folder contents: When this option is enabled, any existing files in the current location will be moved to the new location. If the new location is in a different volume, files will be copied instead, and then, on successful copy, deleted from the source. Overwrite existing files. This option is only relevant if Also ...

1,916
Aug 23, 2021
Carifred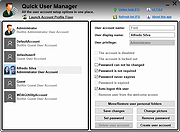 User Profile Wizard v24.0
User Profile Wizard v24.0 Free tool to migrate your current user profile to your new domain account so that you can keep all your existing data and settings. User Profile Wizard 24 is the latest version of ForensiT's powerful workstation migration tool. The Personal Edition (this download) of User Profile Wizard is freeware. User Profile Wizard Personal Edition is a standalone executable; it does not need to be installed or uninstalled. Download and run the msi file to extract the Profwiz.exe file. Download the User Profile Wizard User Guide. This download is for the Personal Edition for Windows 10 and Windows 7. If you need the Personal Edition for Windows XP, download here. Click here to visit the author's website.

4,274
Oct 27, 2021
ForensiT Ltd.