Tree Notebook v1.1.0
Tree Notebook v1.1.0 Tree Notebook is a hierarchical notes manager designed for keeping personal information. The notebook consists of two parts: the public part can be accessed without password, the private part is encrypted, it requires entering a password in order to be opened and used. Tree Notebook comes as two applications: the desktop one for OS Windows, and the mobile one for iOS (iPhone and iPad devices). The data can be synchronized between the Windows computer and up to three iOS devices via a local Wi-Fi network. No access to Internet is needed for synchronizing. Tree Notebook keeps a tree-like multilevel hierarchy of folders and notes. Any folder can include notes and other folders, and so fourth. Any item (a note or a folder) can include text of any size. Besides, items can keep attachments like images or other files. Tree Notebook has useful navigation tools: three separate panes for the entire tree, the current folder in the tree, the current item in the folder, status line indicating the current position in the tree, the lists of History and Favorites which alleviate getting back to the items recently or frequently visited. Both Windows and iOS apps support quick global search (simplified or conditional) and also local search inside an item text. The information in Tree Notebook can be attributed in many ways by using various font types, colored flags, graphic icons. The items can be sorted out by several criteria: alphabetically, by creation or modification time, and even by hand (in manually defined order). Among others, Tree Notebook includes a calendar feature. Any item can have an Event attribute and serve as an alarm clock or reminder. The Windows Tree Notebook application can import data from OneNote and Evernote. It can also export the information to the Evernote and simple RTF formats. The Windows app has the context ...

2,832
Oct 24, 2019
Lena Pankratova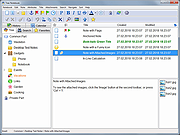 USB Device Tree Viewer v3.3.2
USB Device Tree Viewer v3.3.2 The USB Device Tree Viewer, short UsbTreeView is based upon the Microsoft "USBView" sample application found in the Windows Driver Development Kits and now standalone here: USBView sample application But it is source code only, there is no executable for end users provided. Meanwhile USBView comes as executables as part of the "Debugging Tools für Windows", see here: USBView. UsbTreeView started with the USBView source code from the DDK for Server 2003. Here are the improvements I've done: TreeView with handmade 16x16 icons, USBView used 32x32 icons scaled down to 15x15 Informations from the Windows Device Management are collected and matched with the found USB devices; Therefore UsbTreeView can show the child devices, including drive letters and COM-ports Window position is saved Background color and font of the right pane can be set (the font shown in the screenshots is DOSLike 7) Text output rearranged Keeps the tree item selection over refresh Some more descriptors are decoded Hexdump of the descriptors can be shown Safe removal, device restart and port restart Extended USB information available under Windows 8 (taken from the latest USBView sample application) Extended information about host controllers Enumeration of the USB devices accelerated and independent from the treeview Failed USB requests are re-tried in the background, e.g. if a USB mouse was moved while requesting its properties Toolbar with jump-lists for easily finding devices in complex trees many minor improvements Todo: USB Video Class H.264 information Maybe Unicode support Latest History V3.3.2 ...

4,185
Feb 22, 2019
Uwe Siebe