Atomic Tanks Portable v6.5
Atomic Tanks Portable v6.5 Annihilate the other tanks to earn money, then spend it on bigger and better shields and weapons to wipe out the opposition. Features a wide array of weapons, AI players, destructible landscape, weather, parachutes, teleports and a wide range of other features. Click here to visit the author's website.

141
Aug 26, 2020
Atomic Tanks Team & PortableApps.com (Simeon)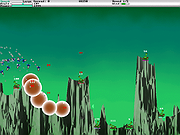 Tanks of Freedom v0.7.0
Tanks of Freedom v0.7.0 Indie Turn Based Strategy in Isometric Pixel Art In a world full of corruption and political struggles the voice of the weak is often left unheard. When people rebel against governments it is time to pick your side. Join the forces of newly created government and help them rise, or ally with loyalist forces aided by the intervention of one of the neighbouring countries. Challenge yourself in campaign against AI or battle your friends in a hot-seat mode, where you will fight for control of strategic locations by issuing commands to your infantry, tanks and airforce. Create your own maps using in-game map editor, then share them with the world. Each sprite was handcrafted in gorgeous, 32 colour pixel art. Original soundtrack and sound effects were made on real GameBoy hardware. Game is open-source and runs smoothly thanks to Godot Engine. Changelog 0.7.0-beta scripted map events in campaign integrated RU language updated AI for better performance updated Settings UI and UI graphics updated to Godot 2.1.4 (2.1.2 or newer required) added camera dragging with right mouse button added loading screen when map is being built added AI speed settings added camera speed settings camera going to HQ at the start of each turn now can be disabled tooltips at the start of each turn now can be disabled fixed a crash when unit had map boundary in movement range fixed accidental menu clicks when skipping intro fixed a bug where touching edge of screen would send the camera far away fixed huge amount of errors ...

2,348
Dec 18, 2019
P1X Dev Team