Remove Windows Store Apps Script
Remove Windows Store Apps Script Remove Windows Store apps in Windows 8, Windows 8.1 and Windows 10 Introduction This script can be used to remove multiple Windows Store apps from a user account in Windows. It provides a list of installed Windows Store apps. You can specify the application IDs, and remove them all at once. Scenarios In Windows 8, 8.1 and 10, you can remove a single Windows Store app by right-clicking the tile in the Start menu and choosing the uninstall command. However, no command is provided for removing multiple Windows Store apps all at once. If you want to do so, you can use this script sample. Sometimes Windows Store apps may crash in Windows 8. Even though you can successfully uninstall and reinstall the app, the app may still crash after the reinstallation. In this situation, you can use this example script to remove these Windows Store apps cleanly. Script Step 1: Move the cursor to the top right corner of the screen, click Search, type PowerShell, right-click the Windows PowerShell app tile, and then, on the app bar, click Run as administrator. Examples Example 1: How to display help about the script You can type the command Get-Help C:\Script\RemoveWindowsStoreApp.ps1 -Full to display the entire help file for this function, such as the syntax, parameters, or examples. This is shown in the following figure. Example 2: How to remove Windows Store apps To remove Windows Store apps, run the script directly, then choose the ID of each app that you want to remove. In this example, I suppose that you decide to remove "Games" and "Maps". The Windows Store apps as shown below. Run the script, and then choose the IDs for the "Games" and "Maps" apps (The IDs should be 4 and 17). Finally, confirm this action. The apps have been removed! Here are ...

4,686
Apr 24, 2017
MSFT OneScript Team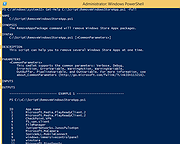 Tron Script v12.0.6
Tron Script v12.0.6 A free collection of programs, tools, utilities, and Windows functions that are scripted together. It is designed to remove malware and bloatware, repair damaged operating systems, update old versions of very common applications, free up drive space by clearing out caches, and more. By consolidating and automating these tasks into a single execution it saves a lot of time and makes the whole process a more efficient. Tron's intended goal is to take a badly-running Windows PC (bloated, infected with malware, neglected, etc) and automate about 85% of the work involved in getting it to run well again. There is nothing Tron does which you couldn't do on your own without it. Tron's real power is in its automation and the breadth of tools that it uses to achieve its intended goal. While Tron can do a lot of good things for an affected PC, it is important to know that Tron is not a miracle cure-all. Tron is not a data recovery tool. It cannot recover files that were deleted or otherwise lost due to system failure or hardware failure. Tron is not a decryption tool. It cannot recover encrypted data such as files from an encrypted hard drive where you forgot the key, or if your computer was affected with ransomware. (Tron CAN remove the ransomware from your computer, but once your files have been encrypted the damage will have already been done.) Tron cannot solve bottlenecks that are inherent to your computer's hardware configuration. If your hardware is old, slow, or damaged, Tron cannot fix that. Tron is not a routine or preventative maintenance tool. As stated, the purpose of Tron is to automate a number of processes in order to get a badly ...

13,539
Oct 18, 2023
vocatus