Remove Windows Store Apps Script
Remove Windows Store Apps Script Remove Windows Store apps in Windows 8, Windows 8.1 and Windows 10 Introduction This script can be used to remove multiple Windows Store apps from a user account in Windows. It provides a list of installed Windows Store apps. You can specify the application IDs, and remove them all at once. Scenarios In Windows 8, 8.1 and 10, you can remove a single Windows Store app by right-clicking the tile in the Start menu and choosing the uninstall command. However, no command is provided for removing multiple Windows Store apps all at once. If you want to do so, you can use this script sample. Sometimes Windows Store apps may crash in Windows 8. Even though you can successfully uninstall and reinstall the app, the app may still crash after the reinstallation. In this situation, you can use this example script to remove these Windows Store apps cleanly. Script Step 1: Move the cursor to the top right corner of the screen, click Search, type PowerShell, right-click the Windows PowerShell app tile, and then, on the app bar, click Run as administrator. Examples Example 1: How to display help about the script You can type the command Get-Help C:\Script\RemoveWindowsStoreApp.ps1 -Full to display the entire help file for this function, such as the syntax, parameters, or examples. This is shown in the following figure. Example 2: How to remove Windows Store apps To remove Windows Store apps, run the script directly, then choose the ID of each app that you want to remove. In this example, I suppose that you decide to remove "Games" and "Maps". The Windows Store apps as shown below. Run the script, and then choose the IDs for the "Games" and "Maps" apps (The IDs should be 4 and 17). Finally, confirm this action. The apps have been removed! Here are ...

2,226
Apr 24, 2017
MSFT OneScript Team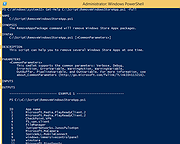 Tron Script v11.1.3
Tron Script v11.1.3 Notice: Some antivirus programs such as Windows Defender may block this download or not allow the program to run. This is a false positive. See this article for more information. Tron is a glorified collection of batch files that automate the process of disinfecting and cleaning up Windows systems. It is built with heavy reliance on community input and updated regularly. Tron supports all versions of Windows from XP to 10 (server variants included). What is "Tron Script"? Tron is a script that "fights for the User". It's basically a glorified collection of Windows batch files that automate a bunch of scanning/disinfection/cleanup tools on a Windows system. I got tired of running the utilities manually and decided to just automate everything. I hope this helps other techs, admins, and users in general. Tron's goal is to take a badly-running Windows system (bloated, infected, etc) and automate ~85% of the work involved in disinfecting it, removing bloatware, and basically cleaning everything up to get it running well again. That's pretty much it. At this point it seems to accomplish that goal pretty well on most systems. The whole project is built with heavy reliance on community input and updated regularly. Stages of Tron: Prep: rkill, ProcessKiller, TDSSKiller, Stinger, registry backup, WMI repair, sysrestore clean, oldest VSS set purge, create pre-run System Restore point, SMART disk check, NTP time sync Tempclean: TempFileCleanup, CCLeaner, BleachBit, backup & clear event logs, Windows Update cache cleanup, Internet Explorer cleanup, USB device cleanup De-bloat: remove OEM bloatware; customizable list is in esources\stage_2_de-bloat\oem\; Metro OEM debloat (Win8/8.1/2012 only) Disinfect: Kaspersky Virus Removal Tool, Sophos Virus Removal Tool, Malwarebytes Anti-Malware, DISM image check (Win8/2012 only) Repair: Registry permissions reset, Filesystem permissions reset, SFC /scannow, chkdsk (if ...

3,231
Sep 01, 2020
vocatus