FastStone Photo Resizer v4.1
FastStone Photo Resizer v4.1 FastStone Photo Resizer is an image converter and renaming tool that intends to enable users to convert, rename, resize, crop, rotate, change color depth, add text and watermarks to images in a quick and easy batch mode. Drag and Drop mouse operation is well supported. Features Convert and Rename images in batch mode Support JPEG, BMP, GIF, PNG, TIFF and JPEG2000 Resize, crop, change color depth, apply color effects, add text, watermark and border effects Rename images with sequential number Search and replace texts in the file names Preview conversion and renaming Support folder/non-folder structure Load and save settings And much more... History Version 4.1 (March 22, 2019) Fixed a vulnerability that may cause program to crash on corrupted or ill-intentioned images Other minor improvements and bug fixes Click here to visit the author's website.

3,146
Mar 26, 2019
FastStone Soft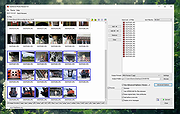 Picture Resizer v6.0
Picture Resizer v6.0 An easy-to-use and free tool for batch resizing of JPG pictures and photos. How to use it? Download PhotoResize400.exe below and place it on your desktop. Drag and drop JPG files or folders with JPG files on the application icon. The tool will resize JPG images and save them next to the originals. Names of the new pictures will be based on the original names, with a suffix indicating their size. For example, the resized version of MyPhoto.jpg will be called MyPhoto-400.jpg, where the number 400 indicates the size of the picture. Configuration The size of output pictures is controlled by the name of the application. To rename it, click on the icon to select it and do one of these things: press F2 key, click in the text under the icon, or right-click the icon and select Rename command in the menu. Depending on your settings, you'll either see ".exe" on the end or not. If you see it, keep it there, if you do not see it, do not add it. Highlights The tool is using high-quality resizing method, where color of each pixel is a weighted average of all covered pixels from the original image. Linear interpolation is used when zooming in. The algorithm is optimized to work with gamma-corrected pictures. High speed. Maximum number of images Picture Resizer does not limit the number of images resized at once, but there are other factors that may impose a limit. When files are dragged and dropped on the tool icon, Windows Explorer sends the names of the dropped files as command line parameters to Picture Resizer. Windows has a limit on the total length of command line. If the filenames(+paths) are longer than the limit, ...

759
Dec 20, 2020
Vlastimil Miléř