Privacy Badger v2021.8.17
Privacy Badger v2021.8.17 A browser add-on that stops advertisers and other third-party trackers from secretly tracking where you go and what pages you look at on the web. If an advertiser seems to be tracking you across multiple websites without your permission, Privacy Badger automatically blocks that advertiser from loading any more content in your browser. To the advertiser, it's like you suddenly disappeared. How is Privacy Badger different from Disconnect, Adblock Plus, Ghostery, and other blocking extensions? Privacy Badger was born out of our desire to be able to recommend a single extension that would automatically analyze and block any tracker or ad that violated the principle of user consent; which could function well without any settings, knowledge, or configuration by the user; which is produced by an organization that is unambiguously working for its users rather than for advertisers; and which uses algorithmic methods to decide what is and isn't tracking. Although we like Disconnect, Adblock Plus, Ghostery and similar products, none of them are exactly what we were looking for. In our testing, all of them required some custom configuration to block non-consensual trackers. Several of these extensions have business models that we weren't entirely comfortable with. And EFF hopes that by developing rigorous algorithmic and policy methods for detecting and preventing non-consensual tracking, we'll produce a codebase that could in fact be adopted by those other extensions, or by mainstream browsers, to give users maximal control over who does and doesn't get to know what they do online. How does Privacy Badger work? When you view a webpage, that page will often be made up of content from many different sources. (For example, a news webpage might load the actual article from the news company, ads from an ad company, and the comments section from ...

1,105
Sep 28, 2021
Electronic Frontier Foundation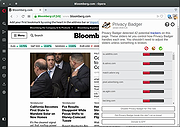 Privacy Guardian
Keep your what you do on your computer and the Internet protected from prying eyes! Internet and Online Privacy PC Tools Privacy Guardian works with popular Internet browsers to erase your browsing history, search history, cookies, passwords, and download logs to help keep your Internet activities private. It even works with chat programs, media players, FTP browsers, email clients, and peer-to-peer file transfer programs to protect your other online activities as well. Everyday Computing Privacy PC Tools Privacy Guardian also helps maintain your day-to-day computing privacy. Temporary and recent file history erasers clear your temporary file folders, as well as your recently opened files lists, keeping your PC use and file access history private. Other cleaners erase Windows® history, including the ones found in Microsoft® Office, the Recycle Bin, your Recently Run programs, and the Find and Search bar. Secure File Deletion PC Tools Privacy Guardian helps ensure that the files you delete stay deleted with secure file shredding. And to further safeguard your Recycle Bin, a disk-bleaching tool wipes your free hard disk space, preventing of your deleted files from being restored by file recovery tools.

8,063
Mar 01, 2012
Pctools