Avira Privacy Pal 1.2.0.1137
Avira Privacy Pal 1.2.0.1137 Did you know that whenever you use your computer, you're leaving digital traces that could expose your personal data? That's why we created Avira Privacy Pal. It's a personal assistant that lets you manage your privacy more quickly, simply, and effectively than ever. You can manually deal with 200+ privacy issues or you can put them all in safe, reliable hands and enjoy the view from a sleek, intuitive dashboard. Wipe away complexity and your digital traces If you'd like to save time, reduce hassle, and safeguard your privacy, you've found a friend in Privacy Pal: Gives you an overview of your privacy status and a quick fix for privacy threats Puts you in control, so you can manage the information collected about you Looks for privacy vulnerabilities and lets you know how you're being tracked Ease of use is built in from the start Take a peek at the dashboard and you'll immediately notice state-of-the-art comfort and simplicity with all the information you need available at a glance. What you won't see are the hundreds of individual privacy issues. They're being quietly sorted. Shhhh. What does it do? Here are just some of the features that keep you and your data safe from snoops: Disable Windows tracking This stops Cortana (Microsoft's personal virtual assistant) from tracking your location and accessing your calendar, contacts, and browsing history Remove chat logs from Skype Skype keeps a history or your private chats. We think that no one needs to know whom you talk to Disable web tracking Limit the information that ad and analytics companies gather about you from your web browsing Pick your preferences We're all different, which is why Privacy Pal offers three user profiles. Each profile comes with a unique balance of privacy and convenience. They're free and easy to use. Choose Basic You ...

348
May 22, 2018
Avira Operations GmbH

Privacy Eraser 4.1.1.1291
Privacy Eraser 4.1.1.1291 Privacy Eraser is an easy to use solution for protecting your privacy by deleting your browsing history and other computer activities. All main popular web browsers are supported, including Internet Explorer, Firefox, Chrome, Safari and Opera. With literally one click, Privacy Eraser will erase all digital footprints - web browser cache, cookies, browsing history, address bar history, typed urls, autocomplete form history, saved passwords, index.dat files, Windows' run history, search history, open/save history, recent documents, temporary files, recycle bin, clipboard, dns cache, log files, error reporting and more. Privacy Eraser also supports plugins to further extend the software's cleaning features. Meaning you can also delete whatever tracks are left behind by other applications with your own plugins. Privacy Eraser embedded more than 250 free plugins, supporting many popular programs such as ACDSee, Adobe Reader, Microsoft Office, WinZip, WinRAR, Windows Media Player, VLC Player, BitTorrent, Google Toolbar and many others. Privacy Eraser works with Windows 8.1/8/7/Vista/XP/2012/2008 (32/64-bit), and also supports Windows FAT16/FAT32/exFAT/NTFS file systems. The software implements and exceeds the US Department of Defense and NSA clearing and sanitizing standards, giving you the confidence that once erased, your file data is gone forever and can never be recovered. Main Features: Internet Explorer (IE), Firefox, Chrome, Safari and Opera Cleans internet cache, browsing history, cookies, typed urls, download history, autocomplete & autofill form history, saved password and much more. Windows Better computer security: cleans run history, search history, open & save history, recent documents, temporary files, recycle bin, clipboard, taskbar jump lists, dns cache, log files, memory dumps, error reporting and more. Third party applications More than 250 free, pre-configured plugins to clean the traces of many popular applications. You can also extend cleaning features by ...

1,796
Jul 10, 2015
Cybertron Software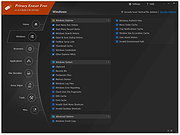 Privacy Guardian
Keep your what you do on your computer and the Internet protected from prying eyes! Internet and Online Privacy PC Tools Privacy Guardian works with popular Internet browsers to erase your browsing history, search history, cookies, passwords, and download logs to help keep your Internet activities private. It even works with chat programs, media players, FTP browsers, email clients, and peer-to-peer file transfer programs to protect your other online activities as well. Everyday Computing Privacy PC Tools Privacy Guardian also helps maintain your day-to-day computing privacy. Temporary and recent file history erasers clear your temporary file folders, as well as your recently opened files lists, keeping your PC use and file access history private. Other cleaners erase Windows® history, including the ones found in Microsoft® Office, the Recycle Bin, your Recently Run programs, and the Find and Search bar. Secure File Deletion PC Tools Privacy Guardian helps ensure that the files you delete stay deleted with secure file shredding. And to further safeguard your Recycle Bin, a disk-bleaching tool wipes your free hard disk space, preventing of your deleted files from being restored by file recovery tools.

5,556
Mar 01, 2012
Pctools