PortableApps.com AppCompactor v3.5
PortableApps.com AppCompactor v3.5 PortableApps.com AppCompactor allows you to easily compress application to decrease size on disk and increase performance when running from a slow media (like flash drives). It features: Proven UPX binary compressor 7-Zip compression of archives Multiple compression levels Automatic testing of compressed files Automatically skips <4K files (no space savings) Add inclusions/exclusions using PortableApps.com Format Compression of DLL, EXE, ZIP, JAR, IRC, PYD and BINs in all directories Automatically skip launcher if selecting PortableApps.com Format apps' base directory Automatically excludes Visual C++ runtimes and Qt image handlers Saving up to 50% or more installed space of many apps Faster application starts from flash drives The same technology we formerly used in OpenOffice.org Portable, Pidgin Portable, GIMP Portable and more! Helpful tips: Don't compress NSIS launchers (FirefoxPortable.exe, etc), they'll break It's best to have the app you're compressing reside on a hard drive (at least temporarily) rather than a flash drive to improve performance and decrease writes to your flash drive You can disable the Welcome screen or have the console window stay by editing the settings.ini in the Data directory Only NRV2E should be used for PortableApps.com Releases (including development tests and pre-releases) unless it's a small app (one exe and a dll or two) and very easy for you to test every feature and function on every Windows OS. Always back up your files before using this tool as it will not work with all applications. False Positive Note: The current UPX 64-bit binary has false positives ...

712
May 15, 2020
PortableApps.com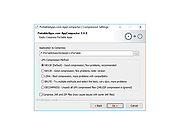 PortableApps.com Platform v16.1.1
PortableApps.com Platform v16.1.1 The PortableApps.com Platform is a full-featured portable software menu, backup utility, app store, automatic updater and application management system that ties all your portable apps together and lets you build your own custom portable app suite. Add new apps with the portable app store, organize them by category or folder, choose the look and color you want and automatically update everything, all with one easy-to-use system. Just drop it on your portable device and you're ready to go. PortableApps.com Platform Changelog 16.1.1 [2020-03-04] ADDED: Manual INI option to disable logo decorations UPDATED: Hebrew, Russian, Turkish locales FIXED: Widened Options window to add additional space for some locales FIXED: Process bug warning on install/update when no affected apps being installed FIXED: Start Minimized advanced option not being saved Operating Systems: Windows 10, Windows 8.1, Windows 8, Windows 7, Windows Vista, Windows XP Also Works With: Linux, Unix, BSD, etc via Wine & Mac OS X via CrossOver, Wineskin, WineBottler, PlayOnMac 32-bit and 64-bit Support: Automatically adjusts support and performance to each PC MD5 Hash: 7537099084134202300d72e23331150f SHA256 Hash: d95a7e0d6bcbf466103e6541efd7b5cc672431053770add6cfac50c1d1737e1c Click here to visit the author's website.

5,068
Mar 05, 2020
PortableApps.com