FYI, always scroll to the bottom of the page to download files on OlderGeeks.com.
We don't believe in fake/misleading download buttons and tricks. The link is always in the same place.
---

PortableApps.com Platform v16.1

The PortableApps.com Platform is a full-featured portable software menu, backup utility, app store, automatic updater and application management system that ties all your portable apps together and lets you build your own custom portable app suite. Add new apps with the portable app store, organize them by category or folder, choose the look and color you want and automatically update everything, all with one easy-to-use system. Just drop it on your portable device and you're ready to go.

PortableApps.com Platform Changelog

16.1 [2020-02-12]

Changes since last stable release

ADDED: RTL language alignment support (Arabic, Farsi, Hebrew)
ADDED: Old app installer process bug detection and warning
UPDATED: Arabic, Armenian, Bulgarian, Dutch, English, EnglishGB, Farsi, Finnish, German, Hebrew, Hungarian, Japanese, Polish, Portuguese, PortugueseBR, Spanish locales
UPDATED: Compiler to Delphi 13.3.3
FIXED: Upgrades failing when hundreds of processes running
REMOVED: autorun.inf installation/updates
REMOVED: autorun.inf live change monitoring




Operating Systems: Windows 10, Windows 8.1, Windows 8, Windows 7, Windows Vista, Windows XP
Also Works With: Linux, Unix, BSD, etc via Wine & Mac OS X via CrossOver, Wineskin, WineBottler, PlayOnMac
32-bit and 64-bit Support: Automatically adjusts support and performance to each PC

MD5 Hash: c8797400e86f62837314ea55d56696a9
SHA256 Hash: 9e6b95fa8499dbd122648d965d0e639c3129468028756932f59d88ca1559d3d3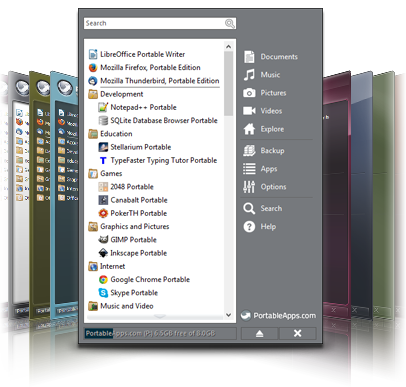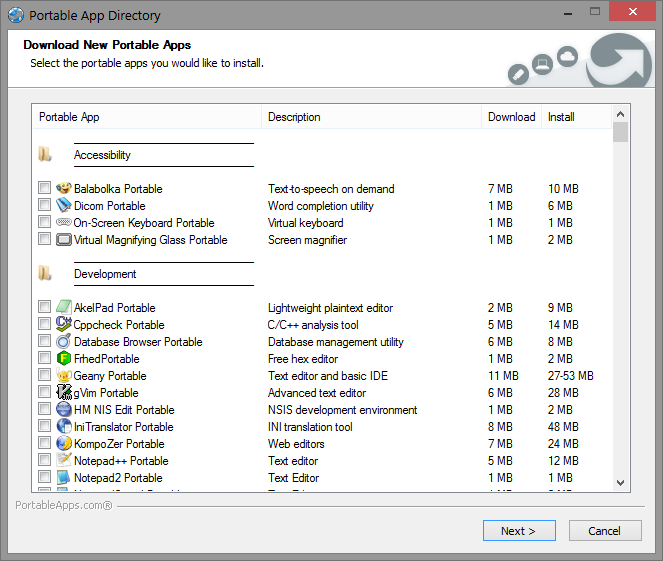 Click here to visit the author's website.
Continue below to download this file.