Personal Backup v6.2.4.0
Personal Backup v6.2.4.0 A program for saving personal data to any destination folder. This folder may be located on a local fixed or removable drive, on a Windows network server or on an FTP server. The 32-bit version runs under Windows 7, 8 and 10 (32- & 64-bit), Windows Vista, Windows XP and Windows Server 2003/2008(R2)/2012(R2), the 64-bit only under Windows 7,8 and 10 (64-bit) and Windows Server 2008(R2)/2012(R2). You can configure and store as many backup tasks as you wish. The selection of the files to be backed up is made on a by-folder basis. All subfolders are included automatically, but the user can exclude or include any subdirectories from or in the backup by selection or by filter. Additional criteria are the selection by file type, file age and/or file name filter. At the destination folder the original drives (C:, D:, etc.) appear as subdirectories named LwC, LwD, etc. The original directory structure remains unchanged beneath these folders. All files may be compressed in gzip, either in toto or separated by subfolders as zip files. Optionally all data can be AES algorythm-encrypted. Performing the backup can be done manually or automatically. During the backup the program checks whether the file to be saved is newer than one already backed up. Only new files and files with newer timestamps are saved. An alternate criteria is the archive bit of the files. Automatic backups can be started on logon, at a selectable time of day, on logoff or on shutdown. You can make scheduled backups with destination paths changing daily or weekly. For individual schedules it is easy to start a backup using the Windows Task Scheduler and the command line options of the program. Note: Personal Backup cannot be used to save and restore system files. The features in detail: Wizard for ...

4,332
Aug 23, 2021
Dr. J. Rathlev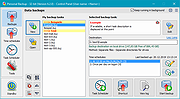 Privacy Guardian
Keep your what you do on your computer and the Internet protected from prying eyes! Internet and Online Privacy PC Tools Privacy Guardian works with popular Internet browsers to erase your browsing history, search history, cookies, passwords, and download logs to help keep your Internet activities private. It even works with chat programs, media players, FTP browsers, email clients, and peer-to-peer file transfer programs to protect your other online activities as well. Everyday Computing Privacy PC Tools Privacy Guardian also helps maintain your day-to-day computing privacy. Temporary and recent file history erasers clear your temporary file folders, as well as your recently opened files lists, keeping your PC use and file access history private. Other cleaners erase Windows® history, including the ones found in Microsoft® Office, the Recycle Bin, your Recently Run programs, and the Find and Search bar. Secure File Deletion PC Tools Privacy Guardian helps ensure that the files you delete stay deleted with secure file shredding. And to further safeguard your Recycle Bin, a disk-bleaching tool wipes your free hard disk space, preventing of your deleted files from being restored by file recovery tools.

7,924
Mar 01, 2012
Pctools