Pinned: Hirenís BootCD PE x64 v1.0.2
Hirenís BootCD PE x64 v1.0.2 This download may trigger a virus warning. This is a false warning. This happens because of some of the advanced tools in this disk image. Hirenís BootCD PE (Preinstallation Environment) is a restored edition of Hirenís BootCD based on Windows 10 PE x64. Since there are no official updates after November 2012, PE version is being developed by Hirenís BootCD fans. It contains the fewest but best free tools. It is being developed for the new age computers, it supports UEFI booting and requires a minimum of 2 GB RAM. With the useful tools inside of the CD, you can fix many problems related to your computer. It does not contain any pirated software, it contains only free and legal software. Hirenís BootCD PE x64 (v1.0.2) Ė ISO Content BCD-MBR Tools BootIce v1.3.3 EasyBCD v2.3 Hard Disk Tools Ė Data Recovery CheckDisk GUI v0.3.1 Lazesoft Data Recovery v4.0.0.1 Puran Data Recovery v1.2.0 Puran File Recovery v1.2.0 Recuva v1.53.0.1087 DMDE v3.8.0 ReclaiMe build 3475 PhotoRec v7.2 Unstoppable Copier v5.2 Hard Disk Tools Ė Defrag Defraggler v2.22.33.995 Hard Disk Tools Ė Diagnostic GSmartControl v1.1.3 HDDScan v4.1 HDTune v2.55 WD Data Lifeguard Diagnostics v1.37 Crystal Disk Info v8.12.2 Test Disk v7.2 Hard Disk Tools Ė Imaging Acronis TrueImage 2021 build 39216 AOMEI Backupper v6.5.1 Lazesoft Disk Image & Clone v4.0.0.1 Macrium Reflect PE v7.3.5925 Runtime DriveImage XML v2.60 Hard Disk Tools Ė Partition Tools ...

9,870
Aug 04, 2021
hirensbootcd.org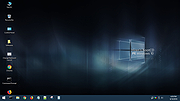 AOMEI PE Builder v2.0
AOMEI PE Builder v2.0 AOMEI PE Builder is a freeware to create a bootable environment into CD/DVD, USB flash drive or ISO file based on Windows PE (Windows Pre-installation Environment or download Windows PE creating environment from network) without installing AIK/WAIK, which integrates a set of tools that enables you to boot up your computer for easy maintenance and fast recovery tasks when the native system is corrupted or cannot be used. And the bootable media you create is compatible with both BIOS and UEFI, so you donít have to create two medias for those two boot modes separately. OS Support: Windows XP - Windows 10 and Windows Server 2003-2016 Features and Utilities of AOMEI PE Builder Familiar Windows Interface When creating WinPE bootable disk, AOMEI integrates desktop, Windows explorer, start menu, and task bar into the WinPE environment. This makes it easy and effortless for you to manage files and documents, just like using Windows operating system. No AIK/WAIK Installation To create a Windows PE media, typically you have to pre-install Windows AIK or WAIK, or prepare a Windows installation disc. Luckily, AOMEI PE Builder allows you to create a Windows PE boot disk without installing AIK/WAIK. It will save your valuable time and energy! Pack Portable Tools & Drivers Except many built-in tools in AOMEI PE Builder, you can still specify your own Windows PE through the following two functions: Add Files: Include more portable tools you like into WinPE bootable disk. Add Drivers: Add multiple drivers to WinPE bootable media to recognize more hardware. Support Network In most cases, the WinPE created by AOMEI PE Builder can be connected to network; through the network, you can: Off-line antivirus: When the computer is locked and canít remove viruses/Trojans due to viruses attack, download directly anti-virus software off-line version in Windows PE system. Maintain system: System administrator can easily maintain systems of ...

3,504
Mar 14, 2019
AOMEI Tech Co. Ltd.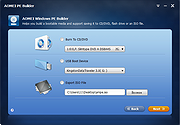 PE Anatomist v0.2.0
PE Anatomist v0.2.0 PE Anatomist shows almost all known data structures inside a PE file and makes some analytics. Headers and data structures parsing IMAGE_DOS_HEADER, IMAGE_FILE_HEADER, IMAGE_OPTIONAL_HEADER, IMAGE_OPTIONAL_HEADER64 and the DataDirectories List with additional information about some fields Table of COFF symbols Sections table, supporting long section names (via symbols table) and entropy calculating Import table (supports MS-styled names demangling) Bound Import Table Delayed Import Table Export Table with additional info Resource Table with additional info about different resource types and detailed view for all types Base Relocation Table. Target address determining and interpretation available for all supporting architectures. It detects imports, delayed imports, exports, tables from loadconfig directory, ANSI and UNICODE strings. Brief info about PE Authenticode Signature LoadConfig Directory with SEH, GFID, decoded CFG bitmap, GIAT, Guard LongJumps, CHPE Metadata, Dynamic Value Reloc Table, Enclave Configuration, Volatile Metadata tables parsing and additional information about some fields Debug Directory. It parses contents of CODEVIEW, POGO, VC FEATURE, REPRO, FPO, EXDLL CHARACTERISTICS, SPGO debug types TLS config and callbacks table with additional information about some fields Exceptions Data Table. x64 (including version 2 with EPILOG unwind codes), arm, arm64, ia64 architectures are support, as well as chain of unwind data for x64, language-specific handler data (C Scope, C++ FuncInfo, C++ EH4, C++ DWARF LSDA) and hexadecimal view of unwind data Partial .NET directory pasring: IMAGE_COR20_HEADER, CORCOMPILE_HEADER, READYTORUN_HEADER with additional information about some fields Decode Rich signature indicating the tool used, the action being taken, the full version of the tool, and the version ...

1,418
Jan 05, 2021
RamMerLabs