Pinned: Hiren's BootCD PE x64 v1.0.1
Hiren's BootCD PE x64 v1.0.1 This download may trigger a virus warning. This is a false warning. This happens because of some of the advanced tools in this disk image. Statement from Hirensbootcd.org: The old versions you download from our website are NOT edited, they are the original files. Both old and new versions are clean. The most common files we are getting reports are "HBCDMenu.exe, HBCDCustomizer.exe, R-Kill.com, konboot.gz". Please note, they do NOT contain a virus. If you are getting a virus warning, that is a false positive. Please report the file as a false positive via your antivirus software. During that time, you should disable your antivirus or add the related file to your antivirus software's exceptions list for a problem free use. Hiren's BootCD PE (Preinstallation Environment) is an emergency boot disk based on Windows 10 PE x64. It is being developed for the new age computers, it supports UEFI booting and requires minimum 2 GB RAM. It does not contain any pirated software, it is %100 free and legal. After boot, it finds and installs many common drivers like graphics, sound, wireless and ethernet card for your hardware. So that you can connect to a WIFI or Ethernet network. With the useful tools inside of the CD, you can solve many problems related with your computer. BCD-MBR Tools BootIce v1.3.3 EasyBCD v2.3 Hard Disk Tools – Data Recovery CheckDisk GUI v1.2.0 Lazesoft Data Recovery v4.0.0.1 Puran Data Recovery v1.2.0 Puran File Recovery v1.2.0 Recuva v1.53.0.1087 Runtime GetDataBack for FAT v4.3.3 Runtime GetDataBack for NTFS v4.3.3 Runtime GetDataBack Simple v5.0.0 Runtime NAS Data Recovery v4.0.0 Runtime RAID ...

1,233
Jun 21, 2018
hirensbootcd.org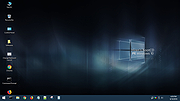 AOMEI PE Builder v2.0
AOMEI PE Builder v2.0 AOMEI PE Builder is a freeware to create a bootable environment into CD/DVD, USB flash drive or ISO file based on Windows PE (Windows Pre-installation Environment or download Windows PE creating environment from network) without installing AIK/WAIK, which integrates a set of tools that enables you to boot up your computer for easy maintenance and fast recovery tasks when the native system is corrupted or cannot be used. And the bootable media you create is compatible with both BIOS and UEFI, so you don't have to create two medias for those two boot modes separately. OS Support: Windows XP - Windows 10 and Windows Server 2003-2016 Features and Utilities of AOMEI PE Builder Familiar Windows Interface When creating WinPE bootable disk, AOMEI integrates desktop, Windows explorer, start menu, and task bar into the WinPE environment. This makes it easy and effortless for you to manage files and documents, just like using Windows operating system. No AIK/WAIK Installation To create a Windows PE media, typically you have to pre-install Windows AIK or WAIK, or prepare a Windows installation disc. Luckily, AOMEI PE Builder allows you to create a Windows PE boot disk without installing AIK/WAIK. It will save your valuable time and energy! Pack Portable Tools & Drivers Except many built-in tools in AOMEI PE Builder, you can still specify your own Windows PE through the following two functions: Add Files: Include more portable tools you like into WinPE bootable disk. Add Drivers: Add multiple drivers to WinPE bootable media to recognize more hardware. Support Network In most cases, the WinPE created by AOMEI PE Builder can be connected to network; through the network, you can: Off-line antivirus: When the computer is locked and can't remove viruses/Trojans due to viruses attack, download directly anti-virus software off-line version in Windows PE system. Maintain system: System administrator can easily maintain systems of ...

904
Jan 25, 2018
AOMEI Tech Co. Ltd.