NBFC - Notebook FanControl v1.6.3
NBFC - Notebook FanControl v1.6.3 NBFC is a fan control service for notebooks. It comes with a powerful configuration system, which allows to adjust it to many different notebook models. Windows Run the NBFC installer Start NoteBook FanControl.exe (by default located in C:\Program Files (x86)\NoteBook FanControl) Select a config. As soon as you hit the apply button, NBFC should take control over your notebook's fans. There is no additional configuration required. The NBFC service will start automatically. If you want to adjust the selected config according to your needs, edit it in the Config Editor. 1.6.3 Most important changes: Support for Intel CoffeeLake, ApolloLake and AMD Ryzen CPUs (thanks @dan-and) Support for AMD Puma CPUs Support for many new notebook models ec-probe now supports colored output Improved settings file handling Lots of stability improvements and bugfixes Click here to visit the author's website.

2,115
Apr 16, 2019
Stefan Hirschmann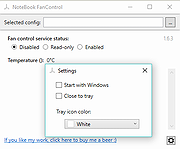 Tree Notebook v1.1.0
Tree Notebook v1.1.0 Tree Notebook is a hierarchical notes manager designed for keeping personal information. The notebook consists of two parts: the public part can be accessed without password, the private part is encrypted, it requires entering a password in order to be opened and used. Tree Notebook comes as two applications: the desktop one for OS Windows, and the mobile one for iOS (iPhone and iPad devices). The data can be synchronized between the Windows computer and up to three iOS devices via a local Wi-Fi network. No access to Internet is needed for synchronizing. Tree Notebook keeps a tree-like multilevel hierarchy of folders and notes. Any folder can include notes and other folders, and so fourth. Any item (a note or a folder) can include text of any size. Besides, items can keep attachments like images or other files. Tree Notebook has useful navigation tools: three separate panes for the entire tree, the current folder in the tree, the current item in the folder, status line indicating the current position in the tree, the lists of History and Favorites which alleviate getting back to the items recently or frequently visited. Both Windows and iOS apps support quick global search (simplified or conditional) and also local search inside an item text. The information in Tree Notebook can be attributed in many ways by using various font types, colored flags, graphic icons. The items can be sorted out by several criteria: alphabetically, by creation or modification time, and even by hand (in manually defined order). Among others, Tree Notebook includes a calendar feature. Any item can have an Event attribute and serve as an alarm clock or reminder. The Windows Tree Notebook application can import data from OneNote and Evernote. It can also export the information to the Evernote and simple RTF formats. The Windows app has the context ...

2,846
Oct 24, 2019
Lena Pankratova