Model Air Design v2.0
Model Air Design v2.0 Model Air Design is the new, quick and easy way to create airplane models. It's a modern software tool for model aircraft design. Model Air Design is for every person, young or old, who has a desire to design and create airplane models but have found Computer Aided Design (CAD) software too difficult and time-consuming to learn. Model Air Design software develops CAD software skills. This app is a nice introduction to CAD software concepts. It shows you some of the cool stuff you can do with CAD software to design a model airplane. With Model Air Design you create a computer model aircraft from a group of airplane parts. Instead of drawing carefully every detail of the aircraft, you just choose from a selection of pre-drawn parts. Model Air Design will assemble and draw the aircraft from the parts you select. In addition, you will be able to modify and position the airplane parts in anyway that you like. For example, you can modify a wing in length, width or height, and you can position it higher, lower, forward or back. We have developed a method for you to design computer models, in 3D format, without the complexity of 3D CAD software. It is so easy and intuitive to use that you will have no difficulty learning to create with it. You will be designing airplane models in a matter of minutes. Model aircraft design software made easy. With Model Air Design you can be as creative as you want. Substiture parts from other airplanes. Move them around, make them bigger or smaller. You can even paint the aircraft with your favorite colors. Here are some examples of what you can do: Visualization is the primary objective. Model Air Design makes it possible to visualize your aircraft design ideas. ...

3,046
Jan 15, 2020
William Busto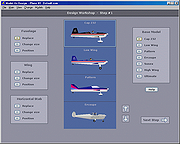 XTrkCAD Model RR Track Planner v5.2.1
XTrkCAD Model RR Track Planner v5.2.1 An open-source, free, CAD program for designing model railroad layouts. You can easily create layout of any scale or size. Libraries for many brands, scales and gauges of track and turnouts/points and model structures are included. Adding new components is easy with the built-in editor. It runs on Windows, Mac and Linux, Features Multi-Platform Free Easy to use Simulation of running trains Welcome to the XtrackCAD V5.2.1 GA release! GA 5.2 has a few high-impact bug fixes that we have found with the help of our users. The V5.2 release started out as just some simple functional enhancements of long-standing, like background images. The idea was to punt on all UI changes to the V6 GTK3 release. But along the way and due to some sabbaticals for developers, things kept getting added and tinkered with. Finally the major UI enhancements you will see were mapped out over the last six months and so we have an incremental enhancement to the UI as well. Enjoy! Dave, Martin and Adam, your volunteer developers. This download is for the Windows version. If you need the MacOS version, download here. If you need the Linux Debian version, download here. If you need the Linux RPM version, download here. If you need the User Manual, download here. Click here to visit the author's website.

1,170
Oct 15, 2021
Martin, Dave and Adam