Logon Message Editor v1.1
Logon Message Editor v1.1 This is a simple "one trick pony" utility to allow one to easily change the logon message on a Windows system. The Windows logon message is the optional message displayed to users, for which they need to click "OK", to get to the actual login screen. (Often on corporate computers, it displays a legal notice about authorized use.) If the message is blank, then the logon message screen never appears. On large corporate systems, the IT guys would normally remotely control this message. On individual systems, say where you want to remind the kids at home or employees in a small business, you can also do this by manually editing the System Registry. However, that's not only a pain, but even if you are a System Registry editing pro, simple editing of the registry keys results in a message with no line formatting, and to get the message to be line formatted with carriage returns requires editing the registry entry at the binary level. Since I manage some Windows machines used for computer simulations by graduate students, as well as have a home workstation dedicated for work related use, I wrote a small editor to allow me to change this message, with line formatting, quickly and simple without having to deal with the Group Policy editor nor with manually binary editing the System Registry. That program is Logon Message Editor (LOMessage). This program has been mostly used on 64-bit Windows 7 Pro, Enterprise & Ultimate machines, but should work on any version of Windows XP & higher (XP, Vista, 7, 8 & 10). Windows requires that the user trying to edit this message be an Administrator, and the program does look at the users privilege level and if they did not start this program with ...

1,271
Mar 04, 2021
Michael J. Burns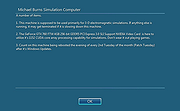 Windows Error Message Creator v1.40.32
Windows Error Message Creator v1.40.32 Mess with your IT person by creating fake error messages. CREATING STANDARD MESSAGE BOXES Windows Error messages are something that everyone has come across at some point or another. WEMC allows you to take these messages and put your own, often humorous, take on them. Everything you need to create one is on the main screen, in the section entitled 'Create A Standard Message Box.' CREATING CUSTOMIZED MESSAGE BOXES A customized message box is a message box that gives you total control over the contents. It allows you to set custom text, icons and buttons -- all in one easy to use interface. CREATING FORMAT DIALOGS WEMC includes the ability to create fictitious Formatting dialogue boxes. Formatting is the act of deleting all the data on a drive. N.B. WEMC does not actually delete any data; it merely gives the impression of such a thing happening. To create a format dialog, press Ctrl+F while on the Main Screen, or select 'Create > Format Dialog' from the menu. SHOWING A BLUE SCREEN OF DEATH WEMC has the ability to show off that most infamous of Windows errors, the Blue Screen Of Death (BSOD). To do this, select 'Create > BSOD' from the Main Menu, or press Ctrl+B. Version 1.40.32 Added 2 new icons. Please use the new INI updater to add these new icons to an existing list. This will help to preserve any custom icons you may have added. Added a new button to the Manage Custom Icons screen that will recreate the original CustomIcons.ini file. This is handy if you've accidentally deleted something you shouldn't have (by editing the file outside of WEMC). Please note that this will also remove any custom icons you have added. CustomIcons.ini will now ...

3,925
Feb 08, 2021
Christopher Urquhart