Memtest86 Free v4.3.7 Floppy Disk image
Memtest86 Free v4.3.7 Floppy Disk image7 MemTest86 is a free, thorough, stand alone memory test for x86 architecture computers. There are many good approaches for testing memory. However, many tests simply throw some patterns at memory without much thought or knowledge of memory architecture or how errors can best be detected. This works fine for hard memory failures but does little to find intermittent errors. BIOS based memory tests are useless for finding intermittent memory errors. RAM chips consist of a large array of tightly packed memory cells, one for each bit of data. The vast majority of the intermittent failures are a result of interaction between these memory cells. Often writing a memory cell can cause one of the adjacent cells to be written with the same data. An effective memory test attempts to test for this condition. Therefore, an ideal strategy for testing memory would be the following: Write a cell with a zero. Write all of the adjacent cells with a one, one or more times. Check that the first cell still has a zero. It should be obvious that this strategy requires an exact knowledge of how the memory cells are laid out on the chip. In addition there are a never ending number of possible chip layouts for different chip types and manufacturers making this strategy impractical. However, there are testing algorithms that can approximate this ideal and MemTest86 does just this. For the floppy download you will need a blank floppy disk. Click here to visit the author's website.

5,765
May 31, 2019
Passmark Software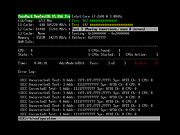 Memtest86 Free v9.0
Memtest86 Free v9.0 industry standard for memory diagnostics MemTest86 is the original, free, stand-alone memory testing software for x86 and ARM computers. Boots from USB flash drives to test the RAM in your computer for faults. Utilizing algorithms that have been in development for over 20 years. Industry standard since 1994. Features PassMark MemTest86 supports all current technologies: 13 different RAM testing algorithms - including row hammer fault detection* All RAM types supported (DDR2, DDR3, DDR4, SODIMM, XMP, ECC) Self-booting off USB or Network (PXE)* boot, without needing DOS, Linux nor Windows Optimized for UEFI-based x86/ARM systems Native 64-bit code (since version 5) ECC error detection & injection* Secure Boot verified – Code signed by Microsoft Graphical interface with mouse input Save logs and create customizable HTML reports Full test automation via configuration file Support for memory blacklisting in Windows (badmemorylist) and Linux (BADRAM) Multi-language support (Chinese, German, Russian, Spanish & more) Notes: IMPORTANT: MemTest86 V8 images support only UEFI boot. On machines that don't support UEFI, MemTest86 will not boot. Please download the older V4 BIOS release for CD or V4 BIOS release for USB of MemTest86 instead. Installation and usage instructions are available on the Technical Information page MemTest86 is a stand-alone program that does not require or use any operating system for execution. The version of Windows, Linux, or Mac being used is irrelevant for execution. However, you must use either Windows, Linux or Mac to create a bootable USB drive. System Requirements x86 (32/64-bit) or ARM64 based hardware UEFI platform firmware Windows, Linux, or Mac OS USB Flash Drive ...

4,126
Feb 10, 2021
Passmark Software