LibreOffice Portable Fresh v7.2.2
LibreOffice Portable Fresh v7.2.2 LibreOffice Portable Fresh can run from a cloud folder, external drive, or local folder without installing into Windows. LibreOffice Portable is a full-featured office suite -- including a word processor, spreadsheet, presentation tool, drawing package and database -- that's compatible with Microsoft Office, Word Perfect, Lotus and other office applications. It's easy-to-use and feature-rich, performing nearly all of the functions you'd expect in an office suite, but at no cost. Additional functionality including the Base database and document creation wizards is enabled by installing the jPortable portable Java runtime environment. System Requirements: Windows 7, 8, 10, 11 & WINE App License: Open Source (LGPL) MD5 Hash: 8334d8f8e3bb4cace30232b0a9effec5, All: 599d780c44c17bd6cba003af67fd5d0d SHA256 Hash: 6797c27855e76ff01375c368849199693b466f51de358b7cefdb84fbe5574ecc, All: ae4e3468242a2d6ec6f151938a28d0f037cfb5ef915688b3d7102a50ad11d84a Click here to visit the author's website.

2,957
Nov 11, 2021
The Document Foundation & PortableApps.com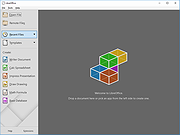 LibreOffice Productivity Suite v7.2.2
LibreOffice Productivity Suite v7.2.2 A free and powerful office suite, and a successor to OpenOffice LibreOffice was developed to be a productivity suite that is compatible with other major office suites, and available on a variety of platforms. It is free software and therefore free to download, use and distribute. LibreOffice Writer LibreOffice Writer lets you design and produce text documents that can include graphics, tables, or charts. You can then save the documents in a variety of formats, including the standardized OpenDocument format (ODF), Microsoft Word .doc format, or HTML. And you can easily export your document to the Portable Document Format (PDF). Writing LibreOffice Writer lets you create both basic documents, such as memos, faxes, letters , resumes and merge documents, as well as long and complex or multi-part documents, complete with bibliographies, reference tables and indexes. LibreOffice Writer also includes such useful features as a spellchecker, a thesaurus, AutoCorrect, and hyphenation as well as a variety of templates for almost every purpose. You can also create your own templates using the wizards. Designing and Structuring LibreOffice offers a wide variety of options to design documents. Use the Styles and Formatting window to create, assign and modify styles for paragraphs, individual characters, frames and pages. In addition, the Navigator helps you to quickly move around inside your documents, lets you look at your document in an outline view, and keeps track of the objects that you have inserted into your document. You can also create various indexes and tables in text documents. You can define the structure and appearance of the indexes and tables according to your individual needs. Live hyperlinks and bookmarks let you jump directly to the corresponding items in the text. Desktop Publishing with LibreOffice Writer LibreOffice Writer contains numerous desktop publishing and drawing tools to assist you in creating professionally styled documents, such as brochures, ...

7,222
Oct 14, 2021
The Document Foundation