KillEmAll Mini v21.1.27
KillEmAll Mini v21.1.27 KillEmAll Mini is a no frills implementation of the fully featured KillEmAll which has no graphical user interface, no update capabilities, no definitions file capabilities, etc.. Simply run the .exe and it terminates unnecessary programs running under any standard user account. If your Windows is configured with UAC enabled (default) then you can right-click and choose Run as Administrator to kill all other programs running under an Administrator/System account. If started via Windows Explorer, KillEmAll Mini.exe will display a 'press any key to exit' prompt when completed. When ran from a console window or scripted, no prompt will appear when completed, returning control to the console/script. Changes: v21.1.27 – Corrected an issue that could cause KillEmAll Mini to hang when attempting to terminate certain processes. Click here to visit the author's website.

251
Feb 17, 2021
d7xtech.com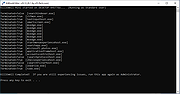 KillEmAll v21.2.16
KillEmAll v21.2.16 KillEmAll is a 'panic' button with an 'ask questions later' attitude, designed to neutralize, terminate, and later identify all non-essential running programs. Great for quickly closing unwanted apps, system inspection, and even malware removal! KillEmAll is free for both personal and commercial usage. Completely portable. Keep it on your flash drive! The Nutshell: Specifically KillEmAll terminates every (currently running) program on your computer except essential Windows processes. The best usage case for KillEmAll to most users, is to close all open web browser windows if you get a suspected malicious popup while visiting a website. The the reason you don't simply close or "X out" the popup is because malicious code can be run even if you click the X button — it is after all just another button, you might as well be clicking "OK" or "Yes, please do what you want with my PC…" but if you don't click anything and KillEmAll does the work, forcing the application's process to close without any additional code execution. Other more mundane tasks include the advantage of quickly closing all applications before performing maintenance on your PC, general troubleshooting, or playing resource intensive games. Obviously, any data used by the applications being closed, if not previously saved, will be lost! Warning: This program does not waste any time. Once you click "Okay" on the first screen, all non-essential programs will be instantly closed. You will lose any unsaved information in those programs. Click here to visit the author's website.

1,175
Feb 17, 2021
d7xtech.com