HiBit System Information v2.0.10
HiBit System Information v2.0.10 HiBit System Information is a powerful system information utility that gathers important data on the computer's hardware and software components also you can save your scan results directly as a HTML file for easy sharing. The HiBit System Information is divided into few major categories: • Summery • Hardware:CPU,RAM,Motherboard,BIOS,Display,Storage,Printer,Network,Sound Card,Keyboard,Pointing Device. • Software:Operating System,Security Software,Processes List,Services,System Drivers,Startup,Installed Programs,Event Logs. Windows XP/Vista/7/8.1/10 (32/64 bits) Changes: HiBit System Information 2.0.10 (2020-02-16) Added "Battery" section. Added "Update Center" tool. Added Dark theme. Added more details in the "Disk Drive" section. Improved Disk S.M.A.R.T. and added more features. Improved Security section. Improved overall program performance. Updated CPU code name list. Removed "Event logs" section. Removed Windows XP support. Minor GUI improvements and bug fixes.

1,896
Feb 18, 2020
HiBitSoft.IR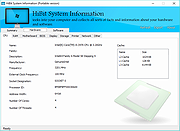 HiBit Uninstaller v2.3.10
HiBit Uninstaller v2.3.10 HiBit Uninstaller is the perfect solution for uninstalling Windows software, allowing you to uninstall programs quickly and completely using its simple and user friendly interface, There are also many tools to clean up and manage your system. Deep and fast scanning and removes all leftovers Force Removal for stubborn and broken programs Ability to batch uninstall programs. Uninstall Windows Store apps on Windows 8/8.1/10 Added to context menu to quickly uninstall software Safe Registry and Junk Files Cleaner Processes,Startup,Services,Scheduler Task,Context Menu And System Restore Manager HiBit Uninstaller Changelog --------------------------- HiBit Uninstaller 2.3.10 (2020-02-16) Theme support added. Chinese language added. scan leftovers Improved. "Browser Extension Manager" performance Improved and more features added. "Junk Files Cleaner" performance Improved. Windows XP support Removed. Minor GUI improvements and bug fixes.

1,414
Feb 18, 2020
HiBitSoft.IR