Flash Video Downloader Free v8.4.5
Flash Video Downloader Free v8.4.5 You can download videos from hundreds of thousands of websites. It detects videos (flash player) that playing on any web browser (IE,Firefox,Google Chrome etc.) FREEWARE (no ads, no toolbar) Download flash videos currently playing on web browsers (ie,firefox,google chrome ...) Start Video Detector (by pressing START Video Link Detector), Start playing online Video using Web Browser. Video link will be detected when the video starting to play and added to the download queue. There is no need to wait end of detected videos, you can stop it (by closing Webbrowser or Tab) To Download Detected videos press START Download button. NOTE:Some video links may expire so try to download videos as soon as possible. All in one software (video downloder, video converter, Photo downloader, Audio converter, Video Thumbnails maker...) Video link detector, Flash video downloader, Flv downloader, Mp4 downloader, video downloader Download Videos from almost any website Up to 4 parallel downloads. Convert video to mp3, or extract audio from video (lossless) Convert mp4 to mp3 Language:Turkish and English OS:Windows All All in one software and FREE Video Link Detector and Downloader Free YouTube Downloader Free YouTube Subtitle and Caption Downloader free Website Photo Downloader Free | Website image Downloader free Video Thumbnails Maker Free Audio Converter Free | Mp4 to Mp3 | MP3,MP2,AAC,AC3,OGG,WMA,FLAC,WAV,AIFF,m4a Converter Video Converter Free | Any Video Converter Free Magic Video Downloader Video and audio merger Extract Audios from Videos (lossless) Subtitle Maker for Music Clips Click here to visit the author's website.

5,918
Sep 27, 2019
Rentanadviser.com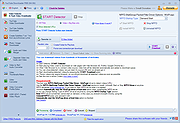 USB Flash Drives Control 4.1.0.0
USB Flash Drives Control 4.1.0.0 USB Flash Drives Control is a freeware program that runs in system tray, next to the system clock, and provides access to control the way in which the USB removable drives are used on your computer. These options are available through the right click context menu on the system tray icon of the program. It also displays the connected drives. Use left click context menu to view the list of connected drives and explore the content of them. USB Flash Drives Control contains two parts, a GUI interface which is used for configuration and a Windows service which ensures that the program options are applied to all user accounts from the local computer: Read Mode - By disabling this option, USB removable drives will not be mounted and will not be accessible to the user. The reading of data from USB removable drives will not be available. Write Mode - By disabling this option, write access will be denied on all USB removable drives used on the current computer. All USB removable drives become read-only and copying data on them is not possible. Execute Mode - By disabling this option, execute access will be denied for all executable files on all USB removable drives used on the current computer, for all user accounts. This ensures a plus of security to the system against dangerous and malicious software, like worms, backdoors or password stealers. This setting is not available in Windows Vista. All the above options are not applied to the existing connected drives. Connected drives must be first removed and then reconnected in order to make these options apply to them. Program Features √ Intuitive and easy accessible user interface in the system tray. √ Enable or disable USB removable drives with just a mouse click. √ Deny write access on all USB removable ...

4,691
Mar 07, 2017
BiniSoft.org