Executor v1.0.2
Executor v1.0.2 Executor is a multi purpose launcher sporting many optional customizable features and advanced setup. The program originated as I was sick of spending too much time searching for programs through my ever growing windows start-menu, and eye-balling desktop trying to mouse locate what ever I wanted to launch. Also I missed a tool that could ease and optimize my daily work flow. There was of course already programs like this available, but each had it's annoyance or missing features or too(!) geeky. Features... Keywords have properties like shortcuts, and you can for example drag-drop a shortcut/file/folder/favorite to add it as a keyword. Auto-completion for keywords, file system and history (can also be configured). Url detection, Enter URLs directly (like www.google.com, mail.google.com, google.com or http://www.google.com). Keywords support parameters. Example "google latest executor" "wiki nirvana". Besides keywords Executor can also optionally and dynamically add matching start-menu items, control panel items and other handy items to the drop-down/list. Ability to add your own paths to scan for user defined file extensions. Keyword "find [text]" for using Windows Instant Search feature or Windows Desktop Search. Can add keyword integration with popular services like GMail, Twitter, GCal, RTM and many others (see forums for howto's, tutorials and tips). Optional show icon for current keyword/input. Optional show drop-down box for current keyword/input (auto-completion). Optional drop-down box can be set to auto-open (like windows run) displaying auto-completion suggestions. Optional list displaying matching items. Layout can be customized. Set colors, font, dimensions, position, transparency and more. Skinable. Supporting alpha blending effects and free positioning of ...

2,521
Feb 22, 2021
Martin Bresson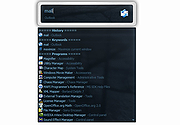 Random Executor v1.0.10.18
Random Executor v1.0.10.18 Random Executor is an app for randomly selecting a file from a directory you specify and opening it in using the default application for that file's type. You can optionally specify name rules that have to be met to narrow down the selection of files that may be opened. Example You've got too many movies to watch and need to pick one at random otherwise you'll never decide. You open Random Executor and select your movies directory then configure filename restrictions to avoid playing movies you have already seen, or restrict the movies to one which contains a particular word, and define file types to avoid such as image and subtitle files, then click Go! Friday night sorted. Simple settings to open a random video file from the C:/Movies directory. Using additional settings so that only a video file with a name containing 'The' (with an uppercase T) and at least one of the words 'space', 'adventure', 'road' or 'journey' will be executed. Features: Select source directory and whether or not to include subdirectories Restrict file types to particular extensions Set filename conditions/restrictions: i.e. all of, one of, none of, and case sensitivity for each Click here to visit the author's website.

595
Dec 15, 2020
Sneaky Snail Software