Godot Game Engine v3.3.4
Godot Game Engine v3.3.4 Create games with ease using Godot's unique approach to game development. Godot provides a huge set of common tools, so you can just focus on making your game without reinventing the wheel. Godot is completely free and open-source under the very permissive MIT license. No strings attached, no royalties, nothing. Your game is yours, down to the last line of engine code. Features: *Nodes for all your needs. Godot comes with hundreds of built-in nodes that make game design a breeze. You can also create your own for custom behaviors, editors and much more. *Flexible scene system. Create node compositions with support for instancing and inheritance. *Visual editor with all the tools you need packed into a beautiful and uncluttered context-sensitive UI. *Friendly content creation pipeline for artists, level designers, animators and everyone in between. *Persistent live editing where changes are not lost after stopping the game. It even works on mobile devices! *Create your own custom tools with ease using the incredible tool system. Gorgeous 3D graphics The physically-based renderer comes with a ton of features that will make your games look incredible. Innovative architecture that combines the best of forward rendering with the efficiency of deferred rendering. Physically-based rendering with full MSAA and FXAA support. Full principled BSDF with subsurface scattering, reflection, refraction, anisotropy, clearcoat, transmittance and more. Global illumination for real-time gorgeous graphics. It can also be pre-baked for beautiful results even on low-end devices. Mid- and Post-processing effects including a tonemapper that supports HDR, multiple standard curves and auto exposure, screen-space reflections, fog, bloom, depth of field and much more. ...

2,587
Nov 04, 2021
Juan Linietsky/Ariel Manzur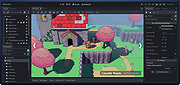 Unreal Engine v7.16.0
Unreal Engine v7.16.0 What is Unreal Engine 4? Unreal Engine 4 is a complete suite of game development tools made by game developers, for game developers. From 2D mobile games to console blockbusters and VR, Unreal Engine 4 gives you everything you need to start, ship, grow and stand out from the crowd. Student? Indie? Pro? Yes. There is no limit to what you can achieve with Unreal Engine technology, whether youíre making a clever puzzle app or an open-world action game. Because Unreal Engine 4 is used by students, indies and large teams, it's an engine that you'll never outgrow. One Engine, One Workflow With Unreal Engine 4, you can learn one engine and one workflow to meet all of your needs now and in the future. From mobile projects to super high-end console and PC games, Unreal Engine is in use by indies and professionals around the world. Own The High End Push your visuals to the limit on PC, consoles, and VR with custom lighting, shading, VFX and cinematic systems. Create beautiful visuals for architectural visualizations, simulations, digital films, and more. Everything You Need To Get Started The Marketplace provides a wealth of production-ready game content, asset packs, documentation, sample projects, tutorials, and demos. Get up to speed rapidly with high-quality, UE4-ready items suitable for a wide range of art styles and game genres. Use For Free We give you everything so you can build anything. You get all tools, all features, all platforms, all source code, complete projects, sample content, regular updates and bug fixes. 5% When You Ship The 5% royalty starts after the first $3,000 of revenue per product per quarter. Pay no royalty for film projects, contracting and consulting projects such as architecture, simulation and visualization. Requires sign-up with the Epic Games Community.

5,508
Nov 27, 2018
Epic Games