Electronic Evidence Workbook 2022
Electronic Evidence Workbook 2022 Used in Craig Ball's three credit E-Discovery and Digital Evidence course at the University of Texas Law School, UT Computer Science School and UT School of Information. From the author: "The chapters on processing are extensively revamped. Iím hell bent on making encoding understandable, and Iíve incorporated the new Processing Glossary I wrote for the EDRM. Glossaries are no oneís idea of light reading, but I hope this one proves a handy reference as the students cram for the five quizzes and final exam theyíll face." "Recognizing that a crucial component of competence in electronic discovery is mastering the arcane argot of legaltech, Iíve added Vital Vocabulary lists throughout, concluded chapters with Key Takeaway callouts and, for the first time, broken the Workbook into volumes such that this release covers just the first eight classes, almost entirely Information Technology." "Come Spring Break in mid-March, Iíll release the revamped omnibus volume adding new practical exercises in Search, Processing, Production, Review and Meet & Confer and introducing new tools. Because university students use Mac machines more than Windows PCs, the exercises ahead employ Cloud applications so as to be wholly platform-independent. The second half of the course folds in more case law to the relief of law students and chagrin of CS and IS students. The non-law students do a great job on the law but approach it with trepidation; the law students kiss the terra firma of case law like white-knuckled passengers off a turbulent flight." "Though written for grad students, the Workbook is also written for you, Dear Reader. If youíve longed to learn more about information technology and e-discovery but never knew quite where or how to start, perhaps the 2022 Workbook is your gateway. The law students at UT Austin pay almost $60,000 per year for their educations; ...

202
Apr 11, 2022
Craig D. Ball, P.C.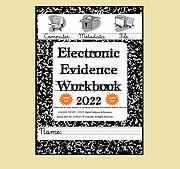 SimAnt: The Electronic Ant Colony (DOS)
SimAnt: The Electronic Ant Colony (DOS) Unless you have an extremely old computer, you will want to use DOSbox to run this game. Get it here: https://www.oldergeeks.com/downloads/file.php?id=881 Ants are so much like human beings as to be an embarrassment. They farm fungus, raise aphids as livestock, launch armies into war, use chemical sprays to alarm and confuse enemies, capture slaves, engage in child labor, and exchange information ceaselessly. They do everything but watch television. - Lewis Thomas,The Lives of a Cell Ants are simple, even stupid individuals. But an ant colony, through the interaction of a great number of ants, displays an amazing skill at survival, and a noticeable level of intelligence.In SimAnt, you are the intelligence of an ant colony. The individual ants are like the individual brain cells of your being. You will hop into and out of individual ants, using them as tools. many of your ants will dies, including at times the one you are inhabiting. but death of individual ants will not greatly affect you as a colony. in fact, one of your ants dying will hurt you about as much as a human trimming a fingernail. The Object(s) of the GameThere are three ways to play SimAnt: Quick Games, Full Games and Experimental Games. Quick Games In Quick Games, you are a black ant colony competing with a red ant colony for food and territory. Your goal is to defeat the red ants and take over your home turfóthe local patch of ground in the backyard. Your task will be complicated by marauding spiders, voracious ant lions, torrential rains, crushing human feet and merciless lawn mowers. Full Games In Full Games you must take over the entire backyard section by section, then take over the house and drive out the humans. in addition to hordes of red ants and other pests, you ...

1,973
Dec 13, 2019
Maxis