CheatBook DataBase 2021
CheatBook DataBase 2021 Cheatbook-DataBase 2021 is a cheats code tracker that makes hints, Tricks, Tips and cheats (for PC, Walkthroughs, Playstation, Playstation 2, Playstation 3, Playstation 4, Sega, Nintendo 64, Nintendo DS, DVD, Gameboy Advance, Gameboy Color, N-Gage, Nintendo DS, XBox, XBox 360, XBox One, iPhone, Gamecube, Dreamcast, Super Nintendo, Wii, Wii U, Sony PSP) easily accessible from one central location. If you're an avid gamer and want a few extra weapons or lives to survive until the next level, this freeware cheat database can come to the rescue. Covering more than 25700 Games Cheats, this database represents all genres and focuses on recent releases. Games are listed alphabetically in the left-hand window. When you click on a game name, the relevant cheat is displayed in a editor window, with convenient buttons that let you print the selection or save any changes you've made. In the latest past many users of the Cheatbook-Database and readers of the monthly being published magazine have sent to us small error messages and suggestions for improvement again and again. First of all we say "Thank you very much!" to all of you! Due to this assistance and the permanent sending in of new and revised cheats the Cheatbook is ever increasing and becoming more and more voluminous. Release date: January 10, 2021. Cheatbook-DataBase 2021 is Freeware for Win95/ 98/ 2000/ NT/ XP/ Vista/ Windows 7/ Windows 8/ Windows 10. CheatBook DataBase 2021 - The encyclopedia of game cheats. A die hard gamer would get pissed if they saw someone using cheats and walkthroughs in games, but you have to agree, sometimes little hint or the "God Mode" becomes necessary to beat a particularly hard part of the game. If you're an avid gamer and want a few extra weapons and tools the survive the game, CheatBook ...

11,044
Feb 10, 2021
Cheatbook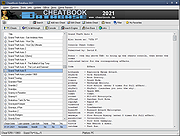 Database .NET v33.0.7877
Database .NET v33.0.7877 An innovative, powerful and intuitive multiple database management tool. You can browse/grant objects, design tables, edit rows, run queries, generate scripts, analyze/monitor SQL and import/export/migrate/sync data with a consistent interface. Major Features/ Special Features/ Exclusive Features Browsing Table Data: Browsing Table Data Highlighting Groups of Cells Displaying Data Types on the column header Data Visualization Multiple Tabs and Browsing Mode (Paging/Horizontal/Vertical) Cell Viewer Calculate Selected Cells Print SQL statements and query results Filtering Table Data: Editing Table Data: Editing Table Data Form Editor and Viewer Cell Editor(*) DateTime Picker XML/JSON Editor PrimaryKey Selector GUID Generator (De)Compression and (De)Encoding strings Data Import and Export: Data Import(*)(Clipboard/CSV/TSV/PSV/SSV/TXT/XML): Importing specific fields Empty as NULL Record Separator Data Export(*)(CSV/TSV/PSV/SSV/XLSX/XLS/XML/JSON/HTM/MD /SQL): ...

3,001
Aug 01, 2021
fish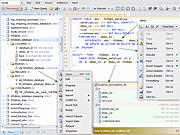 Database Browser v5.3.2.10
Database Browser v5.3.2.10 This free, portable and easy to use tool allows the user to connect to any database and browse or modify data, run SQL scripts, export, import and print data. And the most important thing it is Free-ware. Key Benefits: Works directly with Oracle, MS SQL Server, ODBC, MySql, OleDB, BDE, PostgreSQL, SQLite, MS SQL Server Compact, Interbase and Firebird Support for ODBC connection strings Unlimited number of connections One click switching from one connection to another One click table browsing Data browsing, filtering and grouping Data exports into CSV, TAB, Excel, RTF and Html files Import data from Excel Execution history SQL Builder with a wide range of supported databases Execution Log Incremental Table Search Changes: 5.3.2.10 - Fixed: Issues with command line interface Click here to visit the author's website.

1,372
Jan 08, 2020
DB Software Laboratory