Absolute HTML Compressor v1.14
Absolute HTML Compressor v1.14 Absolute HTML Compressor is an award-winning tool that optimizes HTML files so that their size reduces. The program doesn't corrupt most HTML files unlike other optimizers. Features works under Windows 95/98/Me/NT/2000/XP operating system (or higher); compressed documents are displayed in browsers unchanged; scripts and preformatted text are preserved; you can compress individual files or entire folders; backup files may be created; the program supports command line mode; you can specify various options of the program: merge lines; remove unnecessary whitespace characters; remove unnecessary quotation marks. For example, will be converted to ; replace some tags with the short ones - replace STRIKE tags with S, STRONG with B and EM with I remove HTML comments. The comments within the scripts and styles aren't removed; remove <!DOCTYPE ...> tags; remove meta tags. You can specify names of the meta tags to be removed. Click here to visit the author's website.

2,982
Dec 09, 2018
Alentum Software Ltd.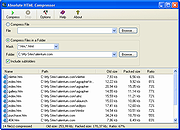 Free PDF Compressor v1.1
Free PDF Compressor v1.1 Free PDF Compressor is a free PDF compression software to enable you to effectively reduce the size of PDF files. Software is simple and easy to use, select an existing PDF file, and hit button "Compress", a compressed PDF file will be created, page by page, a progress bar will show progress of the whole compression process. This software is completely freeware, free for personal and non-commercial use. Why is there a need to compress a PDF file? Some PDF files are large, especially PDF documents that contains many images, these files open very slowly, and are not easy to store, transfer and share. Now you can use this free PDF compression software to compress these files with an acceptable quality. At the same time, by reducing PDF files size, you can use PDF as your ebook format, easy to read PDF files on mobile phone, send by email as attachments, or upload and share with your friends. This software supports five different compression settings: Screen - low resolution, screen-view-only quality, 72 dpi images eBook - medium resolution, low quality, 150 dpi images Printer - high quality, 300 dpi images Prepress - high quality, color preserving, 300 dpi images Default - a wide variety of uses, possibly larger output file These five compression settings represent five different compression ratio, generally, you can get a smallest output file with "Screen" setting, and get a biggest output file with and "Prepress" setting. But, please note, for a few PDF files, the resulting file will be large with "Screen" setting, in this case, you need to try different settings.

3,052
Oct 23, 2019
freepdfcompressor.com