Remove Windows Store Apps Script
Remove Windows Store Apps Script Remove Windows Store apps in Windows 8, Windows 8.1 and Windows 10 Introduction This script can be used to remove multiple Windows Store apps from a user account in Windows. It provides a list of installed Windows Store apps. You can specify the application IDs, and remove them all at once. Scenarios In Windows 8, 8.1 and 10, you can remove a single Windows Store app by right-clicking the tile in the Start menu and choosing the uninstall command. However, no command is provided for removing multiple Windows Store apps all at once. If you want to do so, you can use this script sample. Sometimes Windows Store apps may crash in Windows 8. Even though you can successfully uninstall and reinstall the app, the app may still crash after the reinstallation. In this situation, you can use this example script to remove these Windows Store apps cleanly. Script Step 1: Move the cursor to the top right corner of the screen, click Search, type PowerShell, right-click the Windows PowerShell app tile, and then, on the app bar, click Run as administrator. Examples Example 1: How to display help about the script You can type the command Get-Help C:\Script\RemoveWindowsStoreApp.ps1 -Full to display the entire help file for this function, such as the syntax, parameters, or examples. This is shown in the following figure. Example 2: How to remove Windows Store apps To remove Windows Store apps, run the script directly, then choose the ID of each app that you want to remove. In this example, I suppose that you decide to remove "Games" and "Maps". The Windows Store apps as shown below. Run the script, and then choose the IDs for the "Games" and "Maps" apps (The IDs should be 4 and 17). Finally, confirm this action. The apps have been removed! Here are ...

2,645
Apr 24, 2017
MSFT OneScript Team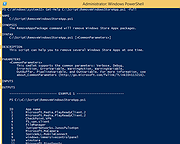 Stop Resetting My Apps v1.7.0.0
Stop Resetting My Apps v1.7.0.0 As you may have already experienced, Windows 10 may periodically reset the default apps. The reset action usually takes place after a Windows update or an update of one of the Windows built-in apps such as Microsoft Edge, Photos or Groove Music. It may also be caused by a third party program. Default apps are the programs that are executed by default when you open a file or protocol. Resetting them without your consent can be extremely unconvenient, because it can take a lot of work to set them up again. Stop Resetting My Apps helps you to work around this issue by preventing some of those built-in apps from being set as the default apps. This does not affect the functionality of those apps. How it works Stop Resetting My Apps was designed to be straight forward and does not require any expertise. You just need to click or tap the tile of the built-in app you want to block. To unblock an app, just click or tap its tile again. Changes are instantly applied. When an app is blocked, it can not be set as the default app for any file extension or protocol. Stop Resetting My Apps will then display an icon overlay over that app's tile, allowing you to easily identify which apps are currently blocked. The icon overlay looks like this: Apps whose tile has the overlay are blocked, apps without the overlay are not blocked. Still not sure of what to block? Just block all the apps you don't use. If you decide to start using them later, you can unblock them just as easy. When you're done blocking default apps, just close Stop Resetting My Apps. Click here to visit the author's website.

2,664
Apr 08, 2020
Carifred