Always scroll to the bottom of the page for the main download link.
We don't believe in fake/misleading download buttons and tricks. The link is always in the same place.
---

Earth Alerts v2019.1.70

What is EARTH ALERTS?

Earth Alerts is an application designed to run on Microsoft Windows that allows you to monitor in near real-time a variety of natural hazard events that are occurring anywhere around the world. Alert notifications, reports, and imagery provide the user with a convenient way to view natural phenomenon as they occur, whether close to home or some far-flung corner of the globe!

Earth Alerts uses a variety of online resources provided by organizations such as the National Weather Service, U.S. Geological Survey and Smithsonian Institution (just to name a few), to identify what sort of activities "Mother Earth" is currently dishing out on the planet.

To use Earth Alerts, you simply select the specific natural hazards -- earthquakes, tsunamis, volcanoes, tropical cyclones, wildfires, landslides, severe weather, local weather, etc. -- and the locations that interest you. The application will then automatically retrieve the latest information from various live data feeds available on the Internet and present it to you in a convenient arrangement of reports, maps and images.

Earth Alerts has been available to the general public since 2005. In that time it has undergone a number of significant enhancements. As a hobby, a one man production and a labor of love, conceiving the ideas and creating Earth Alerts has been a (time consuming) pet project over the past few years!


Much More than a weather monitoring program

Earth Alerts includes basic weather tracking features such as National Weather Service alerts, current conditions, local forecasts and radar/satellite imagery. Note that this program does not provide the most extensive weather data or "fanciest" weather related imagery compared to what is available online. If weather information is all you're interested in, then Earth Alerts is probably NOT for you. There are many comprehensive applications, web browser add-ins, and websites available for monitoring weather. Guess what? I use some of them myself!

I created Earth Alerts to do more than just track weather-related phenomenon. The inspiration for Earth Alerts grew out of an idea to create a single application for monitoring multiple types of natural hazard events. After all, our planet can be quite destructive to us mortals, by offering up dangers in a variety of ways!

Earth Alerts is a little program for anybody who is fascinated with the power of nature and enjoys keeping track of what our little blue planet is dishing out on a regular basis!


Earth Alerts
Key Features


Global activity overview: earthquakes, tsunamis, volcanoes, and tropical cyclones (typhoons, hurricanes, tropical storms, tropical depressions and other disturbances)

Activity for user-selected Global locations (anywhere outside the U.S.): local earthquakes, local weather including current conditions, forecasts and satellite imagery

United States activity overview: severe weather including special tornado and severe thunderstorm watches, volcanoes, wildfires, and landslide related hazards

Activity for user-selected United States locations: earthquakes, wildfires and local weather including NWS weather/hazard alerts, current conditions, forecasts and radar/satellite imagery

Google Earth integration provides visualizations of recent earthquake events, volcanoes, tropical cyclones, wildfires and severe weather warnings. Google Earth™ integration also provides high resolution views of any user-selected U.S. or Global location

Visual and sound notifications on your Windows desktop identifying active alerts

Email: information on any type of natural hazard tracked by Earth Alerts can be automatically sent by email as soon as an alert is raised; email messages contain the same alert reports and images as shown in the Earth Alerts application screens

Mobile Devices: SMS/MMS-based messages containing summary alert information with related images can be automatically sent to your mobile device; these notifications cover the most severe natural hazard events, including major earthquakes, tsunami watches/warnings, volcanic eruptions and tornado warnings

Changes:
2019-04-02 2019.1.70 General / UI

Minor bug fixes; re-compiled using Visual Studio
2019 and for .NET Framework version 4.7.2


System Requirements: Software


Microsoft Windows 10/8/7: works in both 32-bit (x86) and 64-bit (x64) versions of Microsoft Windows.

All earlier versions of Windows are not supported.

Microsoft .NET Framework 4.7.2 version or later: If you are running the latest edition of Windows 10 and have automatic updates enabled the newest version of the .NET Framework software (currently 4.7.2) should already be installed on your system. However, if the .NET Framework is not present on your system when you install Earth Alerts for the first time the installer should notify you and automatically install the .NET Framework.

System Requirements: Hardware


CPU: Pentium III processor minimum
Display: 1280 x 800 screen resolution minimum
Storage: 10 MB hard disk space
Internet: broadband connection




Changelog:
2017-10-25 2017.1.42 General/UI
Fixed several bugs related to adding some
new U.S. locations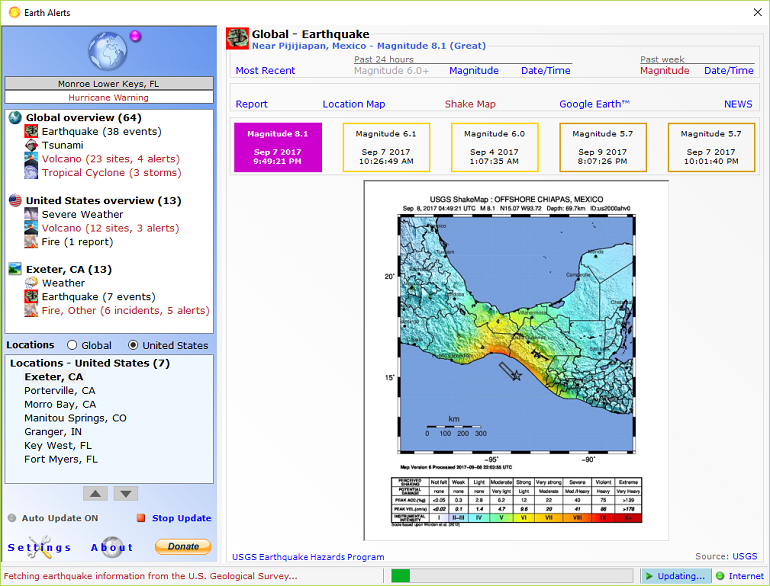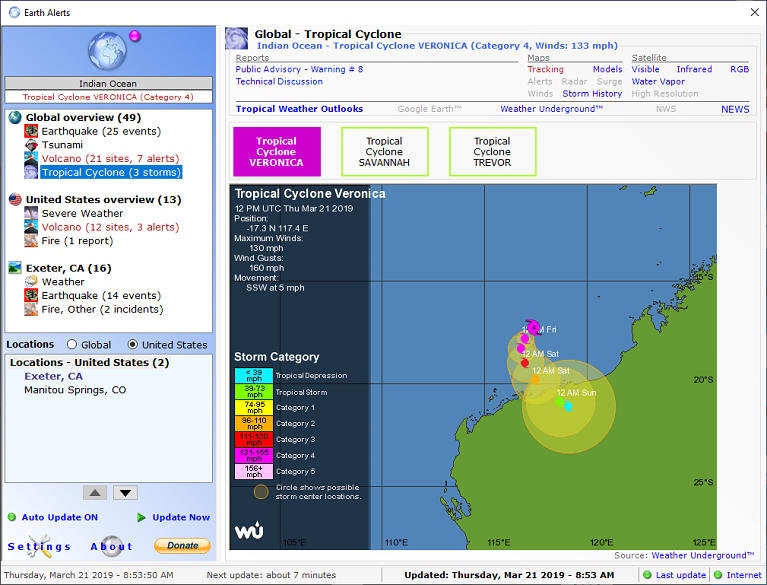 Click here to visit the author's website.
Continue below for the main download link.