Always scroll to the bottom of the page to download files on OlderGeeks.com.
We don't believe in fake/misleading download buttons and tricks.

NetTraffic v1.58.0

Tool for monitoring network traffic (bandwidth) on selected interfaces.

Key features, tags

Network traffic, network monitoring, network data rate (sent / received), network bandwidth, network throughput, network speed meter, network activity, network usage history, network usage predictions.
Data flow rate (download / upload) - instant view.
Traffic monitoring, traffic counter, traffic usage, traffic monitor.
Bandwidth speed, bandwidth monitor, bandwidth usage, bandwidth meter, bandwidth monitoring.
Link throughput, network interface throughput, connection throughput.
Internet connection speed monitoring, Internet link data rate.
Quota counter, data transfer limit usage meter, data plan usage. Feature usable for users with limited Internet connection. In some cases (e.g. mobile Internet) data amount is limited or / and speed over exceeding data limit is limited. Quota counter show usage of data limit and lapse of (billing) period.
Usage statistics, data transfer usage tracking, data meter, data sent, data received, data usage charts.
Realtime, real time statistics, real time data rate chart, live link speed plot, live throughput graph.
Network tray icon (network activity indicator), customizable networking tray icon, classic network tray icon, notify icon.
Network interfaces, adapters, cards, links, connections monitor.
Tool, software, application, utility.
Modes: installer, portable (instant, standalone).
Multi-language.
Lightweight.
Freeware, free.

Supported Operating Systems

Windows: all (32-bit and 64-bit).

Requirement: .NET Framework 2.0 or above

(md5): 28ba16503e46f499770c45a6b3c2de66

Change Info:
1.58.0 Support for silent installation and uninstallation (useful for IT administrators). Unified naming in HTTP(S) parser module.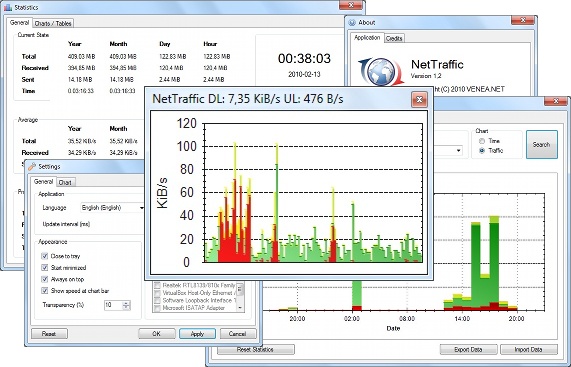 Click here to visit the author's website.
Continue below to download this file.