Always scroll to the bottom of the page for the main download link.
We don't believe in fake/misleading download buttons and tricks. The link is always in the same place.
---

MailStore Home v13.0

MailStore Home lets you archive your private email from almost any email source and search through them extremely quickly. You will never lose emails again.


Free Email Archiving Software for Home Users

For home users, emails are also a valuable source of information. A large amount of data and important files is saved in the form of emails. With MailStore Home you can backup all emails in a central archive, even if they are distributed across different computers, programs or mailboxes. You can do this either on your PC or on a USB drive as a "portable" option.

This way, you will never lose emails again and can search all of your emails extremely fast. You can still reply to or forward archived emails by opening them with a single mouse click in your standard email program.


Benefits

A Central Archive for All Emails

Internet mailboxes such as Gmail or Yahoo! Mail
Any POP3 and IMAP mailboxes
Microsoft Outlook 2003, 2007, 2010, 2013, 2016 and 2019
Windows Mail und Windows Live Mail
Microsoft Exchange Server 2003, 2007, 2010, 2013, 2016 and 2019 mailboxes
Microsoft Office 365 (Exchange Online)
Mozilla Thunderbird and SeaMonkey
PST, EML and other files

All Emails Securely Stored in the Archive

Emails can be lost due to incomplete data backups, corrupted PST files, or other technical problems. With MailStore Home, you can keep all your emails safely in the archive, where they are easily retrievable.

Not a One-Way Street

All archived emails can be restored from the archive at any time using the handy export feature. This allows MailStore Home also to be used for migrating emails.

Fast Search

MailStore Home has a powerful full-text search feature that can search through large amounts of data and any type of file attachment.

One-Click Restore

Emails can be restored from the archive or simply opened in an email client (e.g. Outlook) with a single mouse-click.

Safe Even for Large Amounts of Data

MailStore Home can manage large amounts of data effortlessly. Now both your past and future emails are safely stored.

Mobile Email Archive

MailStore Home is also available as a "portable" option and can be launched directly from a USB hard drive on any PC without prior installation. If you prefer to use a USB flash drive instead, be sure to use a high-quality device.


What's New in MailStore Home
MailStore Home 13.0

15/07/2020

Improved Clicking on folder path in message view opens the folder and shows the messages therein.
Fixed Passwords with leading or trailing space character cannot be used in Exchange archiving profile, although supported by Microsoft 365.
Fixed Messages of item class "IPM.Note.NotSupportedICal" cause ErrorAccessDenied exception when archiving from Microsoft 365 mailboxes.
Fixed Installer: Updated 7-Zip Self Extractor to current version.
Fixed Update of third party library, which fixes several minor issues in archiving, displaying and exporting of emails.
Fixed Various minor bug fixes and improvements.



Press Reviews

"We trust other people to keep everything safe on our behalf, but every now and again, things go wrong. A site's drives might crash or be hacked. You might lose your account. You might simply want to change your mail provider, but have no easy way to port your existing archives across. MailStore handles all this and more, supporting almost every major email service either directly or by connecting to your account via POP3 and IMAP. It also works with desktop clients including Office Outlook, Exchange, Thunderbird and more."

Windows: The Official Magazine


"MailStore Home promises to solve two of the biggest problems facing those with e-mail overload: How to find information fast, and how to back up your e-mail data. This centralized e-mail archive does an excellent job of both. It imports mail from many different email systems and software, and offers lightning-fast search. That way, you can search through all of your e-mail, even if you use multiple services and software."

PC World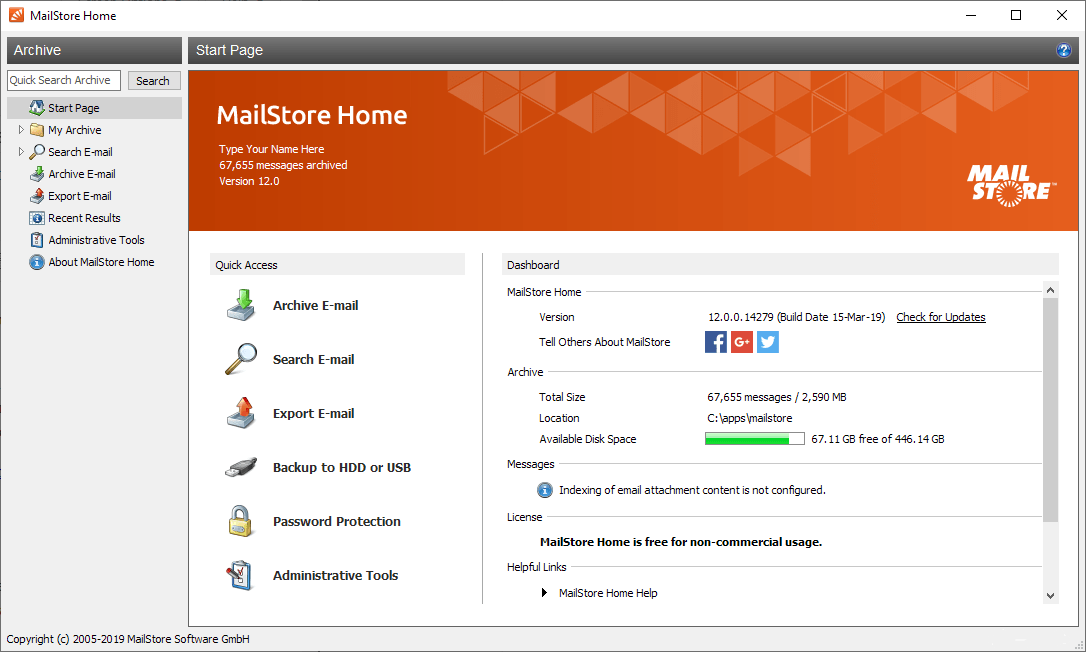 Click here to visit the author's website.
Continue below for the main download link.