Always scroll to the bottom of the page for the main download link.
We don't believe in fake/misleading download buttons and tricks. The link is always in the same place.
---

Spiceworks IT Desktop 7.5.00095
The only application that combines Network Inventory, Help Desk and more in a single, easy-to-use interface.

Your network may be complicated and expensive but your IT management tools don't need to be. Spiceworks IT Desktop is the only application that combines Network Inventory, Help Desk, Reporting, a built-in TFTP Server, Monitoring, Active Directory Management, and Troubleshooting in a single, easy-to-use interface designed for IT teams in small and medium businesses. Plus, Spiceworks lets you collaborate with IT pros around the world to solve problems, share ideas and decide what additional features you need in Spiceworks.

And, the best part -- it's free. Why? Because we think you shouldn't have to pay for technology to manage technology. Instead, you should spend your money on cool new hardware and software for your company. That's why top technology vendors help sponsor Spiceworks.


Manage your network.

Need a way to wrangle all your devices, software, cloud services, and even users? With network inventory and mapping, network monitoring and alerting, license management, troubleshooting, reporting, and much more, Spiceworks is the free IT management app with the tools you need to tackle your IT day.

Run an IT help desk.

User requests driving you nuts? Your current ticketing solution not quite cutting it? Spiceworks help desk software helps you run a ship-shape help desk, at the office and on the road. Manage user tickets, organize your work, create a custom user portal, and even launch a knowledge base… all for free!

Monitor your network.

Ever feel like your users are a step ahead of you? Meet Spiceworks Network Monitor — an easy-to-use, real-time interface that'll help you stay in-the-know about what's happening with your critical systems and catch problems long before your users do.

Inventory all your hardware.

From workstations and servers to routers and switches (even printers and phones) – if it's on your network, Spiceworks will automatically find it, collect detailed info, and even categorize it all. If you've got IT, we'll inventory and manage IT!

Get your license to… track.

Like to keep a handle on software and volume licenses? Want to eliminate unwanted software on your network? Spiceworks lets you keep track of all your software licenses so that you can stay in compliance and audit stress-free.

Rein in your cloud services.

Got cloud services all over the place (maybe some you don't even know about?) Now you can detect and inventory all the services your users are accessing. Manage IT cloud services from backup to hosted email to cloud servers. If it's on your network, Spiceworks can find it, inventory it, and keep you on top of IT!

Keep an eye on mobile devices.

Spiceworks helps you inventory and manage all the mobile devices on your newtwork. Track smartphones and tablets and create custom monitors and alerts to minimize your security risk. Take control of your management with advanced features from MaaS360: Manage policies, remote lock/wipe, manage applications, and a ton more!

Report on everything.

When we say "everything," we mean it! Easily report on any information that Spiceworks collects. You can create and generate custom reports in seconds to let your boss know how much time you've spent working on help tickets (did someone say raise?), or provide an auditor with a complete itemized list of all your IT assets.

Release Notes:
7.5.00095

Help Desk

85083 - app login fails when frontend is intermittently available
83251 - Help desk no longer auto-refreshing ticket view
83021 - orange status bubble does not appear for updated tickets in IE11

Platform

78095 - Update OpenSSL to version 1.0.2j
74732 - Current Apache version (2.2.29) vulnerable to CVE-2015-3183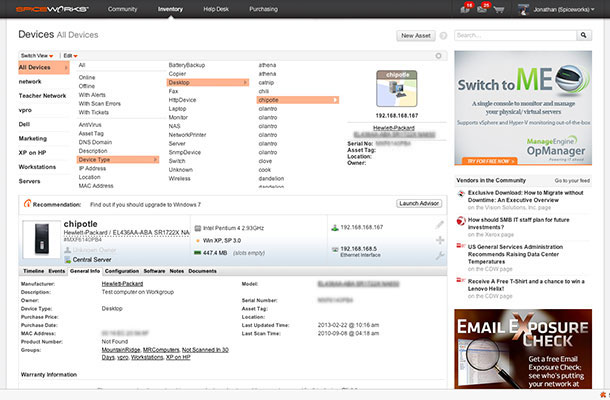 Continue below for the main download link.