Always scroll to the bottom of the page for the main download link.
We don't believe in fake/misleading download buttons and tricks. The link is always in the same place.
---

Skywave Linux v4.2.0

Software Defined Radio for Global Online Listening

Skywave Linux is a 64 bit live system providing installed and configured software for accessing software defined radio servers locally and on the internet. With this operating system, a person may tune shortwave broadcasts, amateur radio, aeronautical, maritime, or other signals received at remote servers around the world.

SDR software is configured for popular devices, such as the RTL-SDR dongles, Softrocks, Airspy, SDRPlay, and other radios.

Skywave Linux is an X86 64 bit live environment built over Ubuntu Linux, and may be installed on a bootable USB stick, SD card, DVD, or hard drive.

Features

Derived from Ubuntu 20.04 / MATE Desktop / i3 Window Manager

Realtime Xanmod Kernel 5.15.14-rt27

Broad SDR Hardware Support with SoapySDR and GR-OsmoSDR

WebSDR, OpenWebRX radio servers accessible via internet browser.

SoapySDR plug-and-play functionality via CubicSDR, Gqrx, SDRPlusPlus

SoapySDR ADS-B tracking and mapping via Dump1090

RTL-SDR, SDRPlay, Airspy radio hardware is supported.

WSJT -X / WSPR-X weak signal digimode software

Weather Satellite Decoding via Noaa-APT / Glrpt

Satellite tracking with Gpredict

Trunked Radio System Reception with SDRTrunk

Neovim Code editor

Tmux terminal Multiplexer

Multichannel AM / NBFM demodulation

Multichannel ACARS / VDL Mode 2 Reception

Maritime AIS Monitor

LADSPA and LV2 audio plugins for EQ/Compression/Limiting


More Information

Skywave Linux is an operating system using bleeding-edge technology to robustly access broadcast, utility, military, and amateur radio signals from almost anywhere in the world, including countries with restrictive internet environments. Skywave Linux is set up to connect easily to a large network of state of the art software defined radio (SDR) servers, making it possible to enjoy high performance SDR operation without putting up your own large antennas or on-site radio hardware. All you need to do is boot the system on a computer with internet connectivity, find a remote SDR server in your region of interest, and tune across the spectrum to find signals. Skywave Linux can also operate numerous types of SDR hardware, plugged into the your computer or on the local network. Downloading, installing and configuring SDR software can be difficult for many computer users; Skywave Linux eliminates the hassle by including several applications installed, configured, and ready to run.

Supported SDR Types
Several types of software defined radios are supported by Skywave Linux:

WebSDR servers are located all over the world and provide easy access to the global airwaves through the web browser. In Skywave Linux, the web browser is packed with a curated set of bookmarks linking to the best servers. Thus, a moderately broad internet connection is all one needs to enjoy clean, stable, AM / FM / SSB reception using this cutting edge technology. WebSDR servers at the University of Twente (NL) and G4FPH, Stafford (UK) are particularly good, for example.

KiwiSDR servers are a popular type of internet accessible radio, with hundreds operating at any time. Use the curated set of web browser bookmarks to access several excellent sites around the world, such as the server in Victoria, British Columbia (Canada).

RTL-SDR devices used on the local computer system. Just plug-and-play! CubicSDR, Gqrx, and SDRPlusPlus are the main applications for receiving AM / FM / SSB modes. Dump1090 (FlightAware version) is for monitoring aircraft ADS-B transmissions. ADS-B mapping is available with the help of Python3 libraries. ADS-B data is also logged to an SQL compatible database for further analysis if desired. ACARSDec and VDLM2dec are multichannel decoders for aeronautical VHF data modes. Each is capable of simultaneously monitoring several channels at once without scanning and also logging the data to an SQLite database file. RTLSDR-Airband is a hardware agnostic, multichannel monitor for AM or FM voice modes (not limited to airband), capable of simultaneously monitoring several channels without scanning, mixing and streaming audio locally (via PulseAudio) or to the internet (via Icecast server).

Ettus Research USRP devices, offering advanced features and high performance. Their hardware can cover frequencies from DC through 6 GHz in a diverse array of signal modes.

HPSDR hardware is covered by LinHPSDR, using a modern graphical interface and excellent signal processing software. Linhpsdr also works with devices compatible with SoapySDR drivers.

RemoteSDRClient connects to a network of shared RFSPACE SDRs. These are high performance radios, with advanced filtering and noise reduction software. Like the shared HPSDRs mentioned above, they require broadband internet connectivity for smooth operation.

SDRplay, Airspy, and BladeRF offer higher performance than RTL-SDR dongles. These devices feature stable and clean oscillators, sensitive front end circuitry, superior RF filters, broader RF bandwidths, and higher resolution ADC chipsets. CubicSDR and Gqrx are the applications built for running these devices.


The key to getting most SDR devices and software to function on Linux is having proper drivers installed. Skywave Linux broadly supports these with SoapySDR and Gr-OsmoSDR packages.

For decoding RTTY, CW, PSK, WSPR, WSJT, RDS, and other digital radio transmission modes, use the Fldigi, JS8Call, and WSJT applications. Weather satellite decoding is possible with Noaa-apt for APT and Glrpt for LRPT. Gpredict provides real-time satellite tracking data and doppler corrected tuning control for Gqrx. In some cases it may be necessary to use the PulseAudio Volume Control application to select the best audio source and levels. Basic trunked radio systems may be monitored using SDRTrunk.

Conventional radio and video broadcast streams are also supported in Skywave Linux. VLC Media Player provides global access to music, talk, news, free-speech, and religious stations around the world. Editable playlists of IPTV and IPRADIO stations are located on the internet - available through most search engines. There is a sample radio playlist in the ~/Music folder.

Usage and Installation Options

Skywave Linux is intended to run as a live Linux environment, bootable from an iso file:

TimeShift is installed. From the live environment, back up the system to a separate medium. Thence, restore the backup as an uncompressed filesystem to the medium you want to operate from in daily computing. Systemback is another option, with the same method: back up to a separate medium then restore onto your working medium.

Clone it to the hard drive as a regular, uncompressed operating system by installing and using Calamares

In Windows, write the iso contents to a bootable USB or SD card using YUMI.

In Linux or Windows, create a bootable USB or SD card using Ventoy.

Run the iso in a virtual machine under Virtualbox, VMware, or in Qemu.


YUMI and Ventoy are both capable of creating multiboot drives, so you can Use multiple operating systems for different computing tasks. Also, they create rewritable space to hold your data files or a casper-rw file for persistent settings across reboots.

It is not recommended to burn an actual DVD to run any live computing environment. It is far, far too slow! Use a flash drive or SSD. For ultimate performance, clone the environment to a regular uncompressed file system.

Apps for Coders

Python, Go, Bash, Perl, and Ruby are installed and Neovim is the editor for coding. It looks great. It is functional and streamlined for friction-free workflow. Jupyter Notebook is also installed, and it supports creation, testing, and sharing of applications written in Python, Go, and Bash. Just do it! Make the next leap in software defined radio by writing the next generation of DSP and firmware applications. Beginners and advanced coders will all enjoy the software creation tools available in Skywave Linux.

Command Line Tools

Skywave Linux contains a plethora of efficient and fast command line tools.

Neovim and Nano are a pleasure to program in, in part, because they are so fast.

Browsing the web is a breeze in text mode with W3M. Navigate pages with Vim-like keys and enjoy cleaner, stripped text using the Readability utility.

Surfraw is a search tool providing well over a hundred different websites to access for information not easy to find on the major portals. You can look for aircraft in flight by registration or ADSB hex code, find answers to computing or math problems, or even do lookups of slang phrases or rumors appearing in the news.

TwitGrid pulls multiple Twitter feeds and displays them as a broadsheet in Firefox. here, it is set up in "topics." You select a topic and watch five feeds, updated at regular intervals.

Irssi is a terminal based internet relay chat (irc) application for anyone wanting to go "old school" in text based communication.

Lf is a fast and efficient terminal file manager. Navigate with Vim-like keys, with previews and user configurable management commands.

Fzf, ripgrep, and fd are tiny yet very effective tools for searching and organizing files or text. With these, you can reach into dozens or hundreds of files to recursively find words, phrases, code, or even terminal command history.


Technical Notes

Skywave Linux is a 64 bit system, built on a base of Ubuntu 20.04 LTS, with a few MATE Desktop applications and a very riced i3 Window Manager. It is the additional digital signal processing, networking, and signal decoding applications that set Skywave Linux apart from its original base distro. The default username is skywave and there is no password in the default system.

It is sometimes necessary for users to make encrypted connections which provide stronger privacy, security, and ability to circumvent censorship. For that purpose, Lantern, Psiphon, Sshuttle, Outline, and Wireguard client applications are installed. Skywave Linux intends to bash holes in censorship barriers.

Integrity and Authenticity of Skywave Linux

Great effort goes into making Skywave Linux safe and free of malware. To verify that your copy of the iso image file is authentic, undamaged, and unaltered, check the sha256sum against the official authentication document and verify the digital signature of Skywave Linux (Download here: https://sourceforge.net/projects/skywavelinux/files/skywavelinux-authentication.txt/download. Use the "Passwords and Keys" or equivalent application to check the signature. Import the Skywave Linux public key from pool.sks-keyservers.net or keyserver.ubuntu.com.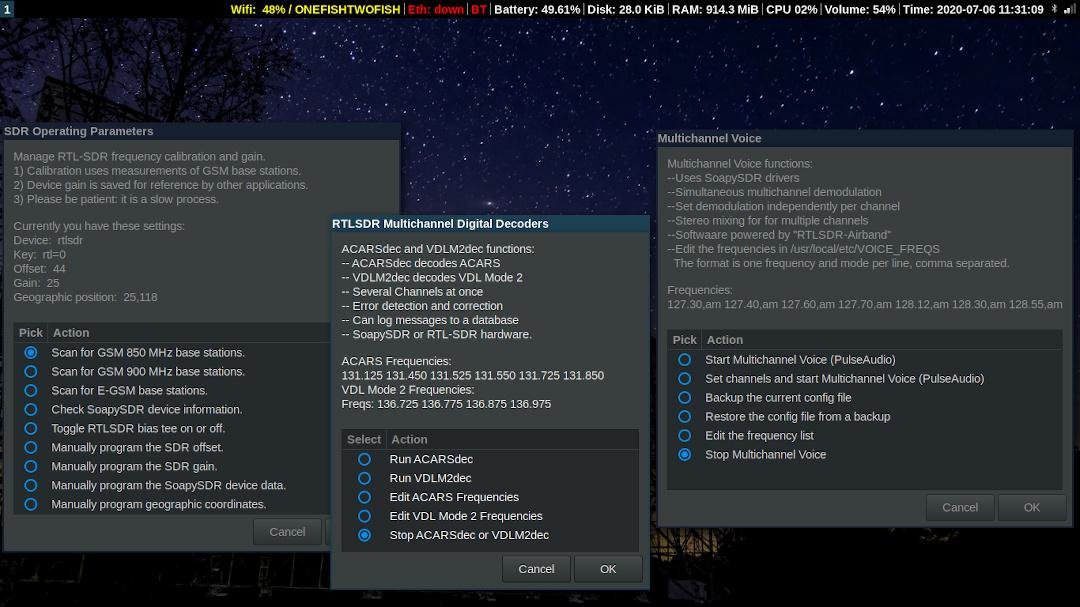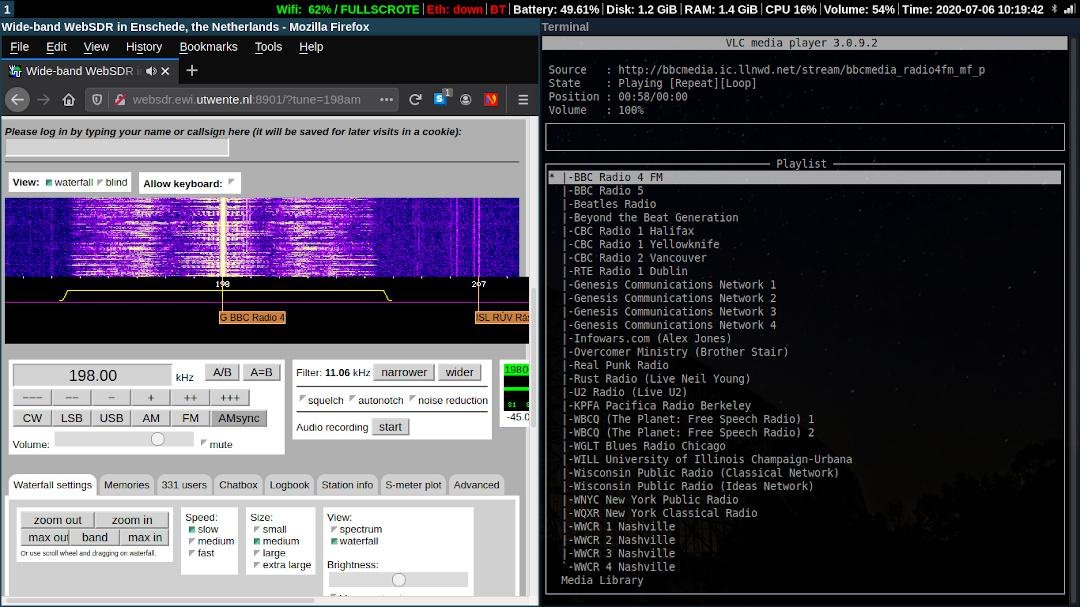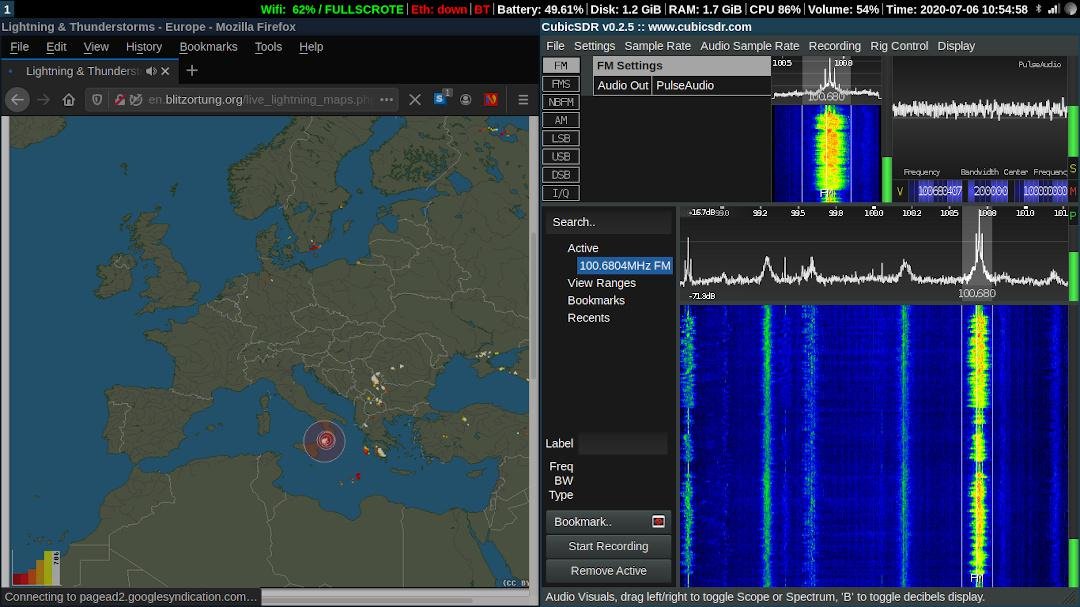 Click here to visit the author's website.
Continue below to download this file.