Always scroll to the bottom of the page for the main download link.
We don't believe in fake/misleading download buttons and tricks. The link is always in the same place.
---

FreeCommander XE v2023

An easy-to-use alternative to the standard windows file manager.

The program helps you with daily work in Windows. Here you can find all the necessary functions to manage your data stock. You can take FreeCommander anywhere – just copy the installation directory on a CD or USB-Stick – and you can evenwork with this program on a foreign computer.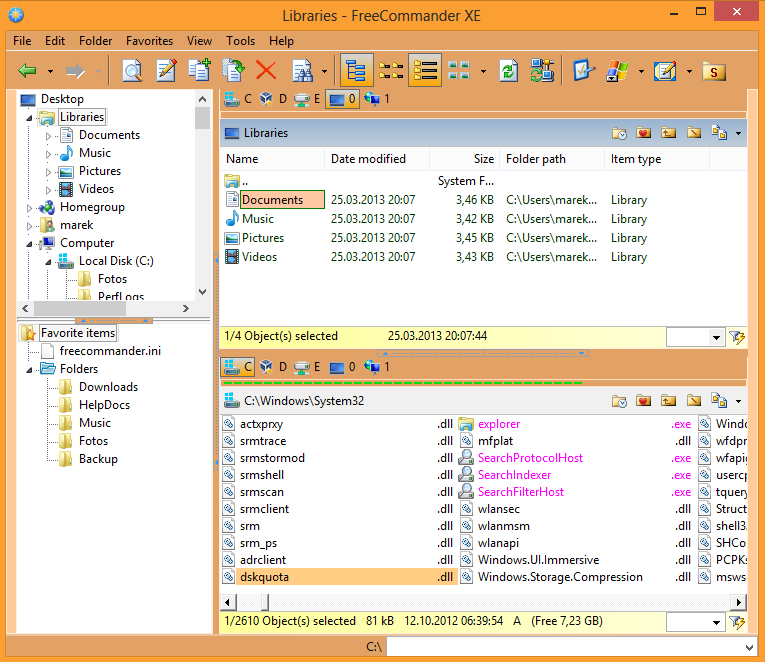 Main features in FreeCommander:
• Dual-panel technology – horizontal and vertical (one panel possible too)
• Tabbed interface
• Full access to desktop
• Optional tree view for each panel
• Built-in file viewer to view files in hex, binary, text or image format
• File viewer and thumbnail view inside archives too
• Built-in archive handling: ZIP (read, write)
• Nested archive handling
• Plugins for other archive (RAR, 7z, …)
• Plain view – structureless view for files and folders
• Linked browsing
• Easy access to system folders, control panel, desktop and start menu
• Copy, move, delete, rename files and folders (alternatively as Windows or FreeCommander operation)
• Drag and drop
• File searching (inside archive too)
• Searching duplicates
• Create and verify MD5 and SHA checksums
• Wipe files
• Multi rename tool
• Paths longer than 255 characters can be opened, copied, moved and renamed
• File properties and context menu
• Calculation of folder size
• Folder comparison
• Folder synchronization
• Modification of file date and attributes
• Folder / program favorites
• File filters (regexp possible too) for display and file operations
• User defined columns for detailed views
• Automatic views
• Simple FTP/SFTP client (SFTP only 64 bit)
• Access to mobile devices (e.g. smartphones, tablets)
• DOS command line
• Quick viewer
• Quick search
• Quick filter
• Quick starter
• Desktop snapshots
• All keyboard shortcuts are definable
• Flexible configuration of almost all features
• Color schemes
• Multiple language support

View the online manual.


Details

General
• The interface of FreeCommander is user-friendly and adaptable
• Two panels that are arranged next to each other or among each other
• For each panel you can fade in a tree-view
• Drives selection as combo box or bar
• FreeCommander has an integrated DOS command prompt
• Most of the functions can be started easily by Shortcuts
• File names and paths can be copied into the Clipboard
• Drag and Drop support for the file operations
• Windows or Norton Commander selection mode
• The program can be adjusted to its user by various options

View
• Different views for file lists: list, details, small symbols, big symbols, picture preview
• Display of file symbols (fixed, registered, extracted) is definable
• File and directory information are shown in the status line
• File information can be shown as information tip
• The displayed files can be sorted by name, size, type, file time and attributes
• Several layouts can be saved
• Tabbed interface can be used
• Access to the most important system directories
• Quick access to the Start menu as well as to elements of the desktop and control panel
• A quick change into a directory or archive is possible because of directory favorites
• Additional programs can be included as favorites
• Type and colours can be changed
• The intern file viewer enables a quick view of the files in the formats such as text, hexadecimal, binary and as picture

File Management
• File and directory operations are supported: copy, move, delete, rename
• Wipe file operation is supported
• Create and verify MD5 checksums
• Multi rename function
• Large files can be divided into smaller parts
• Context menu and properties of files and directories are displayed
• Size of directories can be determined
• Directories can be compared and synchronised
• File time and file attributes can be changed
• Time shift of several files is possible
• Directory list can be made
• Supported archive formats: ZIP and other with plugins
• Files can be compressed
• Archives can be unpacked
• Creation of self-extracting files is possible (ZIP)
• The intern file viewer also works in archive files
• Files can be also searched in directories and drives
• Search for file contents (text) is possible
• Search in archives is possible
• Display search matches
• Quick view of the files out of the matches list is possible

Extras
• Desktop pictures are easy to make
• Connect/disconnect network drive

System requirements
Windows XP (32 bit only), Windows Vista, Windows 7, Windows 8, Windows 10, Windows 10 – 32 or 64 Bit
2 GB RAM
100 MB hard disk memory
1024Χ768 display resolution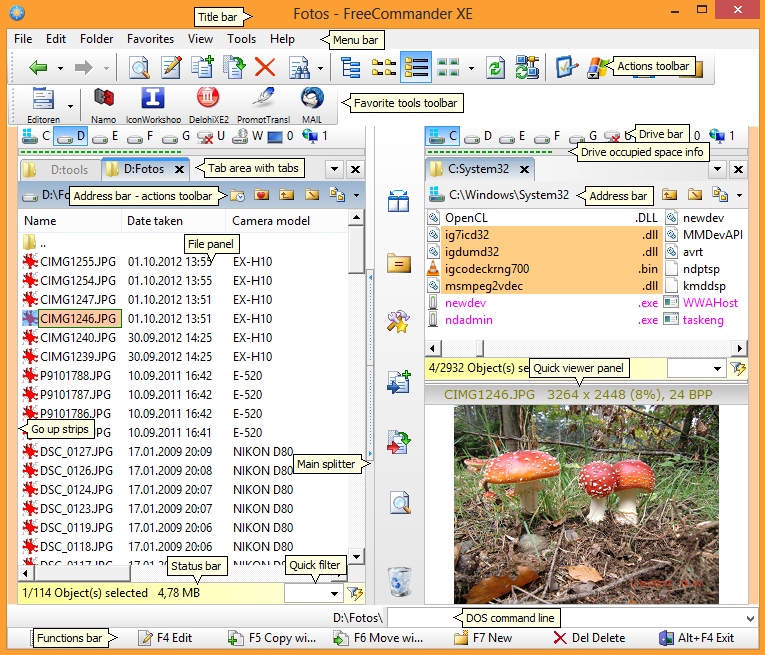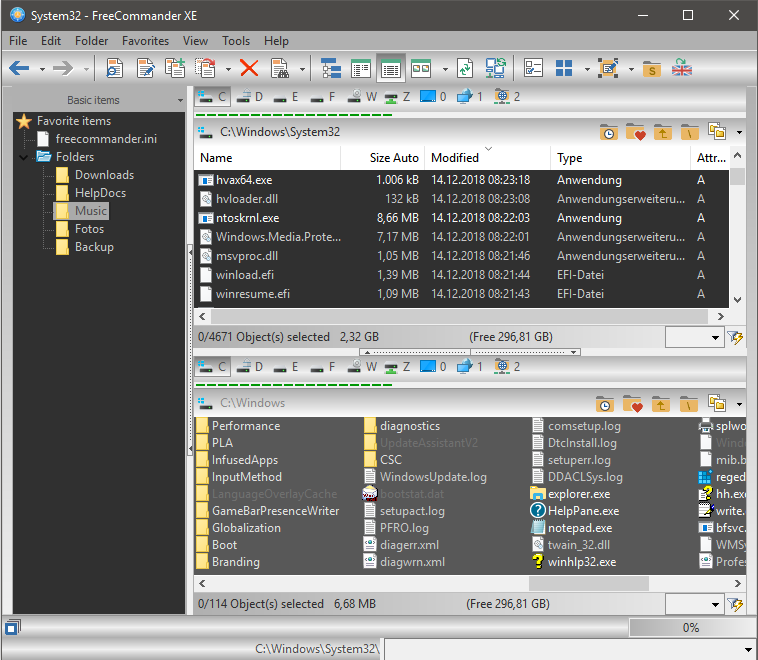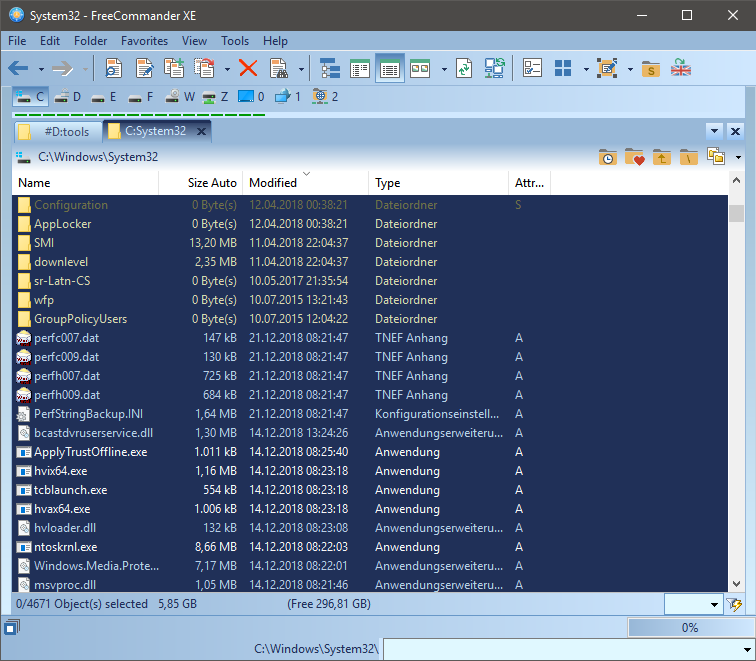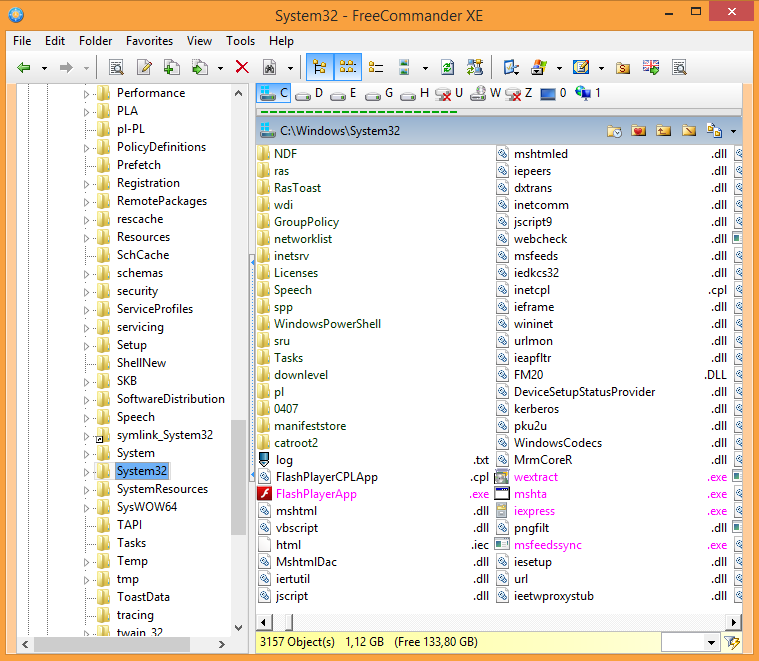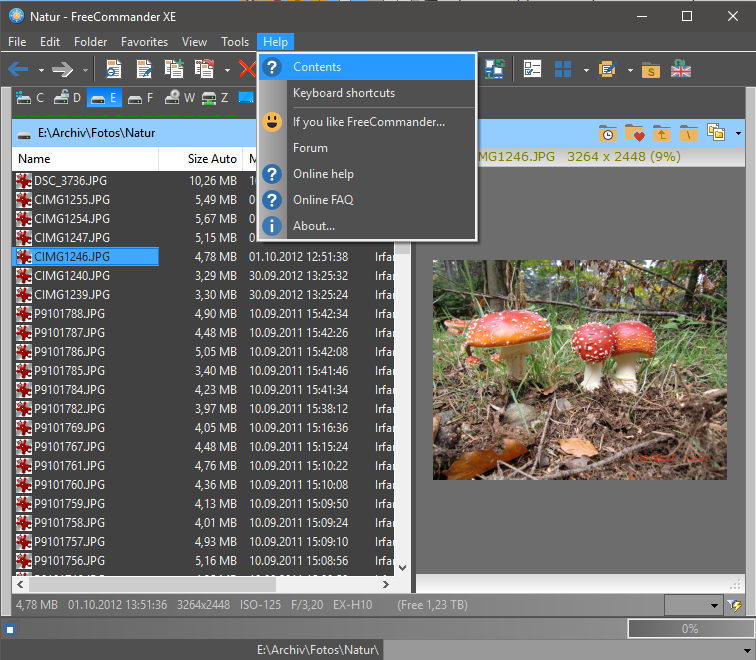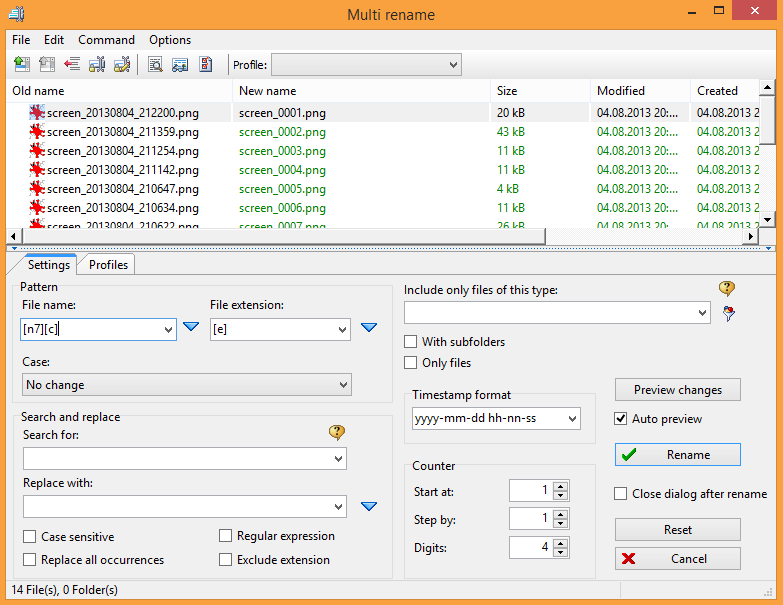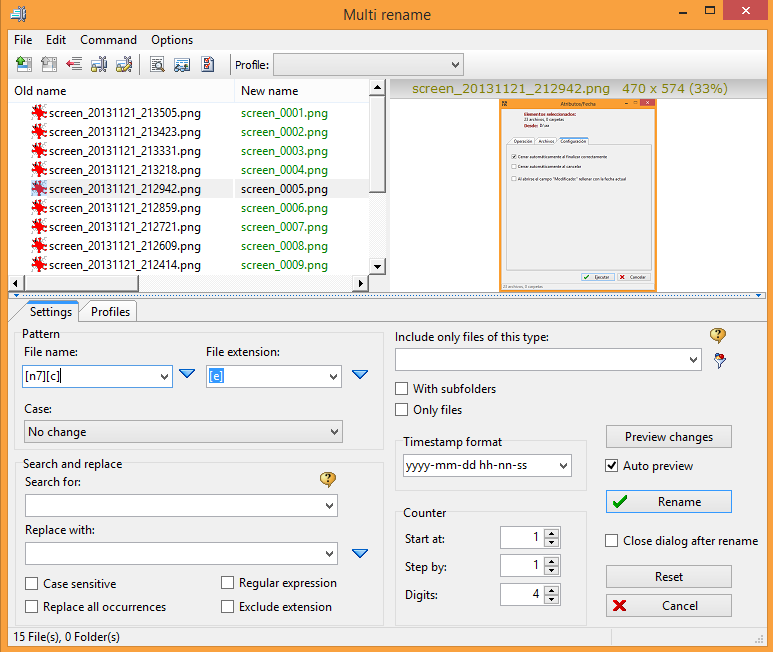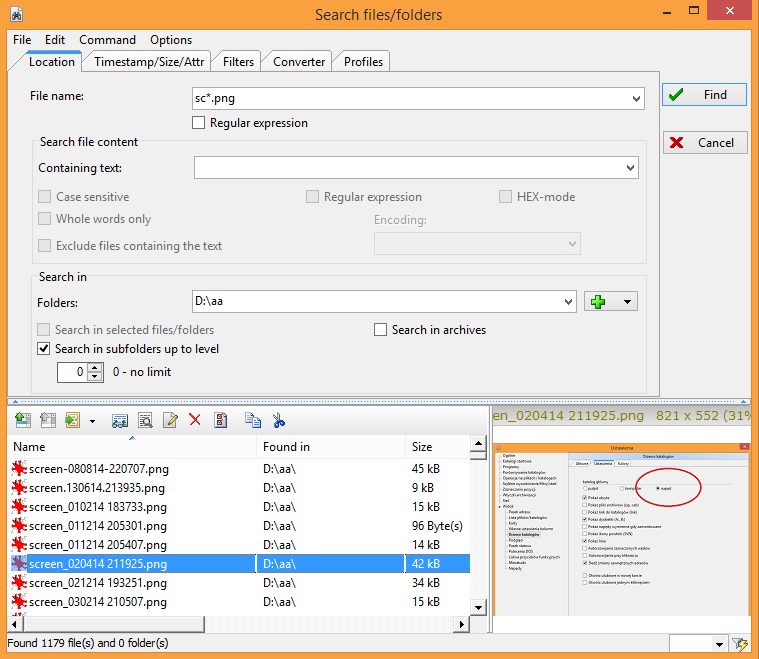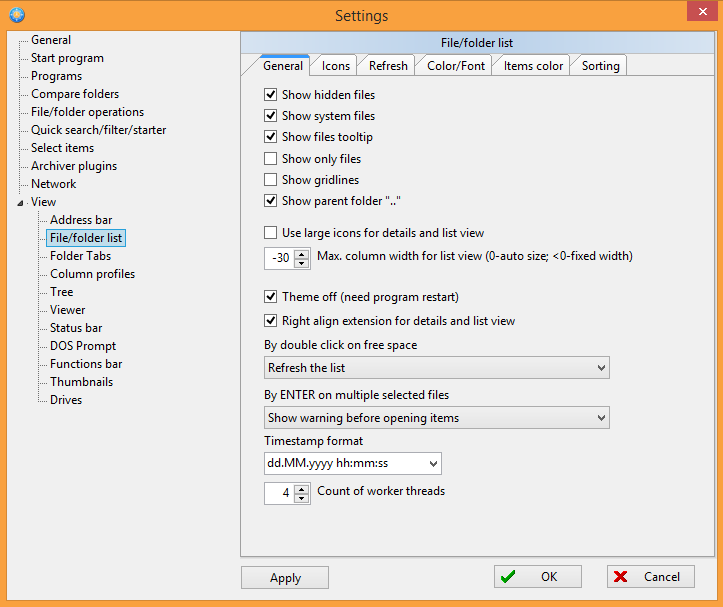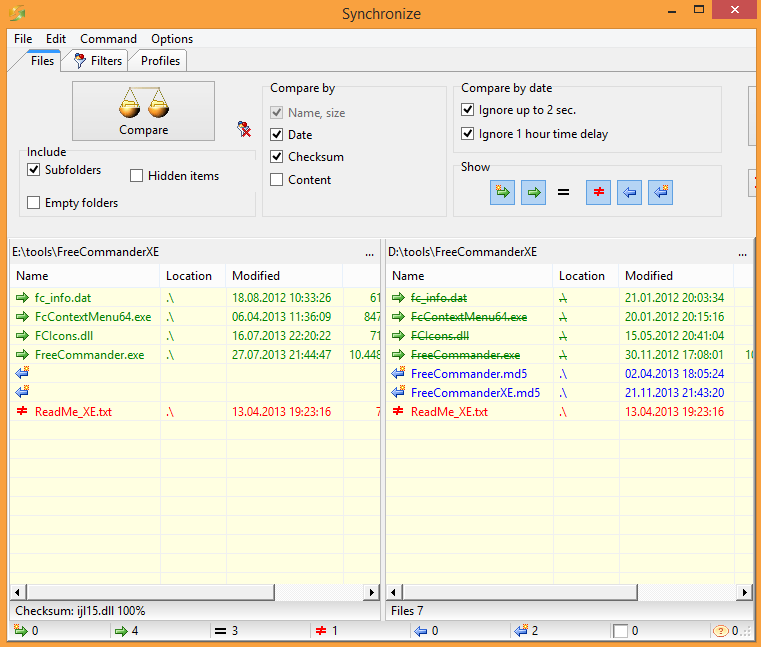 This download is for the Windows setup with manual version.
(use the portable version for Windows XP or Vista)

If you need the portable version, download here.


Click here to visit the author's website.
Continue below for the main download link.