Always scroll to the bottom of the page for the download link.
We don't believe in fake/misleading download buttons and tricks. The link is always in the same place.
---

Notable v1.8.4

The Markdown-based note-taking app that doesn't suck.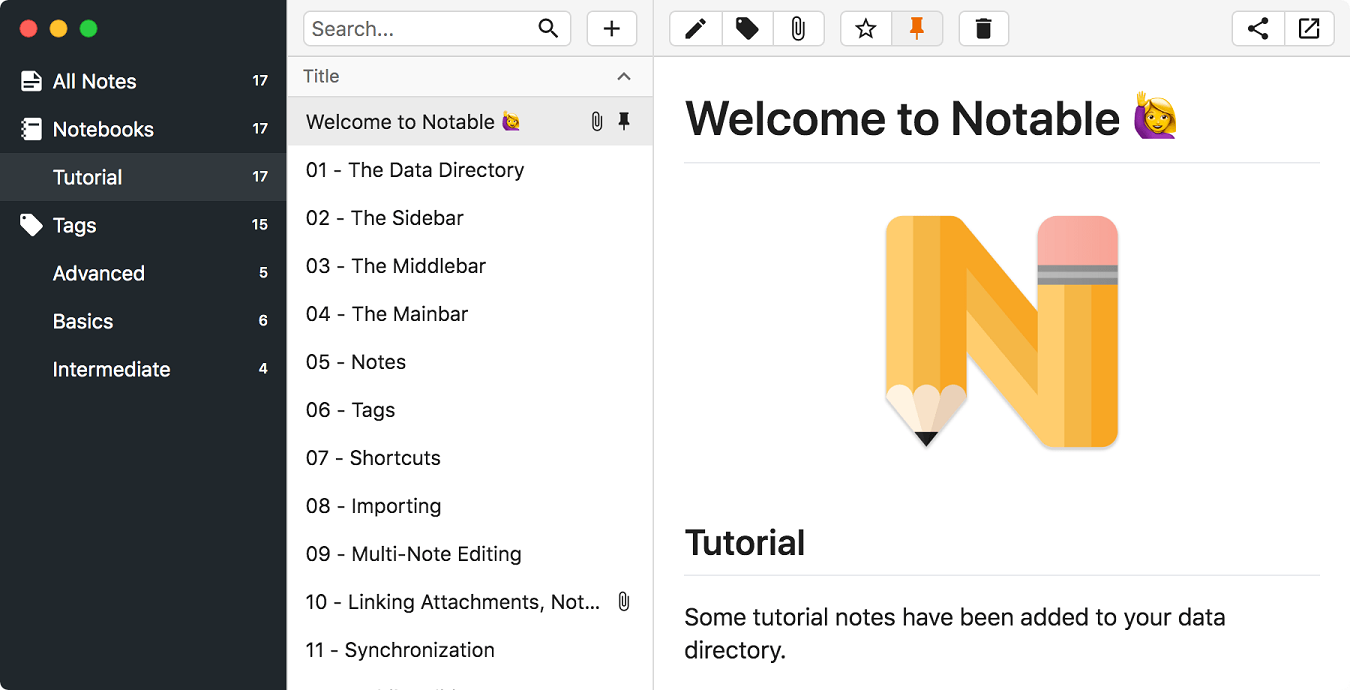 Description form the author:

I couldn't find a note-taking app that ticked all the boxes I'm interested in: notes are written and rendered in GitHub Flavored Markdown, no WYSIWYG, no proprietary formats, I can run a search & replace across all notes, notes support attachments, the app isn't bloated, the app has a pretty interface, tags are indefinitely nestable and can import Evernote notes (because that's what I was using before).

So I built my own.

Comparison







Part of this comparison is personal opinion: you may disagree on the UI front, things I consider bloat may be considered features by somebody else etc. but hopefully this comparison did a good job at illustrating the main differences.

Features

Markdown-based

Notes are written in GitHub Flavored Markdown, and you can also write KaTeX expressions, Mermaid diagrams and so much more, check out our full Markdown cheatsheet.

Notable also gives you a very powerful Markdown editor, it's the same one VS Code uses in fact, so features like multi-cursors, a minimap and best-in-class syntax highlighting are built-in.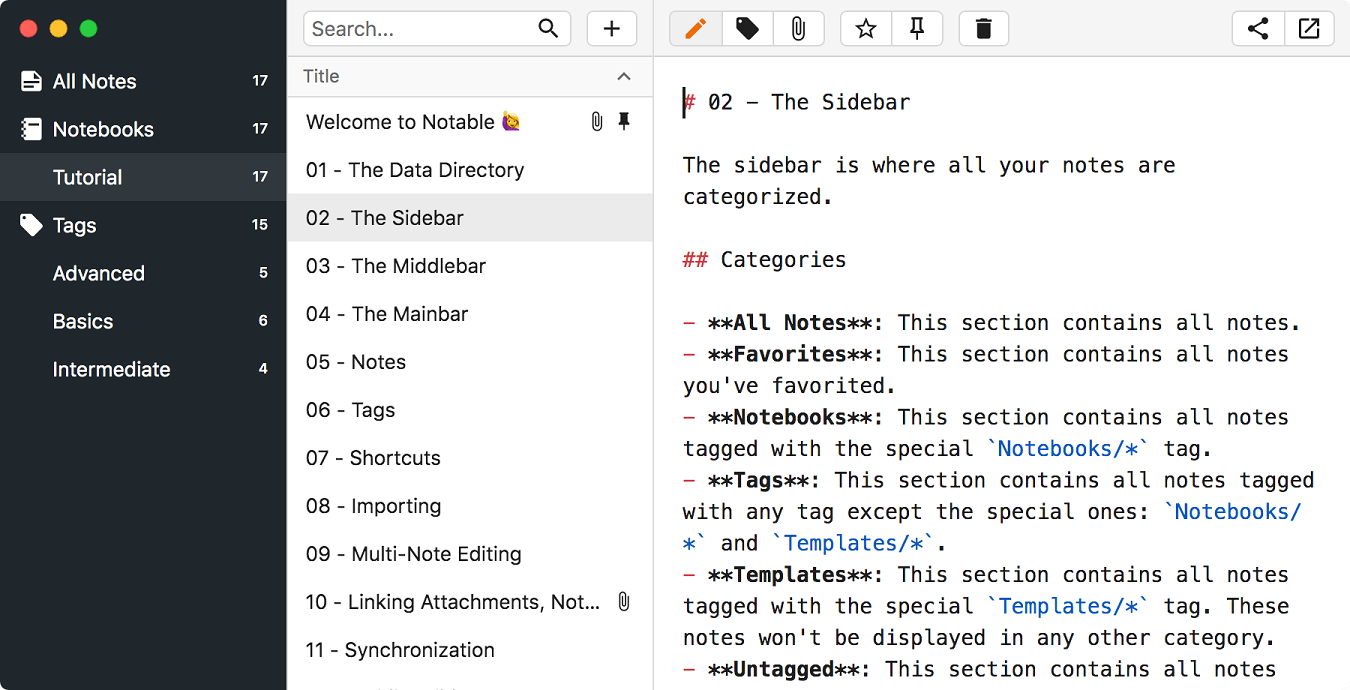 No Vendor Lock-In

Notes and attachments are simply stored on your disk, this is extremely portable and powerful: you could edit your notes with your favorite editor, have them synchronized via Dropbox, run Git on them, run a regex-based search and replace on them etc.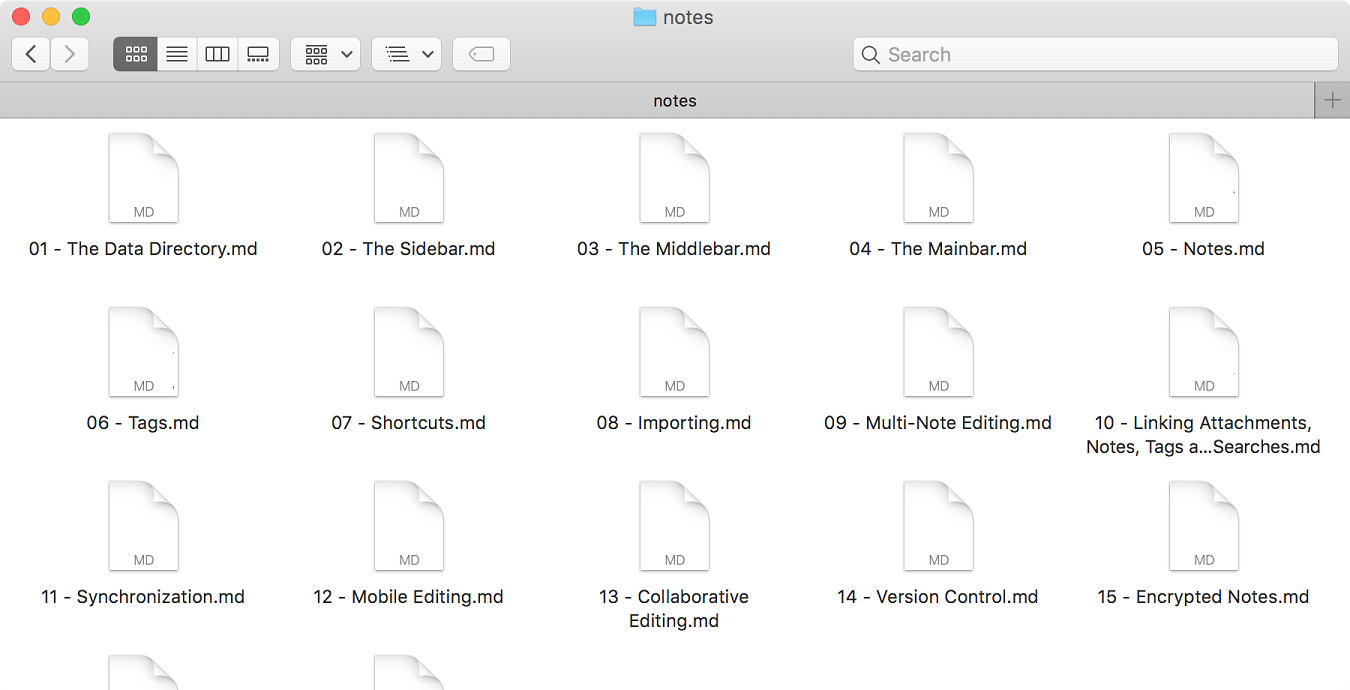 Dark Theme

A dark theme is also available. In the future support for custom themes will be added as well.

If you'd like to change a color or hide a button you are also free to do that via the Devtools.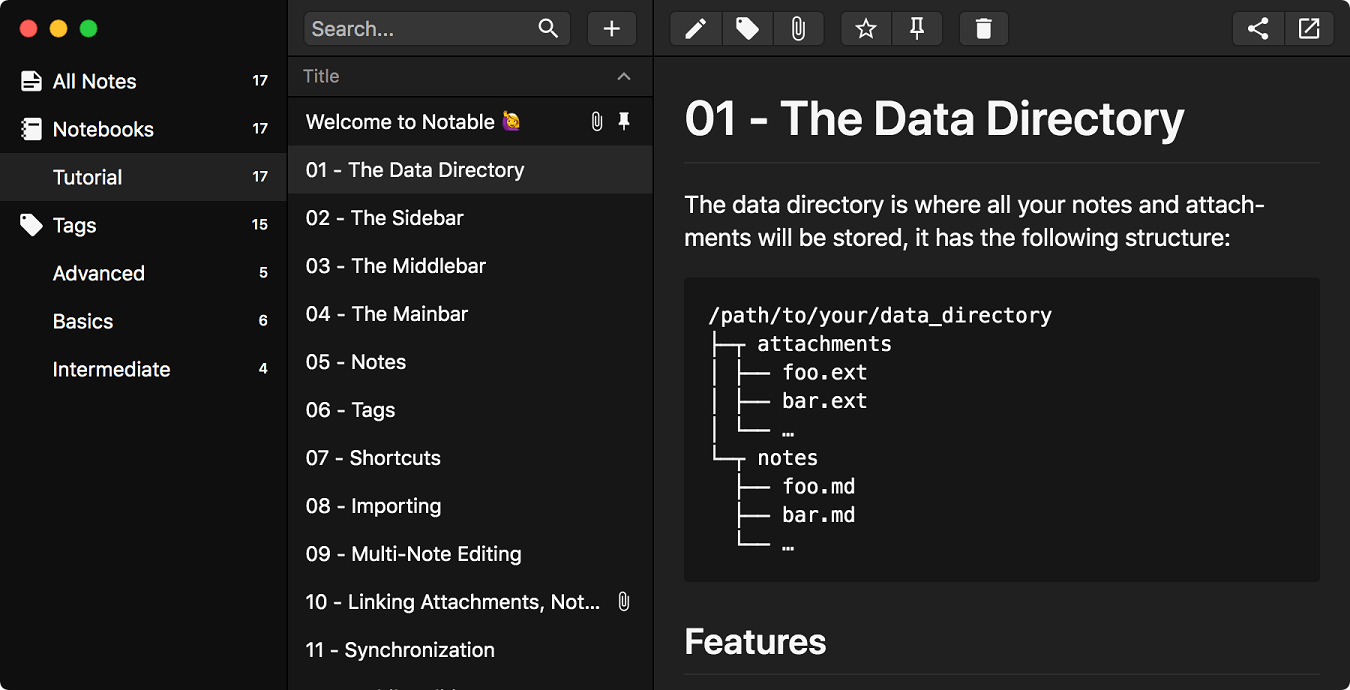 Zen Mode

Zen mode provides a minimalistic editing and reading experience, hiding everything that's not necessary.

Notable is also keyboard friendly, has a quick open window, and we'll soon add a command palette too, so you won't have to click any buttons if you don't want to.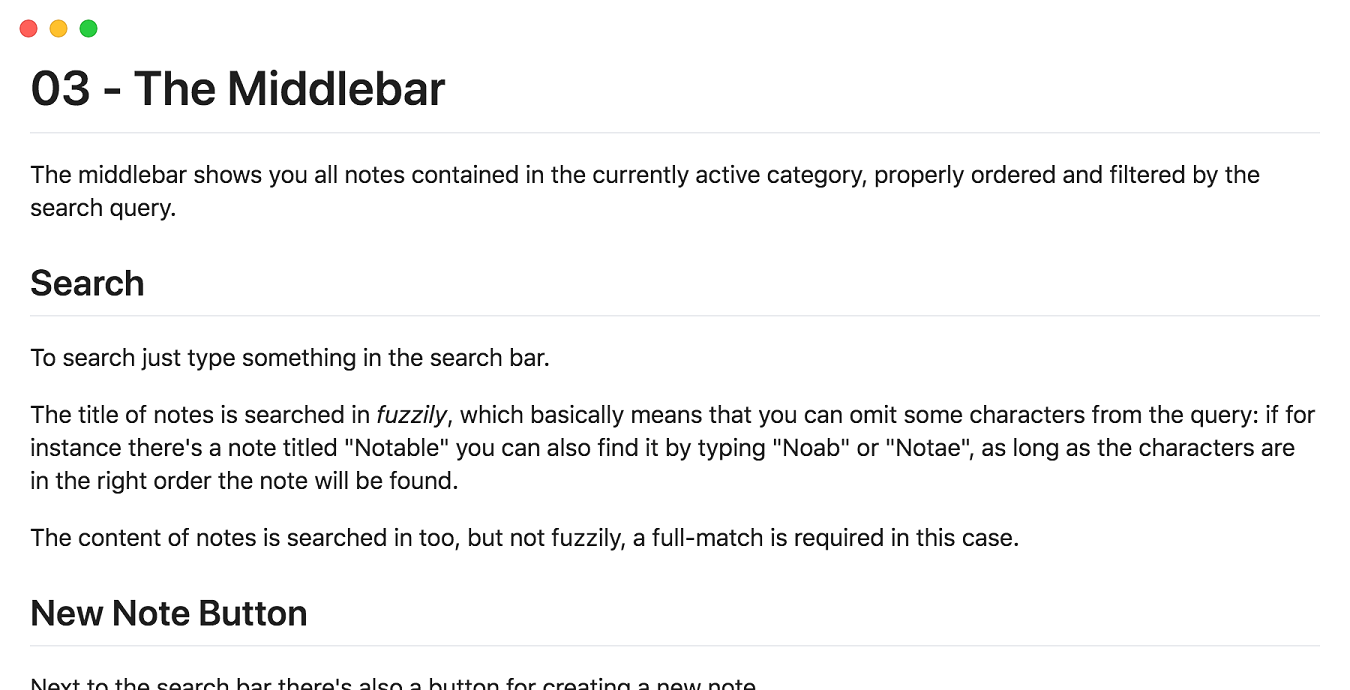 Multi-Note Editor

A multi-note editor is available for quickly running an action, like favoriting, pinning, deleting, tagging etc., on multiple notes at once.

If you need to run a more complex action on your notes remember that they are just file stored on your disk so you can do whatever you want with them.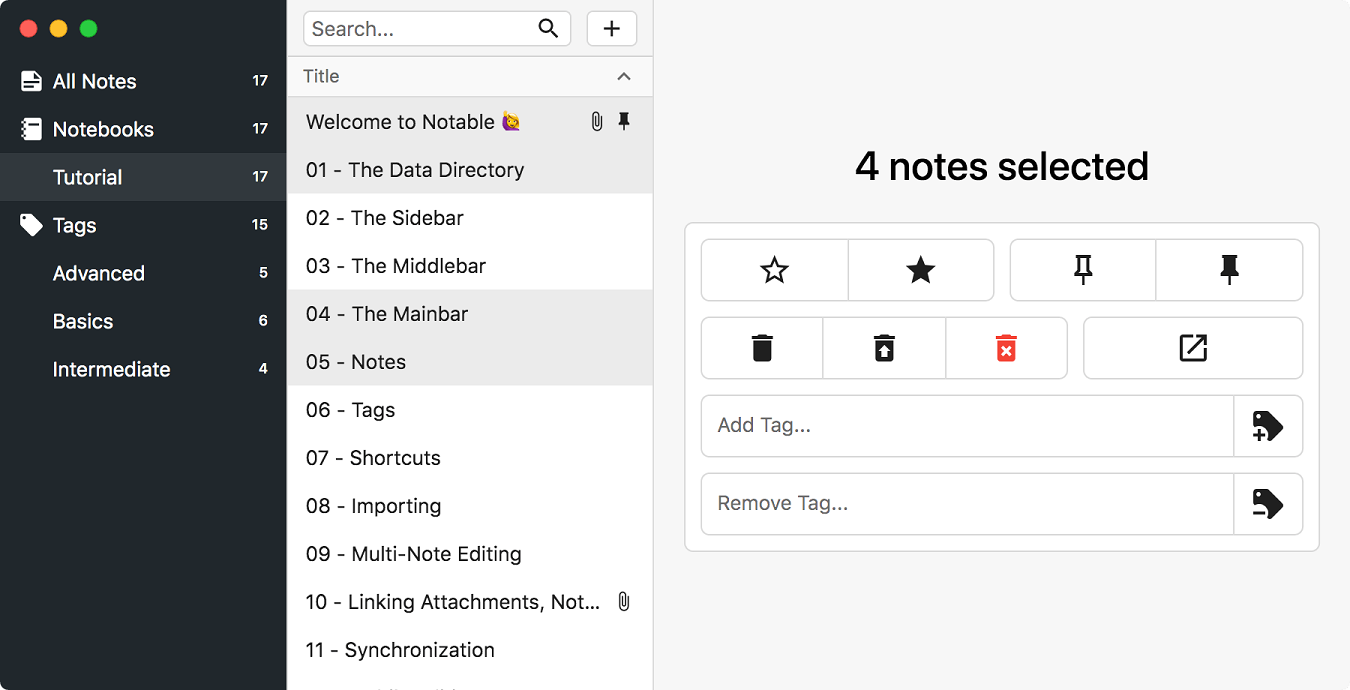 Split Editor

A split-editor is available for quickly checking out how your note will be rendered while you're editing it.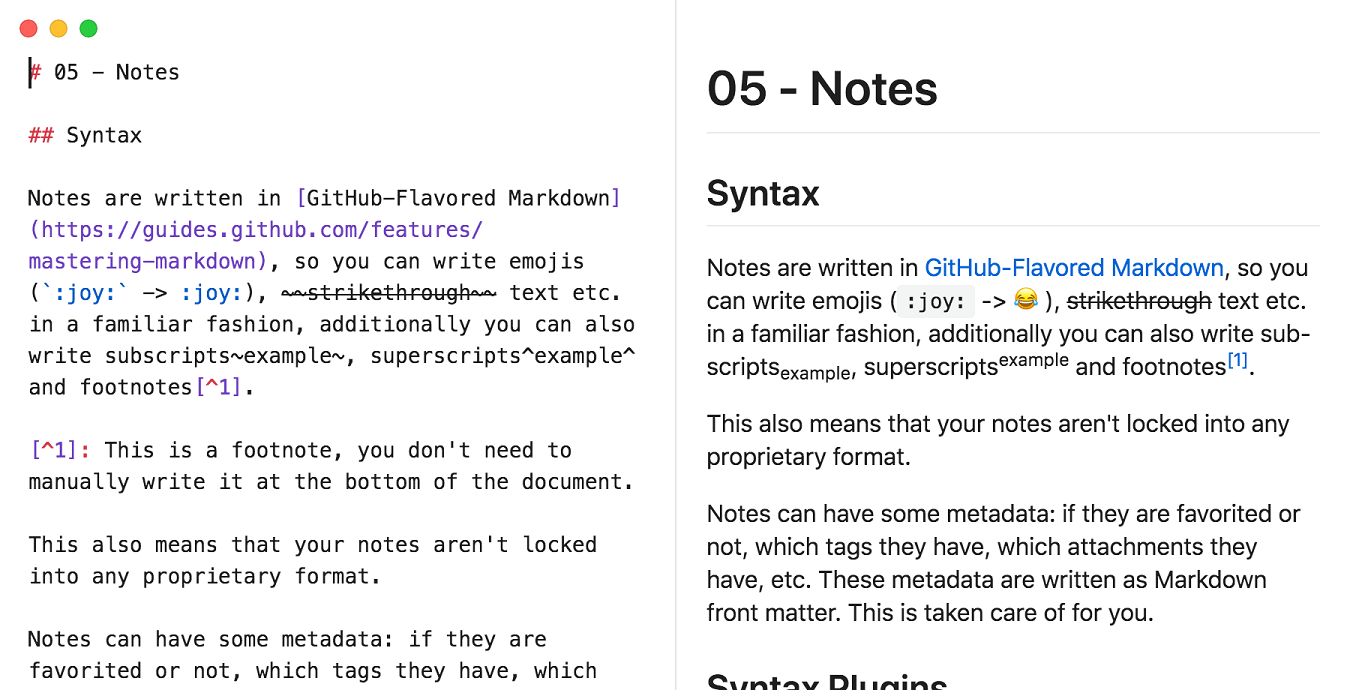 More Features

Built-in cheatsheet for quick reference.

Built-in tutorial for learning the app while using it.

Multiple data directories are supported, so you can separately store different notes collections.

Attachments can be added to any note, even via copy/paste, and they are also stored on disk individually.

Tags are indefinitely nestable.

Import your existing notes library from other apps like Evernote or Boostnote.

Export your notes to Markdown, HTML or PDF.

Fuzzy search is used when searching.

Markdown editor which supports multi-cursors, line numbers, a minimap, scrolling beyond the last line and more.

Linking to other notes and attachments is supported.

Share a note simply with a link.

Todos can be used for task management.

Code blocks are syntax-highlighted and can be copied with one click.

Float on top of other apps, optionally while being translucent too.

FutureBuilt-in synchronization, so you won't have to resort to Dropbox/Google Drive/etc.

FutureBuilt-in version control, integrated into the app and easy to use.

FutureMobile apps, so you won't have to resort to third-party Markdown editors.

FuturePlugins, so that if we don't provide that feature you need you can probably just download a plugin for it or write one yourself.



v1.8.4
Jan 21, 2020

Improvements

Bundling OS-specific dependencies only when needed
This removes a file from Windows bundles that tripped Windows Defender into finding a false positive
Importing: ensuring arbitrarily large notes collections containing arbitrarily many files with the same name are still imported correctly, assuming the underlying importing library can parse the collection in the first place

Bug Fixes

Editor: disabled automatic clipboard copying when selecting in favor of being able to create multiple cursors while dragging with the middle click (Linux)
Ensuring both creation date and modification date are updated when duplicating a note
Ensuring paste actions when dragging with the middle click are only prevented inside the editor (Linux)
Fixed misalignment in loose task lists
Fixed some regexes that were wrongly expecting to match at least one character in certain places
Multi-cursors: using "Ctrl+MouseEvent" rather than "Alt+MouseEvent" as the latter switches the focus to the menu bar (Windows)




This download is for the Windows 64bit version.
If you need the Windows 32bit version, download here.
If you need the MacOS version, download here.
If you need the Linux Debian version, download here.
If you need the Linux RPM version, download here.






Click here to visit the author's website.
Continue below to download this file.